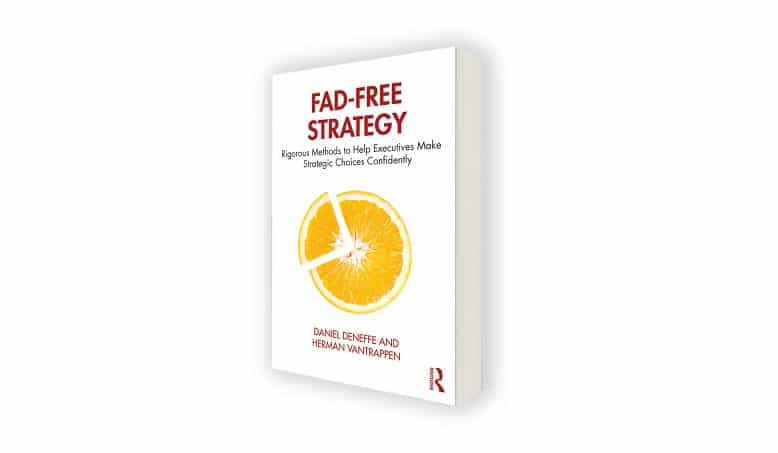 Fad-Free Strategy is released this week. Buy a copy here and review on Amazon.
Hult faculty Dr. Daniel Deneffe talks to us about his new book with coauthor Herman Vantrappen, Fad-Free Strategy: Rigorous Methods to Help Executives Make Strategic Choices Confidently (Routledge, September 2019). Dan, who is a strategy & economics professor on the MBA and Executive MBA programs at Hult, is also a senior management consultant with over 50 years of management consulting experience between himself and his coauthor. In the book, Dan – who also teaches at Harvard – details his most effective strategy approaches along with anonymized real-world international consulting cases that he uses in his classroom.
Congratulations on the new book, Dan. Who should read it?
Fad-Free Strategy is not meant for the traveling business executive seeking simple solutions to complicated problems. This book is targeted at two distinct audiences:
Smart business executives at the "99%" mainstream companies – so not just the Amazons or Apples of this world. We feel that these executives are dissatisfied with strategy fads that provide simplistic solutions based on anecdotal evidence from today's hero companies. These executives are eager to learn rigorous tools that make sense and are practical. Tools they can apply to difficult strategic problems where their careers may be on the line. And this book offers that.
Economics faculty members teaching graduate courses in business strategy, particularly at the MBA and Executive MBA level.  The book shows how tools of microeconomics can be very powerful – provided they are adapted to the real-world strategy case.

And what can the reader expect to gain from your book?
Fad-Free Strategy offers managers a practical and transparent way to make better business strategy decisions. By using these economic tools to generate tailored, evidence-based solutions, the reader will be empowered to confidently make tough strategic choices with better financial results.  For strategy professors, it provides an economics-based strategy textbook that is both rigorous, practical, and comprehensive and will lead to a significantly more impactful and meaningful learning experience for students and higher real-world credibility of professors.
"Our observations are based on doing and improving from within, rather than observing as an outsider."

Dr. Daniel Deneffe, managerial economics & strategy professor at Hult International Business School.
How is Fad-Free Strategy different from other books on business strategy?
Great question! Fad-Free Strategy is different from other books on business strategy in three key ways:
Practical. First, Fad-Free Strategy is full of real-world cases that illustrate how the methods and tools explained in the book have been applied by the authors during our combined 50+ years' management consulting career. These illustrations are based on doing and improving from within, rather than observing as an outsider.
Rigorous. The Fad-Free Strategy™ approach is rigorous and has been proven to work across industries and regions in the real world. So often, academic textbooks provide solid theoretical constructs that have limited relevance in the real world. On the other hand, many practitioner-authored business books offer simple yet arbitrary tools without much theoretical foundation. This book bridges that gap in a totally transparent way so that managers can confidently refer to it over and over again.
Holistic. Third, the book gives the reader tools to make better decisions throughout the entire strategic process: not just for deciding on a high-level strategic direction but also to validate and detail specific strategic choices prior to execution. No other book does this.
Fad-Free Strategy is released this week. Buy a copy here. Or visit https://fadfreestrategy.com to find out more.
Dan thanks you for your support and very much appreciates any feedback you may have for him personally via LinkedIn or for everyone via Amazon.
Watch this video to understand the raison d'etre of Fad-Free Strategy.
This video will help you to understand the essence of Fad-Free Strategy.
Catch a sample tutorial on the Fad-Free StrategyTM approach.
Recent related articles:
What if strategic failure is down to a design flaw?
Don't believe the business hype.
____________________________________________________________________________
Learn to thrive in the real world of business with Hult. See a Hult brochure.

Mel Cloney
Mel is a staff blogger working in London, and is passionate about the Hult journey. Her writing focuses on faculty, academics, and student and alumni experiences. She's a food, scuba, and running junkie with a penchant for all things French.
Related posts