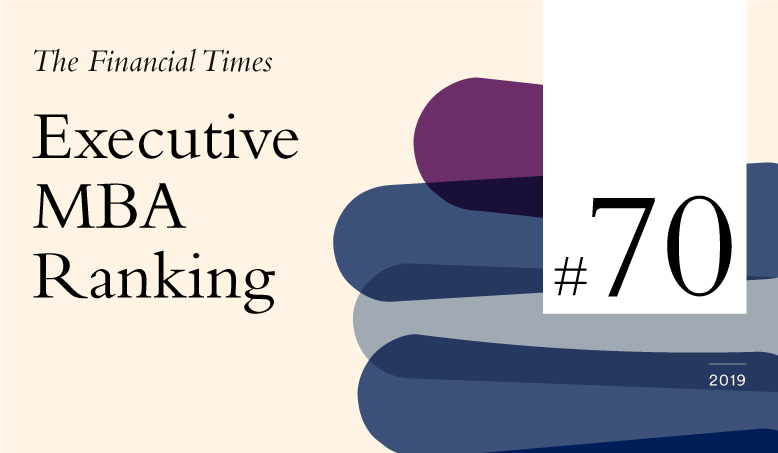 Hult International Business School's part-time Executive MBA program climbs the Financial Times rankings for another year and is now ranked #70 best executive MBA program in the world.
Hult's President, Dr. Stephen Hodges, had this to say of the ranking, which is open only to schools that are either AACSB or EQUIS accredited:
 We're delighted with our ascent in the FT rankings and the recognition that our EMBA program continues to go from strength to strength alongside the most prestigious schools around the world.

-Dr. Stephen Hodges, President, Hult International Business School
In subcategories, Hult ranked:
#1* for International Students
#9* for International Faculty
#18 for Corporate Social Responsibility
The high scores for international students and faculty are testament to Hult's truly global reach. Hult has campus locations in Boston, London, San Francisco, Dubai, Shanghai, and New York. With six global campuses and a current student body of  145 nationalities, Hult offers an international experience like no other. Hult's faculty come from over 40 countries. They've lived – or worked for three months or more – in an average of three countries. So Hult students graduate with a global mindset, the ability to see business through a cross-cultural lens, and a network that literally spans the globe.
Hult's notable ranking for CSR is an indicator of its longstanding reputation as a business school leading the way in producing ethically conscientious graduates. Hult was one of the first business schools to sign up to the United Nations' Principles of Responsible Management Education (PRME). CSR and sustainability has been part of Hult's core curriculum for a number of years.

Practice, Business & Global Society professor Joanne Lawrence has over 35 years of corporate and consulting experience with global organizations including IBM, SmithKline Beecham, and the UN Global Compact. Last year she won the Case Centre's Best Case Study Award in the Ethics and Sustainability category for her bestselling case study "Sustainability as Opportunity: Unilever's Sustainable Living Plan." Joanne says:
"Today's world is very much interconnected. A global, ethical mindset is crucial and companies have a critical role to play. I truly believe that Hult students will lead that effort as they apply what they learn. And they'll thrive as they help to move the world forward."

-Joanne Lawrence, Practice, Business & Global Society professor, Hult International Business School
Hear from students about how Hult's commitment to the UN's Sustainable Development Goals plays out in Joanne's classroom


*denotes calculated rank based on FT data
See more about Hult's rankings
Related posts