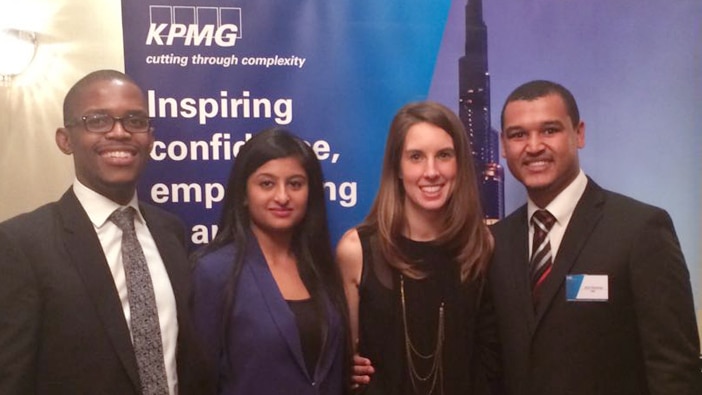 A team of four MBA students from Hult Dubai have won the regional round of KPMG's Ace the Case challenge – an annual competition run by the global consulting giants. This follows the success of last year's team from Hult Dubai who progressed all the way to the finals, and won, in São Paulo.
To qualify for the competition, the participating teams of students from business schools across the region, had to pass KPMG's assessment test before facing an elimination round. Only seven teams passed the assessment; four of those seven were Hult teams – two exclusively MBA teams, a mixed team of MBA and EMBA students, and one Master of International Business team.
The Hult Global Trekkers team – made up of MBA students Kerianne Kozub (U.S.), Ritika Shah (India), Emir Karamigi (Tanzania), and Sam Keliso Shongwe (South Africa) – passed the eliminations and advanced to the final round along with two other teams from Higher College of Technology, Dubai, and Institute of Management Technology, Ghaziabad.
Following a networking event with KPMG U.A.E. Senior Partners and HR Managers, and two days of workshops with the company's global professionals, the teams presented their solutions to this year's case challenge: "Should Qatar move ahead with preparations and holding the 2022 World Cup?" Hult Global Trekkers were the winners with an innovative, well thought out solution.
Here's what the winners had to say about the experience:
"We are a very diverse team and we knew that in this competition we would all be able to contribute different strengths to our analysis and presentation. These strengths and a plan of  'attack' were discussed even before the case competition day, you only get three hours and it goes very fast.
As soon as we received the case we scanned through quickly, searching out the key data, and decided on roles and tasks – who was searching for what information. As we re-read the case in detail, dividing the tasks allowed us to be agile and move fast.
Once read we shared our information and went through an exercise to ensure a mutual understanding of our role and the main issue of the case, we started brainstorming possible solutions. We focused on coming up with realistic ideas that worked rather than big ideas that could come crushing down as the judges, KPMG partners, reviewed and questioned the plans.
​As a team you make a decision on what you believe to be the best solution for that case, it can be built on financial analysis or in our case, with little to no financial information, what made realistic business sense.​ A clear structure was key for us and we left over an hour to layout our analysis and recommendations in a presentation. We rehearsed and aimed to tell a story, something that flowed, and was clear and delivered in a way that would set us apart.  We also rehearsed to be able to answer questions and defend clearly every decision to the judges.
Overall, each of us was able to lead, to lend their expertise, and in a tight 3 hours, we never lost our focus in discussions or arguments. As a team we always pushed the agenda ahead and were able to deliver a real world solution for this real world problem."
KPMG's 'Ace the Case' is just one of the corporate challenges our Corporate Services team brought to Hult Dubai students this year, others include P&G's CEO Challenge and Henkel's Innovation Challenge.
Kickstart your career in a state-of-the-art innovation hub by studying at Hult's Dubai business school. To find out more, take a look at our Vlog: Take a tour of the Hult Dubai campus. Download a brochure or get in touch today to find out how Hult can help you to learn about the business world, the future, and yourself.
Related posts