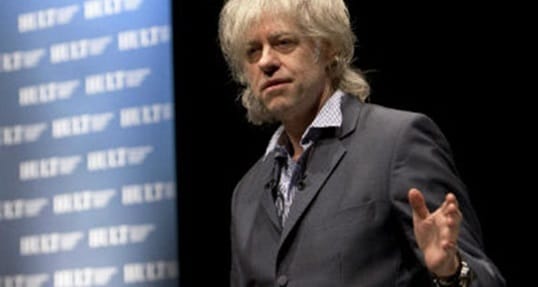 By Sarah Aston for The Upcoming. Original article can be found here.
On Thursday 31st January, Hult International Business School hosted an exclusive talk given by social activist, entrepreneur and musician Sir Bob Geldof at the Mermaid Conference Centre, London Blackfriars.
Titled Making a Difference, Geldof spoke at length on the topic of leadership, politics and globalisation. Although Sir Bob had jokingly answered a question relating to the topic of his address with "I haven't a f**cking clue" at a press briefing earlier in the day, once on stage he provided illuminating insights into his life, career and political views.
Targeted at an audience of young entrepreneurs and business students from Hult's many international campuses, Sir Bob discussed the current political and social climate, the recent failures in leadership the world has witnessed and the need for radical change for the future.
Renowned for his provocative rhetoric, Sir Bob criticised leadership as seen today, telling audiences that he was no longer interested in discussing international forums such as Davos (by which he was referring to the  World Economic Forum Annual Meeting that takes place in Davos, Switzerland) or others like it. The concept of leadership in these gatherings, Geldof argued, has been made redundant due to lack of innovation and drive. Asking what leaders gather at forums for, he answered his own question with, "to talk about their ideas that have already failed". 
Much of the theme of Geldof's address followed a similar vein and argued that attitudes towards solving social issues, towards political leadership and towards the international arena need to radically change. What the world needs today, Geldof argued, is innovative thinking and a leader unwilling to submit to a world he disagrees with.
Referencing the political philosopher George Bernard Shaw, Geldof divided man into two categories. The reasonable man adapts to the world and follows the rules. The unreasonable man chooses to adapt the world to him and challenge mainstream thinking. What the 21stcentury needs, Geldof told the audience, are more unreasonable leaders that are willing to shake things up, willing to fight a cause and willing to align with others not out of self-interest, but because they want to get things done.
Referring to inequality, poverty and famine, Geldof maintained: "The individual is not powerless in the face of monstrosity." Today's international climate, a climate in which states are unwilling to compromise or fully cooperate to push for necessary changes, needs to change if we are to combat monstrosity, Geldof told audiences. Leaders need to be uncompromising in their pursuance of goals and ideas yet they must also recognise that cooperation on the international level is the answer.
With Cameron flailing over the issue of the European Union and leaders worldwide failing to agree on how to resolve social and political issues such as nuclear proliferation in Iran, the decision made by Hult International Business School to invite Sir Bob to speak was a masterstroke.
While Sir Bob remarked incredulously: "30 years in rock and roll and I ended up talking to a bunch of MBAs", his address proved to be a breath of fresh air. Receiving a standing ovation at the end of the talk, Geldof undoubtedly sparked the interest of the audience and proved to be a very capable, provocative and thought-provoking speaker.
Sarah Aston
Photos:  Dwaine Field-Pellew
Kickstart your career with Hult's undergraduate business school. To find out more, take a look at our blog Hult scores in top 20 in The Economist's Which MBA? ranking for 2019. Download a brochure or get in touch today to find out how Hult can help you to learn about the business world, the future, and yourself.
Related posts