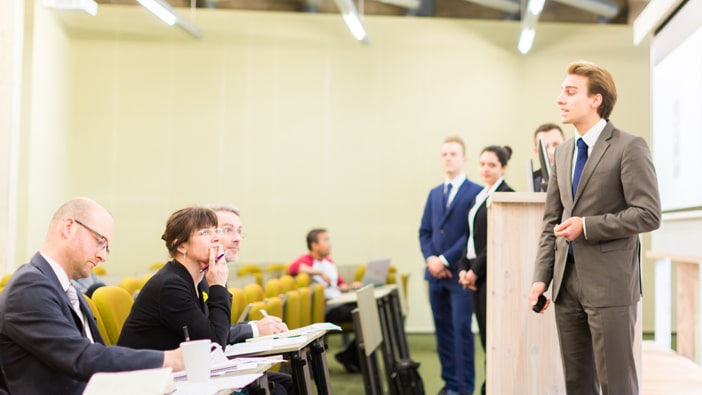 Last month, 26 intrepid Hult Bachelor degree students walked through the doors of Unilever's impressive central London office, bursting with ideas to tackle the global youth unemployment crisis. This was the final round of the 2015 Hult Business Challenge – a capstone of Hult's experience-based curriculum, and the culmination of several months of hard work for 110 ambitious undergraduates and their faculty mentors.
Five teams were selected to present their proposed initiatives to a panel of judges from Unilever's senior management. Their challenge? Pitch a fully-costed, scalable concept that will enhance the skills and employment prospects for young people around the world. Leena Nair, Unilever's Senior Vice President for Leadership, Organisation and Development, Global Head of Diversity, welcomed the assembled audience with the assertion that, "The problems of the young should be solved by the young." Additionally, Unilever's own commitment to a sustainable future made the company a perfect partner for judging and supporting these forward-thinking students.
The judges told the teams that they would be looking for innovative ideas, presented with clarity of thought, true impact potential, external orientation, and proven relevance to Unilever's business. The five teams to present in this final round were Budding Generation, Aztlan Investment, Futura Group, Borderless, and G.C. Consulting. These diverse, international student teams drew inspiration and insight from their home countries and travels abroad. Each concept was underpinned by extensive research, a cost and revenue analysis, and the potential for global scalability.
All teams were given a strict time limit of 12 minutes to present, followed by five minutes to take questions. The initiatives proposed ranged from schools on wheels in South Africa to "Airbnb for farming" in Mexico.  Common themes of community, social responsibility, and education were apparent throughout. The judges posed questions to ensure that each concept was more than just a nice idea, but a viable business opportunity with a practical roll out plan and projected future revenue. Here, Hult students could really showcase what they've learned in the classroom, and it was clear that the Unilever judges found it difficult to pick a winner. After a long deliberation, two teams were declared joint winners.
Budding Generation, a student team made up of Gonzaga Florozentrik, Metta Sari, Angelique Lin, Vivian Sari, and Brigeni Ndoja, was one winning group. Their initiative, called Klickk, focused on connecting unemployed young people with local employers through job fairs designed to showcase youth talent. Fundamental to their idea was the development of an ingenious app that made it easy for young job-seekers to create a profile, build their CV, and find relevant training and work opportunities. While their initiative focused on Indonesia, it was clear to see the global potential of the Klickk movement.
The second winning team, Futura Group, included Nicole Jacobo, Johanna von Arnim, Claudia Veronica Sandoval, Scarlet Wessin, and Gaurav Thadaney. Their proposed Bloom Project set out to "enhance the skills of the future leaders of tomorrow" through training and online education for young people entering the job market in the Dominican Republic. With an impressively produced promotional video, Futura Group demonstrated that their concept already had the support of key businesses and leaders in the Dominican Republic, and the scope to be applied around the world.
Following the finals, Mrs. Nair said "Unilever was delighted to be able to work with Hult students and faculty on this project in 2015 and get detailed proposals on how we could get involved in helping solve the global youth unemployment crisis. Hult has a fantastic reputation as the world's most international business school, and the cultural and practical experiences that these students bring to their projects brought a wealth of diversity and innovation to this challenge."
It will be inspiring to see how these initiatives develop in the future with support from Unilever, and the clear dedication of the student teams. While Budding Generation and Futura Group certainly earned their title as Hult Business Challenge winners, all of the teams involved have reason to celebrate their success. To present in front of a room of professors and peers is an intimidating task, but to pitch to a panel of representatives from a top multinational company with poise, passion, and confidence is an unparalleled achievement. It's also an invaluable asset. When they enter the job market, these Hult students will come with experience very few young professionals could hope to match.
Hult offers a range of highly skills-focused and employability-driven business school programs including a range of MBA options and a comprehensive one year Masters in International Business. To find out more, take a look at our blog Future thinking: Taking your Bachelor degree beyond business. Download a brochure or get in touch today to find out how Hult can help you to learn about the business world, the future, and yourself.
Related posts