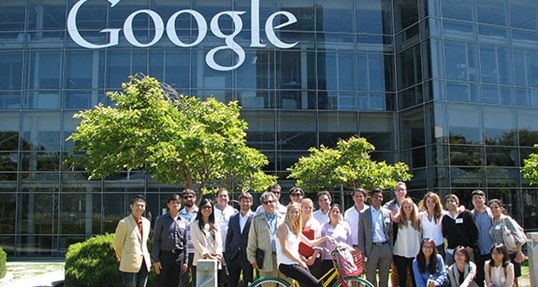 From the beach volley ball court to the dog shuttle, Hult students saw it all within – and outside – the walls of the Google headquarters this week during a trip to the company's famous Silicon Valley campus.
The Hult tour was led by a legal analyst. Employees from various departments lead Google tours.
Twenty-five students toured Google's Mountain View facilities and grounds on July 9th. The Corporate Relations department, which hosts several visits to high-profile companies each year, sponsored the event and opened it up to the first 25 students to RSVP. All slots were filled within five minutes, making it one of the hottest tickets at Hult this year.
The group heard about the kinds of opportunities within the company that business students like themselves would qualify for, and they got an up-close glimpse of the casual and innovative business culture in Silicon Valley.
The tour included the main cafeteria where CEO Larry Page hosts a company-wide gathering every Friday.
The focus of the visit was to showcase all the lavish workplace perks – like lounging poolside with a laptop or refueling at one of several free espresso stations – that have made Google so attractive to potential employees and helped set the precedent for other companies in the region.
Campus highlights included the gym and personal trainers, a hair salon, a mechanic, Jurassic Park movie props, and a fitness pool. The students were also amazed by the 28 free cafes throughout the facility, which, their guide joked, are accompanied by the  "Google 20," the weight gain experienced by new employees. Also fascinating was the general architecture and unique spaces, including the meeting room made entirely of doors – only one of which actually opens.
This is the first company visit Hult San Francisco Corporate Relations has held at Google. Other visits this year included Yahoo!, Kiva, and Semifreddi's.
Photo: Betty Varga
Kickstart your career right next door to Silicon Valley by studying at Hult's San Francisco business school. To find out more, take a look at our blog A story about why I chose Hult San Francisco. Download a brochure or get in touch today to find out how Hult can help you to learn about the business world, the future, and yourself.
Related posts