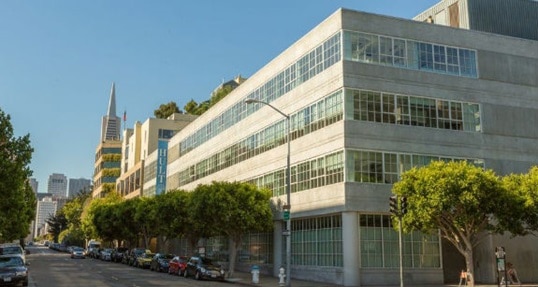 More Business Schools, Such as Wharton and Carnegie Mellon's Tepper, Stake Claims in the San Francisco Bay Area
Business schools warn students against entering saturated markets. But they may not be following their own advice—at least not in the San Francisco Bay area, where a number of schools from around the country have recently opened or expanded satellite programs.
Need proof? Here's a quick tour: From the University of Pennsylvania's Wharton School campus near the foot of the Bay Bridge, head five blocks northwest, and Babson College's West Coast outpost will be straight ahead. Walk about another mile north to hit Hult International Business School. Hop in a car, and Carnegie Mellon University's Tepper School of Business is an hour's drive south.
Recognizing that an increasing number of graduates and prospective students are gravitating to the region for school and work, business schools are going where the action is. Despite established programs nearby—such as Stanford Graduate School of Business and the Haas School of Business at University of California, Berkeley—newcomers see plenty of demand for technology-focused management instruction and are targeting future tech titans and executives seeking a management boost.
What's more, as business schools scramble to prove their mettle as innovation incubators, strong ties to Silicon Valley don't hurt.
"People think differently, they act on their ideas, they collaborate well with other people, people are willing to take a little bit of risk to get their ideas to fruition, and that's an important environment to work in," says Bernadette Birt, chief operating officer of Wharton San Francisco.
The newest Bay Area import, Pittsburgh-based Tepper, will begin classes in August for its FlexMBA part-time program, which combines online instruction and in-person sessions. It will operate a portion of the program out of Carnegie Mellon's decade-old campus at Moffett Field, a former U.S. Navy air station, where the school offers a handful of graduate engineering programs.
Though Moffett Field is about 10 miles from the business schools at Stanford and Santa Clara University, Mike Trick, senior associate dean of education at Tepper, says he's not overly concerned about the competition.
"The M.B.A. market is pretty busy," he says. "No matter where you go, it's going to be an active area."
Tepper plans to take advantage of its parent university's strong technical reputation and of the existing computer science and engineering offerings to attract students interested in hardware, software and e-commerce, among other segments of the market. The school already brings M.B.A. students West from Pittsburgh for weeklong job-prospecting trips, and Mr. Trick says the school is considering a two-month stint for students focused on entrepreneurship.
Starting a San Francisco campus can be costly, with space rental costs alone running well into the hundreds of thousands of dollars per year. Schools generally rotate professors from their main campuses for brief teaching stints.
Local schools say they aren't yet worried about their new neighbors.
"It's going to take a little more than a moving van to replace Santa Clara," says Drew Starbird, dean of Santa Clara's Leavey School of Business. With nearly 30,000 university alums in the Bay area, 300 alums each at Hewlett-Packard Co. HPQ +0.07% and Oracle Corp. ORCL +0.09% and another thousand at Cisco Systems Inc., CSCO +1.39% "we're fully integrated into the business community in a way that the newcomers can't match."
Not that schools aren't trying.
Hult, which opened its San Francisco campus—its fifth globally—in 2010, is vying to secure jobs for its students, says Lisa Tenorio, executive director of the San Francisco campus.
The school, with more than 580 students across a slate of graduate programs, said it has forged relationships with International Business Machines Corp., IBM +0.56% Autodesk Inc. ADSK +0.60% and other area employers, leading to a steady stream of internships.
Meanwhile Babson College, whose main campus is based just outside of Boston, has plenty of experience with nearby competition. That school is flanked by Harvard Business School, Massachusetts Institute of Technology's Sloan School of Management and Boston College's Carroll School of Management, among a half-dozen others. There, Babson has branded itself as a launch pad for successful entrepreneurs, such as Home Depot Inc. HD +0.50% co-founder Arthur M. Blank.
Babson started offering its accelerated Fast Track M.B.A. in San Francisco in 2010, and now enrolls about one-third of the program's 400 students at that campus. An undergraduate course is also in development, set to begin in May, and aims to place students in consulting projects with area companies.
To make its name out West, Babson has placed advertising banners in the airport and on street lamps across the city. The school has also attached its name to local traditions, such as the Corporate Challenge arm of the Escape from Alcatraz Triathlon.
Dennis Hanno, dean of Babson's F.W. Olin Graduate School of Business, says his program's biggest competitor is Wharton, which has offered a San Francisco-based executive M.B.A. for more than a decade. Wharton's latest executive class there enrolled 102 students, about double the size of the first cohort.
James Kilpatrick, president of a local commercial real-estate firm, was so keen to attend Wharton's executive program that three years ago the 36-year-old moved to downtown San Francisco from the East Bay to be closer to campus and its extracurricular activities. He didn't get in initially, but was accepted on his second try and started classes in May.
The Berkeley graduate considered Haas, as well as Babson, but preferred Wharton both for its reputation and for the fact that top faculty were eager to teach at the West Coast campus.
Wharton, meanwhile, is expanding its San Francisco footprint. This fall, it piloted a program that brought 54 second-year M.B.A. students to the campus for a semester, and plans to bring it back next year.
Students will have returned to Philadelphia by the time startups ramp up their recruiting efforts closer to graduation. But second-year student Jennifer Royer, 27, says that's not necessarily a bad thing.
Ms. Royer, who plans to head back to the West Coast after graduation, says the city will be "saturated" with recent graduates in the spring, and hopes connections made in the fall will give her an edge over competitors.
Republished from The Wall Street Journal. Original article can be found here.
Kickstart your career right next door to Silicon Valley by studying at Hult's San Francisco business school. To find out more, take a look at our blog 3 big questions to ask yourself before Decision Day. Download a brochure or get in touch today to find out how Hult can help you to learn about the business world, the future, and yourself.
Related posts