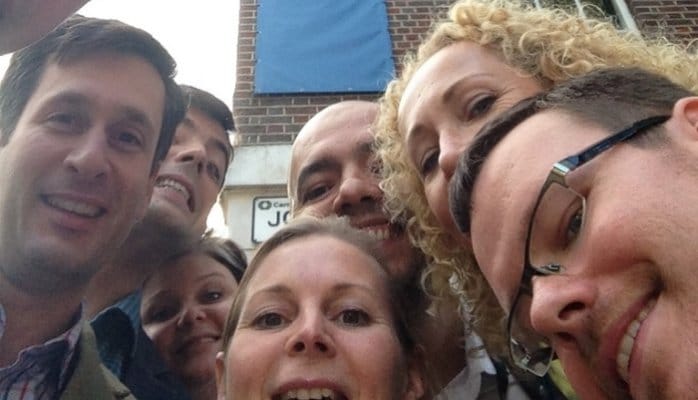 Written by Felicity Leahy, Global Executive MBA Student, London campus, Class of 2017
Life's a journey! Some people prefer small trips, while others will never find the end of the road. For those like me who are the latter type of person, you'll find that life is a matter of allotting your free time between existing commitments and new experiences. It's a compromise– every experience you choose has to have real meaning, and you must choose wisely. For me, my first year of the Executive MBA has certainly been a wise choice that has paid dividends.
Our first long weekend at Hult International Business School was the Leadership Immersion "boot-camp" held over 4 days. First, we were placed into our respective teams, then faced with our first business simulation: to build and grow a computer company. What do you think happens when you throw a bunch of highly-skilled people from different cultures, industries, and work experiences, place each in leadership positions, provide them with limited information on the task and, add a super-short time limit to complete it..? Well, it certainly breaks the 'challenge meter' and changes the shape of the learning curve into a spiky mess. Think of the Sterling immediately after Brexit, a sharp drop in personal value– what you think you know, is just a fraction of your team's collective knowledge.  What comes next is a unique opportunity to discover and learn from each other– if you collectively seize this chance and use it to your team's advantage, then amazing things can really happen.
Lesson 1 – Be open to learning from your colleagues rather than playing the role of sole problem solver.
While I must say many of our professors have been exemplary, bringing topics alive, relevant and to the real world. Our second module was with the Dali Lama of the faculty, Professor Bhalla (also known as the friendly assassin of academia). The workload of his course on Global Management teamed with a restless infant, left me feeling physically sick from the lack of sleep, as our group's dedication to completing the group assignment grew. What's crazy is that I loved it, the adrenaline, the challenge, and the heightened sense of accomplishment making it to the other side. What is remarkable about Professor Bhalla, is the way he focuses the lens of human consciousness and ethics on the business world, this then sets the tone for discussing a future with a different approach to business. So whilst I questioned if I could handle the workload, the most important fact was that I knew I belonged at Hult.
Lesson 2 – To reduce sleep deprivation, hone your team-time-management and task-setting skills. If a late night can't be avoided, then encourage your teammates to the finish line by dangling the Prosecco carrot.
In my first year on the Executive MBA I also decided to take advantage of Hult's international campuses to take my electives. I chose New York for Return Driven Strategy and San Francisco for Disruptive Business Models. I was expecting the intensity on the electives to be just as high as the core modules, but it was a pleasant surprise that they were slightly less, allowing a little more time to take in the delights of the cities. So for New York, a night out at Broadway to see Fiddler-on-the-roof organized by Hult was fabulous and appreciating the culinary offers such as Luke's Lobster rolls, has me salivating for more.
In San Francisco the campus is double the size of London, set within the financial district and a short walk away from Fisherman's Wharf– which has the most amazing clam chowder. Hult organized a silent disco for the first night, this was a bizarre experience: a disco, outside, in broad daylight for all passers-by to amuse themselves on our sober-dancing styles was just hilarious.  I also fitted in a trip to Silicon Valley, jazz, eating delicious oysters and a 9-mile run into San Francisco, over the Golden Gate Bridge. Life is for living!
While many of my cohort decided to embark on an Executive MBA for their own reasons, I chose to do an EMBA at Hult for a number of reasons– the way of learning and real life application of the modules; with first-class professors, the ability to learn and explore new environments, networking across cultures, and of course, proving to myself I can do this. Not only have I grown as a person, but I heightened self-awareness, self-esteem, and abilities in leadership. I can't believe the first year is finished already, as our cohort remind each other in our WhatsApp group of their own Executive MBA adventures and wind-down summer activities, I enter the second year feeling a little somber as our time together will soon come to an end. But in the meantime, I have friends to banter with and challenge ideas, more sleep to lose and a ridiculous amount of work to accomplish.
Until our Executive MBA graduation, the journey continues….!
---
If you would like to find out more about Hult's global business programs, download a brochure here.
---
Kickstart your career in Europe's biggest startup cluster by studying at Hult's London business school. To find out more, take a look at our blog Networking on campus: Hult London hosts Career Connections Forum. Download a brochure or get in touch today to find out how Hult can help you to learn about the business world, the future, and yourself.
Related posts