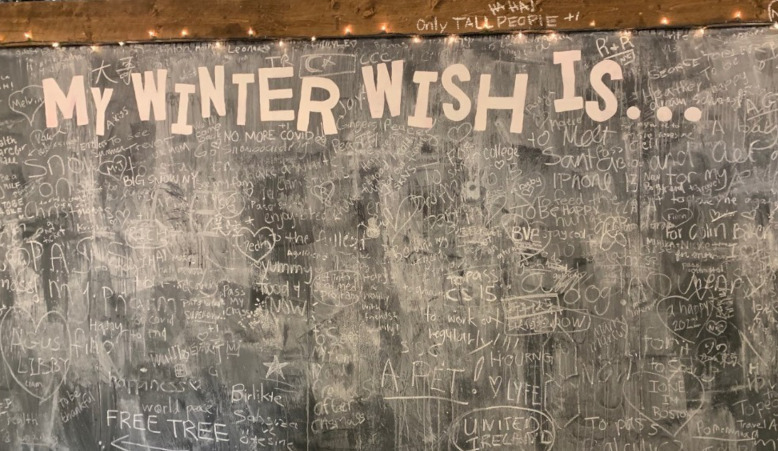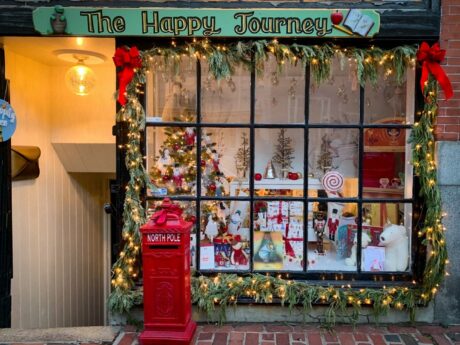 "It's the most wonderful time of the year…" used to be blasting in the malls I go to whenever the month of December arrived. Shiny and glittering Christmas decorations are up as the malls hired the best decorators in town to simulate a white Christmas in a tropical country that doesn't have four seasons. Christmas in Malaysia has always been warm and wet because December is a monsoon season for us. The glamorous decorations are always situated at the center of the mall. Young families and adults are always lining up to take a picture with the Christmas trees with fake snow on it with big gingerbread houses in the background. The pictures that turned out are usually a juxtaposition between imagination and reality because you have a background of a Christmas tree supposedly covered in snow but the people in the pictures weren't layered up for the supposedly "cold" weather. I find those pictures hilarious and interesting but honestly, I've been in those pictures as well.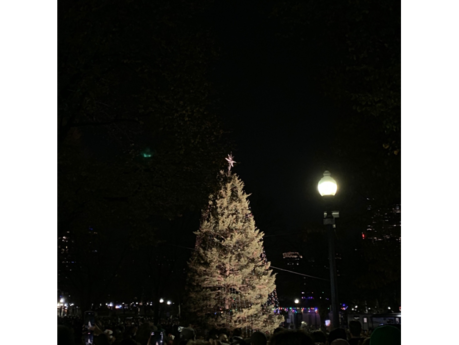 This Christmas, however, is my very first Christmas in a foreign country that has four seasons. Being here in Boston is the first time I'm experiencing an American Christmas as a foreign student. I don't know what to expect but I'm sure it will be as magical as what I've seen on my Instagram feed. I was told to look forward to Christmas once Thanksgiving is over and so I did. The cold weather in Boston seems to understand the assignment by dropping the temperature now and then to ensure I have a feel as to what a cold Christmas feels like. The week after Thanksgiving, I find Boston slowly looking glamorous and shiny decorated with Christmas lights. Here's my Christmas log: 
December 17, 2021– Light It Up!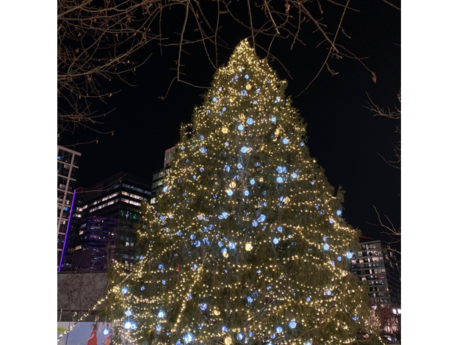 The first Christmas related activity I did was to attend one of the Christmas tree lighting events in Boston. There's no such event back in Malaysia, therefore, I knew I had to see it for myself. The Christmas tree lighting that I chose to attend was the one at Boston Common. Since the sun sets at 4:30PM here in Boston, the event commenced at 6:30PM. The Christmas tree at Boston Common has a little history behind it. Every year, Nova Scotia would gift Boston a Christmas tree as a token of gratitude to the kind Bostonians for their relief efforts after a munition ship exploded in Halifax Harbor in 1917. The incident killed and injured thousands of people. The tree donation was a symbol of appreciation and friendship. I made my way to Boston Common through Beacon Hill after crossing the Longfellow Bridge from Cambridge.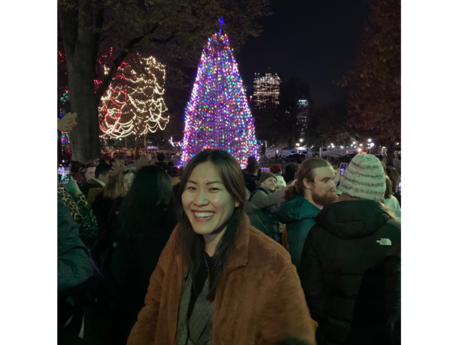 To my discovery, the roads at Beacon Hill were closed for cars to enter and only allowed people to walk on the streets. People were enjoying the walk on the street while doing their Christmas shopping, having some hot chocolate or beer and just having a fun time with friends and family. It felt festive because there was a band playing Christmas songs and dogs were wearing Christmas sweaters and with hanging lights around them!  
As I arrived at Boston Common, I could hear the crowd cheering on for the performers on stage playing in front of the huge Christmas tree that was about to be light up. There were long lines for fried dough and hot dogs too. It's a whole festival of its own! As we hit the final 10 seconds mark, together we all counted from 10 till 1 and the Christmas tree at Boston Common was brightly lit accompanied by a 8 minutes fireworks. It was truly very magical! 
December 20, 2021– A Trip To The Market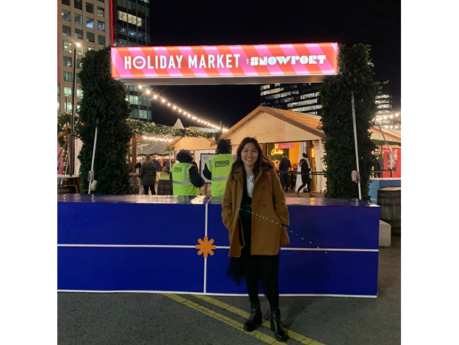 My American Christmas journey continued as I explored the city of Boston hunting for the Christmas decorations and not to be missed, the Snowport Christmas Market at the Seaport district. The city of Boston made sure no one was left behind when it came to spotting Christmas trees. They were everywhere! Numerous well decorated Christmas trees can be found at Seaport, Faneuil Hall, Quincy Market, Downtown Crossings, and everywhere in between. I feel there should be a guided tour on its own just to see all these trees. As for the Snowport Christmas Market, there are loads of activities you can do here from shopping at the Holiday Market to sipping mulled wine and even trying your hand at curling!
The Christmas market was curated to create a European-style holiday market and it featured about 60 small businesses for you to do your Christmas shopping. I also took the opportunity to visit the tree market to simulate what it feels like when it comes to choosing the perfect tree for the holiday.  
December 24, 2021– Food For The Five Thousand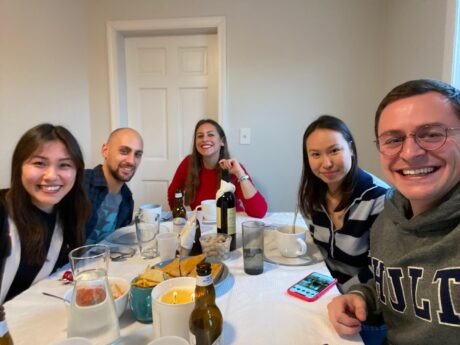 On Christmas Eve, I celebrated it with a couple of friends who chose to stay in Boston. We were the team that did not return home: Team Far From Home. We organized a potluck lunch where everyone was required to make a meal and bring it over to the party. My friend & I decided to make French onion soup as appetizers since the weather was cold on that day too. I like to think that we did a pretty good job on the soup as first timers. Another friend of ours from Italy made ravioli with ragu sauce. I'm certain that I will be picky in the future when it comes to Italian food after having tasted what real Italian food is. They sure made me feel like I was having Christmas at home, and I wouldn't have it any other way. 
 December 25, 2021–Christmas Day: Lost in New York
On Christmas Day, I hopped on the bus to New York City to visit and to celebrate Christmas with a family friend of mine. As I arrived at her home, it was straight out of every Christmas movie I've seen, and a dream come true for me. Her house was fully decorated with Christmas wreath and red ribbons around the hallway. There was also a nativity of Jesus scene set on the grand piano.
Christmas is not complete without the nativity scene set because Christmas is all about the birth of Jesus! The living room was brightly lit by the Christmas tree at the corner of the room with presents underneath the tree. We had a Christmas lunch filled with joy and laughter. We also took the time to say our prayers to those who probably were not fortunate enough to have a warm Christmas like us.
After lunch, we all moved to the fireplace and listened to one of the guests played us some Beethoven and Mozart on the grand piano. We then moved on to the other room for a few rounds of Bingo and I managed to win the first round. I guess it's beginner's luck. For my first American Christmas here in the United States of America, this is one experience I will never forget. I am truly grateful and blessed to be able to experience Christmas here.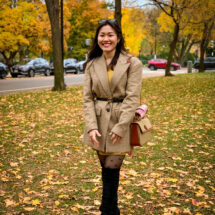 Mei Hwa Wong
Mei hails from Malaysia and began her MBA at Hult International Business School in 2021. Before coming to the States, she was a corporate strategist by day and a writer by night. She writes occasionally on her private journal and blog. She aspires to expand her corporate strategy career to help companies make the right decision and be relevant in the fast-moving business world. When she's not writing, she's either traveling or eating spicy food & drinking boba.
Related posts