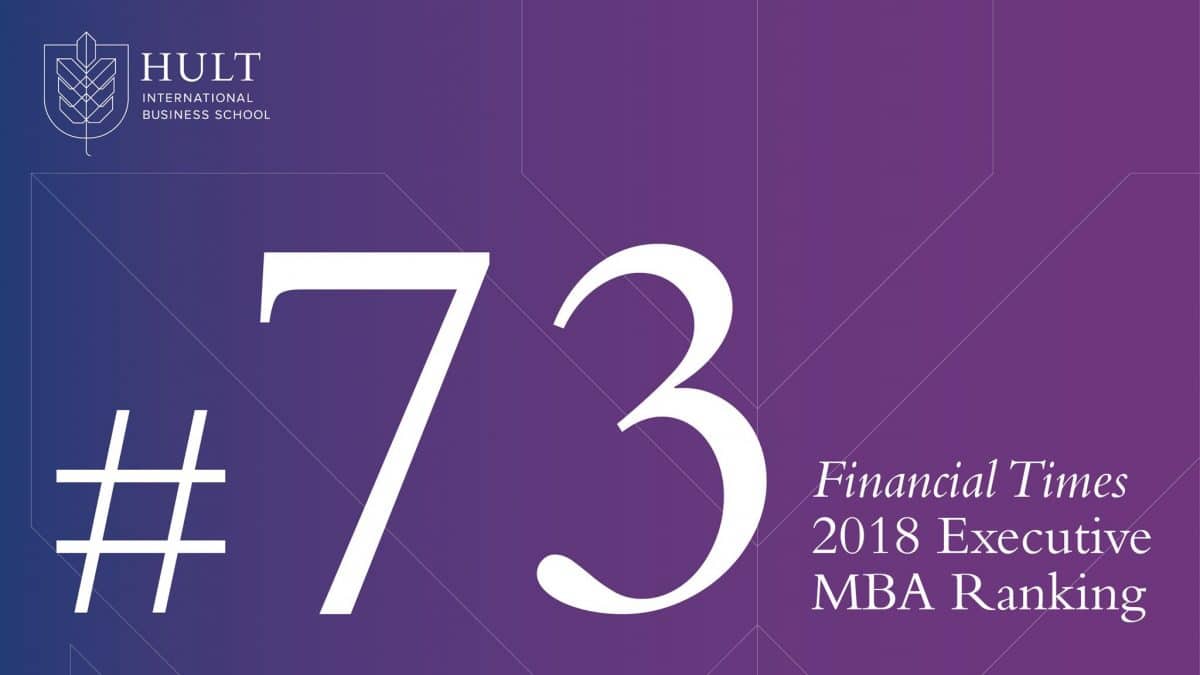 Hult's Global Executive MBA has today entered the Financial Times 2018 Executive MBA ranking at #73.  The ranking features the top 100 Executive MBA programs for senior working managers worldwide. The FT now joins The Economist (#53, Executive MBA ranking, 2018) in ranking Hult's EMBA program as among the best in the world.
"We're delighted that our executive alumni have performed so well in the results-focused criteria of  this years' Financial Times EMBA rankings. We're particularly pleased with our strong performance in the CSR category, reflecting our committment to educating leaders with an ethos of doing business to do good.  "

Dr. Stephen Hodges, President, Hult International Business School
This is a great achievement in what has been an impressive year for the school. In addition to strong performances in global rankings, Hult became the first U.S. business school to achieve triple accreditation earlier this year.
Open only to schools that are either AACSB or EQUIS accredited, the FT rankings criteria requires a 20% response rate from alumni and responses inform five ranking criteria: salary today, salary increase, career progress, work experience, and aims achieved, with salary carrying the most weight.
In subcategories, Hult ranked:
#8 for International Students*
#13 for Corporate Social Responsibility
#20 for Salary Increase*
*calculated rank based on 2018 FT data
In recent years, a number of other prestigious publications, including The Economist, Forbes, and Bloomberg Businessweek, have recognized our impressive alumni career outcomes, with Hult International Business School ranking among top business schools globally.
Hult International Business School rankings
15th Best Global Executive MBA – CEO Magazine, 2018
53rd Best Executive MBA – The Economist, 2018
13th Best Masters in Management (for Hult's Masters in International Business) – The Economist, 2017
54th Best Full-time MBA – The Economist, 2017
15th Best International One-Year MBA – Forbes, 2017
Bachelor of Business Administration program listed in Bloomberg Businessweek's Best Undergraduate Business Schools, 2016
Find out more about Hult's rankings and accreditation here.
About Hult International Business School
Hult International Business School offers degrees at undergraduate, postgraduate, and executive education levels and awards both U.S. and U.K. degrees across its global campuses in Boston, San Francisco, London, Dubai, and Shanghai.
Hult takes students beyond business to learn about the world, the future, and themselves, so that they can work across cultures, help shape the future, and lead others effectively in a world that's changing faster than ever before. With students of more than 160 nationalities and the chance to study in multiple cities around the world, students are immersed in diversity from day one. Our courses in disruptive technologies and a future-focused curriculum mean students explore the risk and opportunities the future holds, and our advanced leadership program develops a growth mindset that enables students to improve both strengths and weaknesses long after graduation.
---
To learn more about Hult's top-ranked Executive MBA program, download a brochure.
Related posts