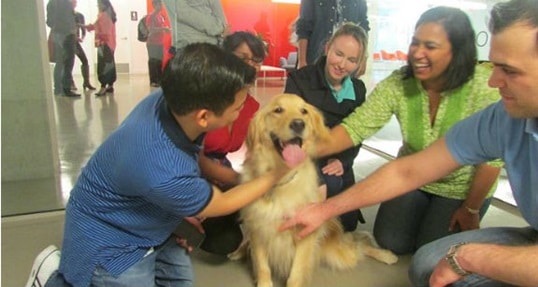 What better way to take a study break than to hang with some extra affectionate, extra furry friends?
In the middle of a hectic finals week, Hult San Francisco students were treated to several events to help them de-stress, including a visit with a pair of very friendly pooches.
Teddy and Trio, local dogs from the SPCA's Animal Assisted Therapy program, spent two hours on campus, playing and cuddling with students who were looking for a well-needed study break. Students and staff crowded the school's lobby, lining up for a chance to pat and snap a photo with the special guests. Teddy, a golden retriever, was energetic and eager to meet everyone. Trio, a pitbull/labrador mix named for the fact that a past illness almost caused her to lose a leg, was much more reserved and patiently enjoyed the affection, giving out several kisses.
The dogs – who are individually owned and met for the first time at Hult – are rescues that have become therapy dogs, thanks to their extremely friendly dispositions. Their owners are SPCA volunteers and regularly bring the dogs to visit schools, hospitals, nursing homes, and other places to help relieve stress and lift spirits.
Hanging with canines is just one of the "stress less" activities for Hult students during finals, thanks to the Student Services team. The department also hosted healthy snack stations and a free yoga session at the San Francisco Bay Club, open to all students.
Photo: Rebecca Joyce
Kickstart your career right next door to Silicon Valley by studying at Hult's San Francisco business school. To find out more, take a look at our blog A story about why I chose Hult San Francisco. Download a brochure or get in touch today to find out how Hult can help you to learn about the business world, the future, and yourself.
Related posts