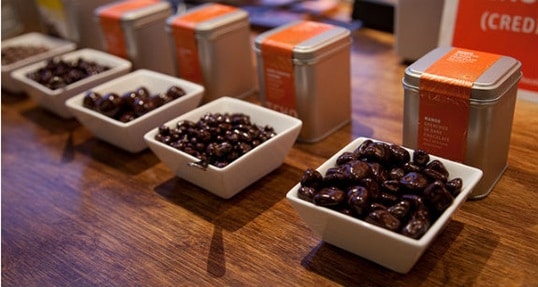 Hult San Francisco students returned from spring break and jumped right back into their busy class schedules this week as Module C, the third of five modules in the school year, began. But an afternoon visit to the nearby TCHO luxury chocolate factory offered a break in an otherwise tough week.
Twenty students took a 10-minute walk to TCHO's waterfront headquarters on San Francisco's historic Pier 17 for a presentation, factory tour, and chocolate tasting, hosted by the school's Corporate Relations department.
A relatively new company, TCHO is innovative in its practices and chocolate making, thanks to CEO Louis Rossetto and President Jane Metcalfe. Co-founders of Wired magazine and Wired.com, the pair combined their Silicon Valley high-tech background with their love for gourmet food and the San Francisco culinary culture to create TCHO.
During the Hult visit, students learned how TCHO makes its high-end chocolate from cacao beans through an interactive presentation. They then got a private tour of the sweet-smelling factory – TCHO's only manufacturing facility in the world. The group donned hair nets and got a view of the two rooms where the chocolate is made, individually inspected, and hand packaged. The tour concluded with a sampling of six of TCHO's trademark chocolate flavors and a lesson in chocolate tasting, which at TCHO means testing the candy's sound (by snapping it in half), smell, and of course, taste.
Hult San Francisco's Corporate Relations department offers students visits to local companies throughout the school year, giving them a fun yet informative look into life at notable Bay Area businesses.
Photo credit: Scott Beale / Laughing Squid
Kickstart your career right next door to Silicon Valley by studying at Hult's San Francisco business school. To find out more, take a look at our blog 24 Hours at the Hult San Francisco campus. Download a brochure or get in touch today to find out how Hult can help you to learn about the business world, the future, and yourself.
Related posts