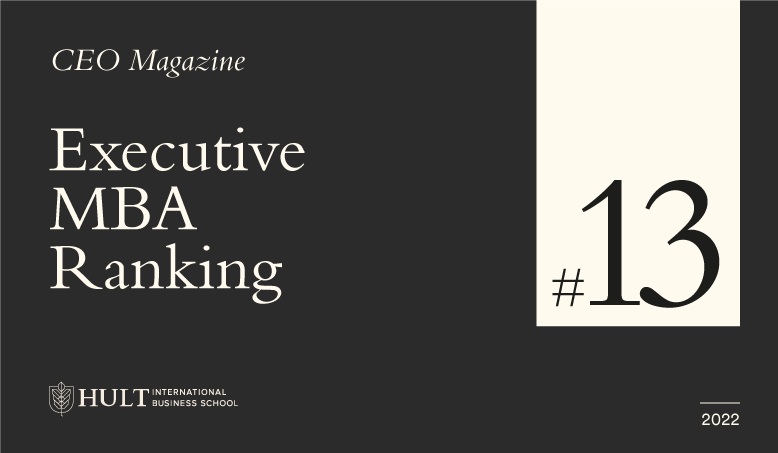 Hult International Business School's full-time MBA has been ranked in Tier One by CEO Magazine's 2022 Global MBA Rankings for the seventh consecutive year, with Hult's Executive MBA being placed #13. Using a ranking system entirely geared and weighted to fact-based criteria, CEO Magazine aims to provide potential students with a performance benchmark for those schools included. 
This year, CEO Magazine reached out to business schools across North America, Europe, Australia, New Zealand, and the BRICS, and ranked data from 180 schools, offering 338 different programs in 27 countries. Given the current climate, scores have been expressed as an average based upon data received over a four-year period (2018-2020/21). 
Weighting of data points used in the rankings:
Quality of Faculty: 34.95%

 

International Diversity: 9.71%

 

Class Size: 9.71%

 

Accreditation: 8.74%

 

Faculty to Student Ratio: 7.76%

 

Price: 5.83%

 

International Exposure: 4.85%

 

Work Experience: 4.85%

 

Professional Development: 4.85%

 

Gender Parity: 4.85%

 

Delivery methods: 3.8%

 
Bursting onto the scene this year is our new doctorate degree. In the DBA's first year, it's already made a splash– having been listed on CEO Magazine's Global DBA Listing.
And it isn't just CEO Magazine who recognises our programs as being among the best n the world, check out where Poets & Quants have ranked our undergraduate degree.
---
About Hult International Business School 
Hult International Business School is a non-profit educational pioneer and the first triple-accredited US business school. Hult offers programs at undergraduate, graduate, and executive education levels and awards US degrees across its global campuses in Boston, San Francisco, London, Dubai, Shanghai, and New York. Founded by one of Europe's most successful entrepreneurs, Bertil Hult, the school's mission is to remain on the cutting edge and offer the world's most relevant business education. Hult's philosophy is that business skills can only truly be learned by doing. By immersing students from all over the world in practical, hands-on experiences from day one, Hult programs develop the skills employers and entrepreneurs need most. This fresh approach to education is creating a global community of confident, capable graduates, ready to tackle the challenges of tomorrow. 
---
Related posts