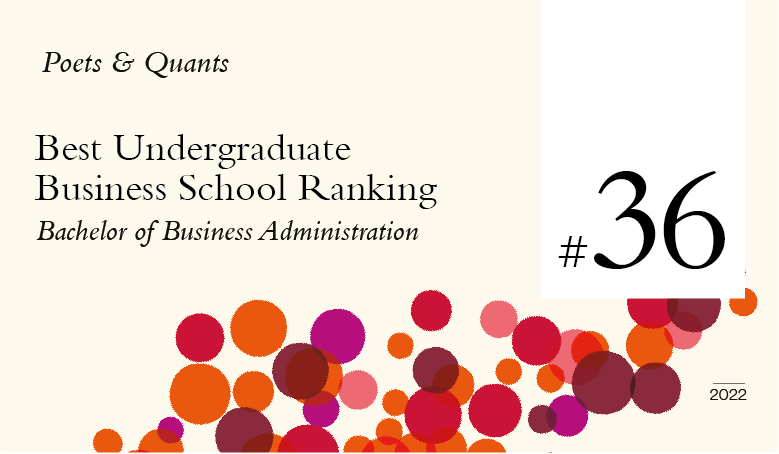 We're kicking 2022 off on a high note! Hult has been ranked by Poets & Quants as one of the Best Undergraduate Business Schools in the US. Our excellent performance gives us an overall ranking position of #36. To top that off, Hult ranked highly in several other important subcategories:
#2 for Faculty Availability and Mentoring
#3 for Life-Changing Experience
#6 for Academic Advising
#13 for Academic Experience
We'd like to say a big thank you to all our students, faculty members, alum, and staff who continue to help us earn these outstanding achievements.
The rankings confirm what our students already know– with five global campuses, a learn-by-doing approach, and a student body with over 140 nationalities—Hult offers a student experience like no other.
How are the rankings calculated?
Using a ranking methodology that relied on student and alumni feedback, Poets & Quants ranked schools based on admissions, academia, classrooms, community, and careers.
What do these achievements mean in real life? Our students say it best:
"Hult offers an amazing environment where students constantly grow and develop thanks to an innovative, open-minded, and well-structured ecosystem. Teachers and staff of all departments are open to discussions and offer further help."
Matteo Mori, Italian, Class of 2022
"I found myself surrounded by a community of international and diverse individuals who put aside their differences and integrate in an environment that's like no other. We share our experiences and learn from educators through rigorous activities and projects that provide us with the real-life experiences which we'll need as potential business people. I am simply loving Hult!"
Isaac Nziza, Rwandan, Class of 2022
"Hult is a big family. From the enrollment team to the professors, they give us strong support and they always want the best for you. Imagine yourself living the dream in the US while studying at the same time? That's possible at Hult!"
Apolline Hardy, French, Class of 2022
"If you're looking for an unforgettable undergraduate experience, friendships with inspiring people from all over the globe, and a graduate degree that'll transform your career, then Hult could the best place for you."
---
Interested in being part of Hult's talented community? Take a look at our skills-driven programs.
Related posts