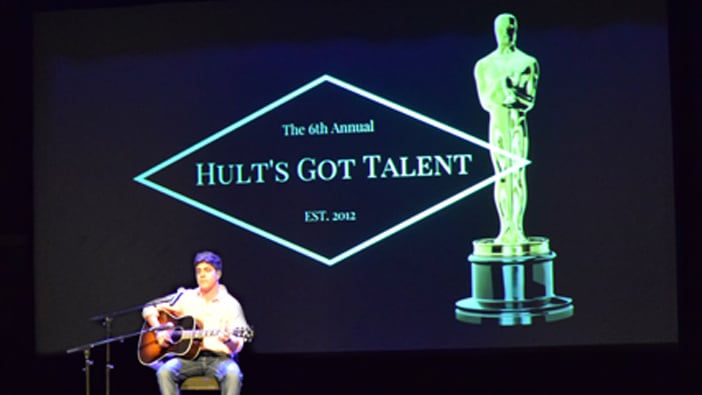 Campus clubs: Events round-up

Mel Cloney, 7 years ago
0
6 min

read
Our student-led campus clubs work hard to strengthen ties with the local community and grow the Hult network. From inviting influential business leaders and alumni onto campus, to launching charitable initiatives, we love to see our students maximizing their Hult experience. And with over 150 student nationalities across our global campuses, students value the opportunity to come together and share both their common interests as well as their diverse cultural passions. Read on for a round-up of the top club events so far for 2017.
Boston campus
The LEAP Club (Leadership Enhancement Among Peers) is on a mission to bring students together to enhance their leadership skills. They have been very active on Hult's Boston campus this year. Recently, they held a peer-to-peer mentoring evening. Another successful event was a networking evening at 'Little Lingo'—Hult Boston's on-campus café-bar. They also organized a public speaking workshop, co-hosted by fellow Hultians with extensive public speaking experience. Hosts included a member of the Toastmasters Club, a participant in the Hult Prize, and a former TEDx Marketing Manager.
Meanwhile, the Humans of Hult Club organized a free treasure hunt around campus. Over 15 teams of more than 80 students joined in the fun, racing to solve clues and unearth the "treasure"—gift vouchers for Little Lingo!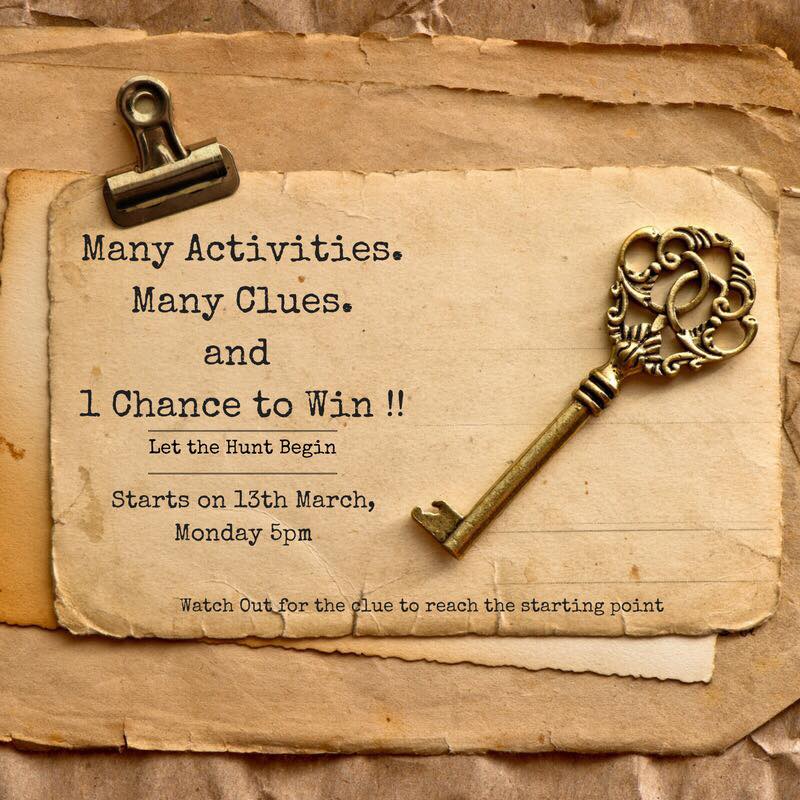 Over 80 students raced to solve clues and unearth the treasure in the "Humans of Hult" Club's treasure hunt around Boston campus.
San Francisco campus—graduate and undergraduate
Many campuses have held their annual 5K charity run, as well as the renowned annual "Hult's Got Talent" show. In San Francisco, the top ten auditioning acts went through to perform in the live finals at a theater rented out in the city, while The Hultian, Video & Media, and Hult Event Management clubs all helped out with ticket sales, social media coverage, and behind the scenes.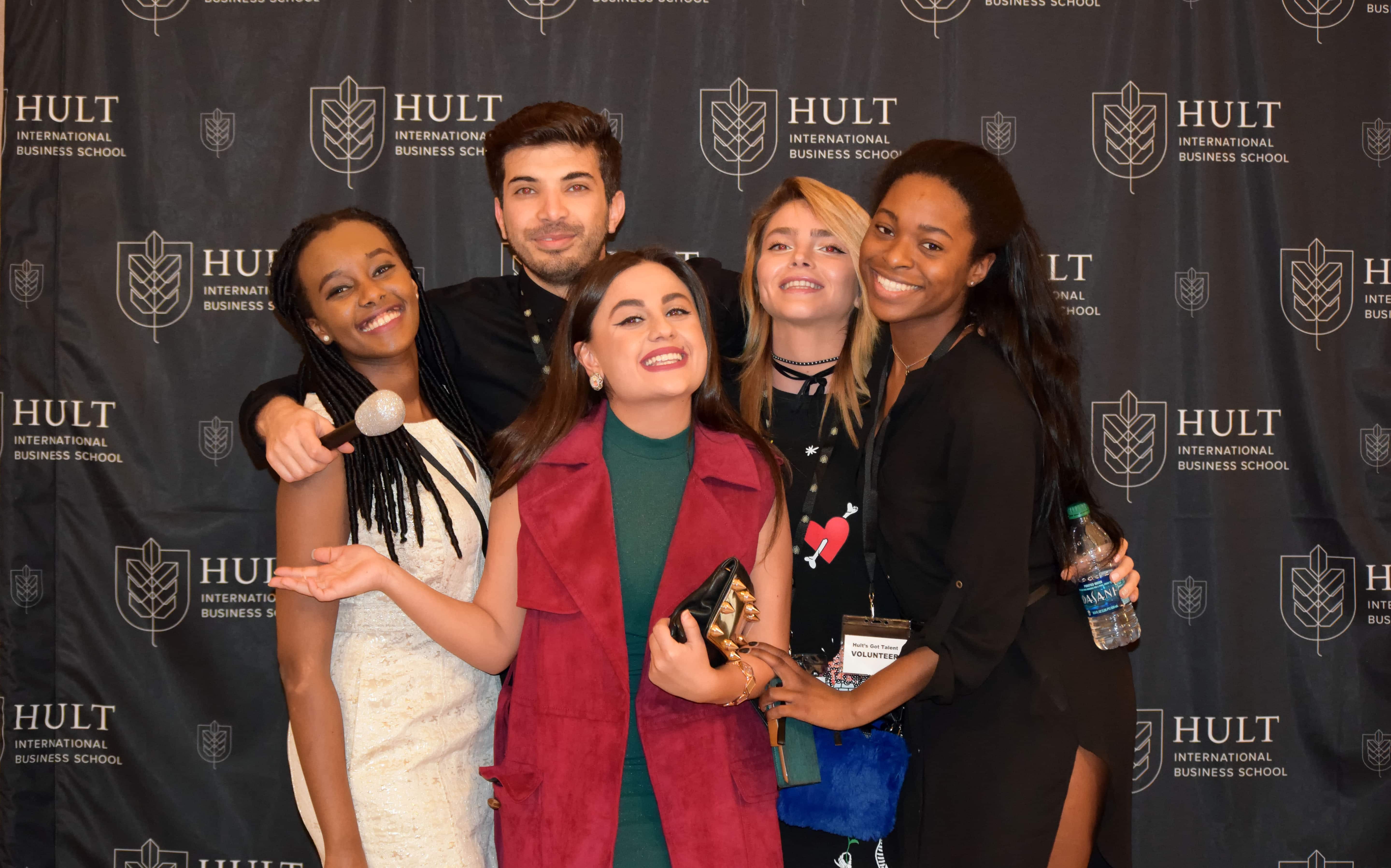 Audience members enjoy the star treatment on the red carpet at San Francisco's "Hult's Got Talent" show.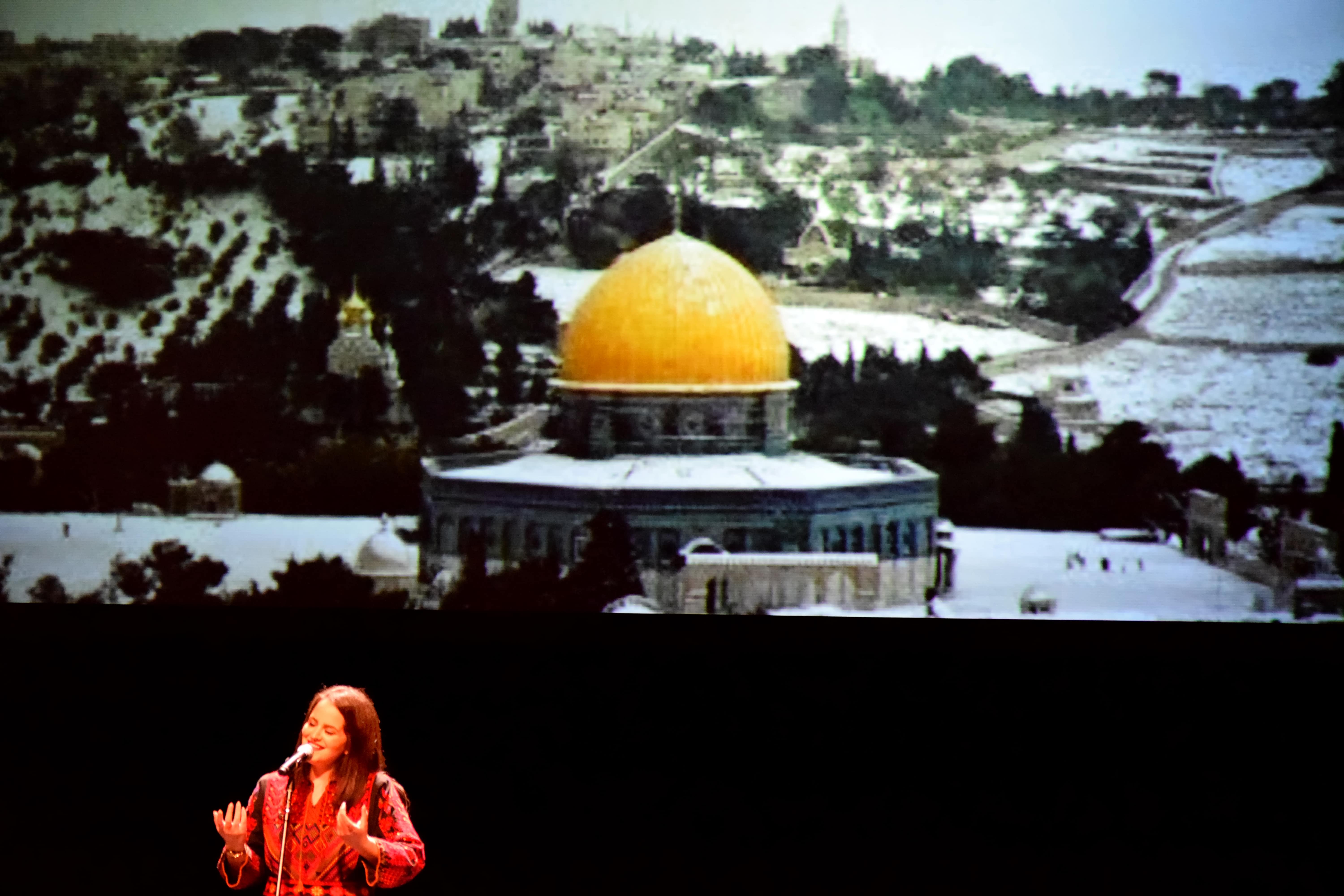 MBA student Samira Kharoubi kicks off Hult's Got Talent with "Mawtini"—the Palestinian national anthem.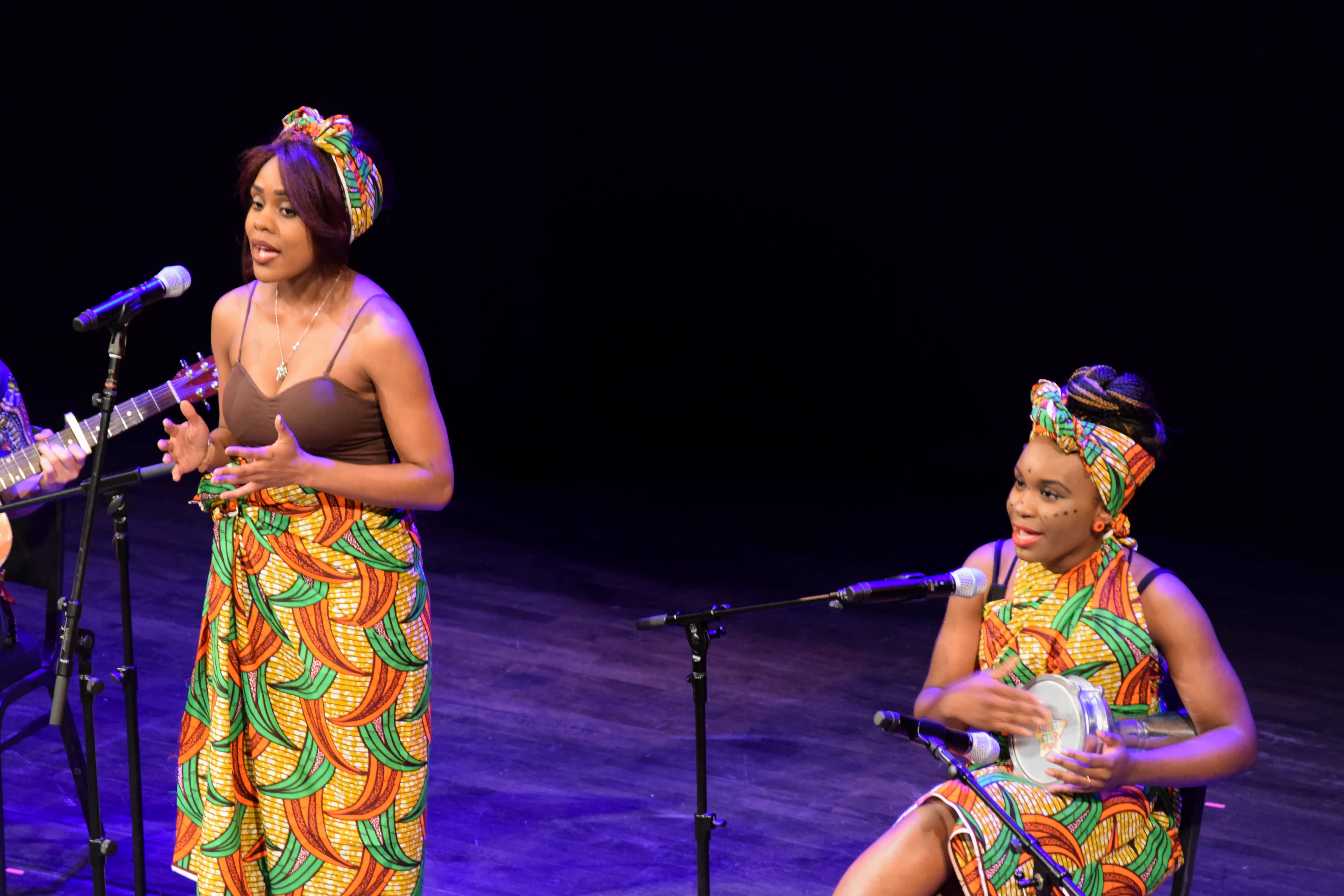 Undergraduate students Kimberley Marumahoko and Angele Tchouen, longstanding leaders of the African Legacy Club, perform a traditional African song about a woman going through tough times, earning them 2nd place in the competition.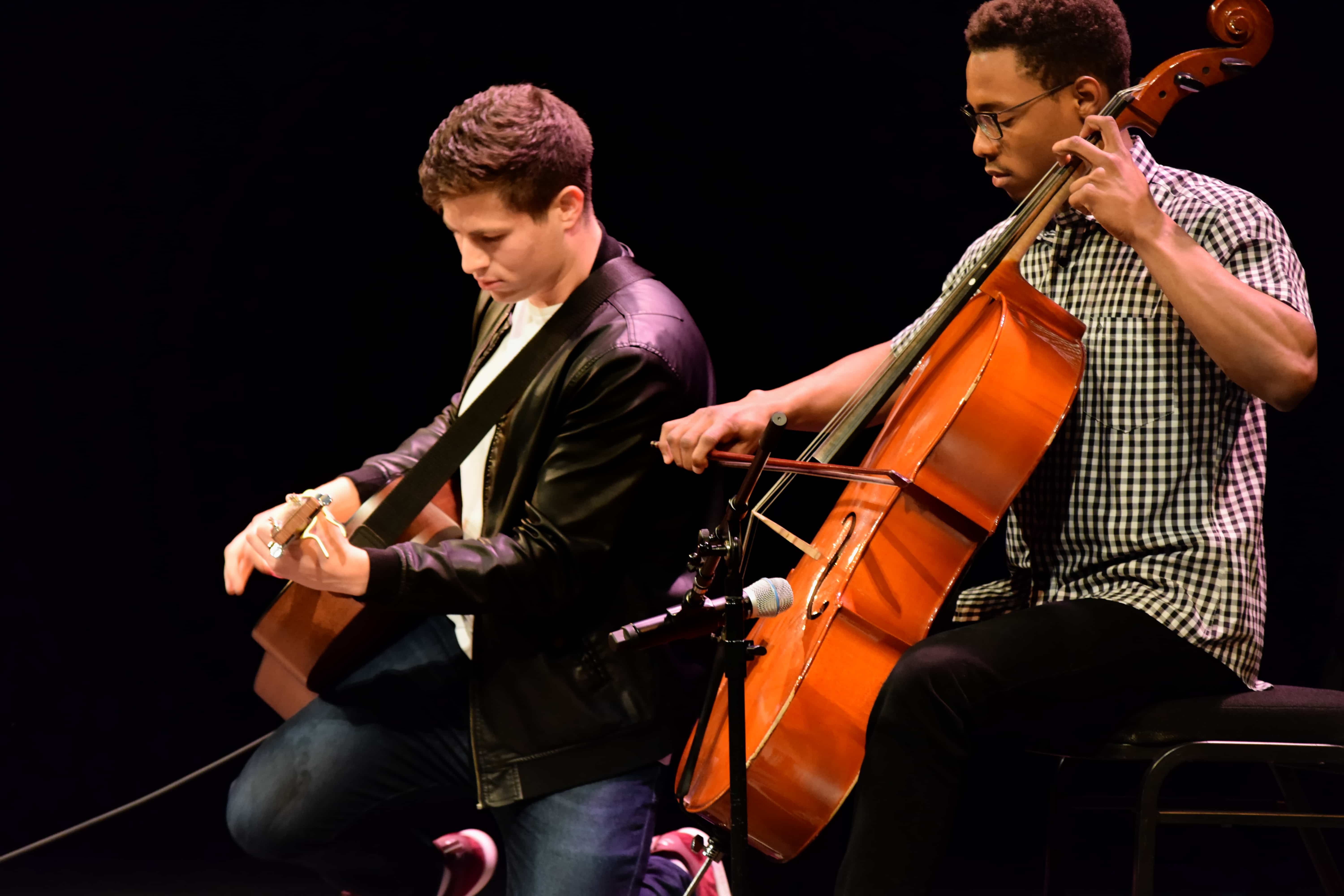 Talented undergraduate group "JD2" showcase an inspiring mash-up complete with singing, guitar, and cello, taking first place in the competition.
Annual Festival of Culture—all programs and campuses
Another popular event across our global campuses is the festival of culture that is celebrated annually on International Culture Day. This is the perfect opportunity for our diverse student body to showcase and celebrate their home cultures. On the San Francisco campus, the third and fourth floors were turned into a festival for the evening. Breakout rooms hosted by different countries showcased their national food, dress, music, art, and local customs and information. Highlights included students coming together for a cultural dinner featuring Venezuelan, Russian, and Chinese influences; enjoying the photo booth; salsa lessons and entertainment; and dance performances provided by the Bollywood Club and African Legacy Club.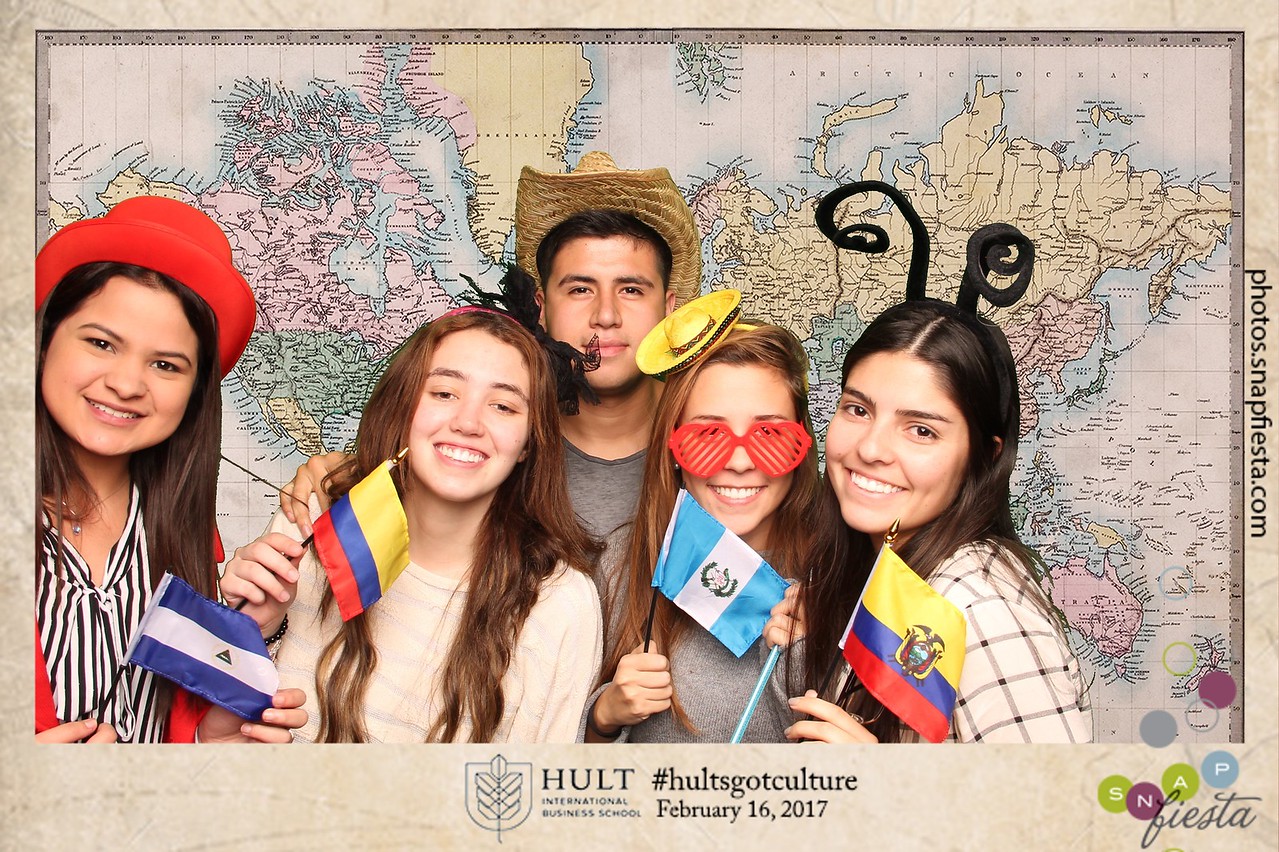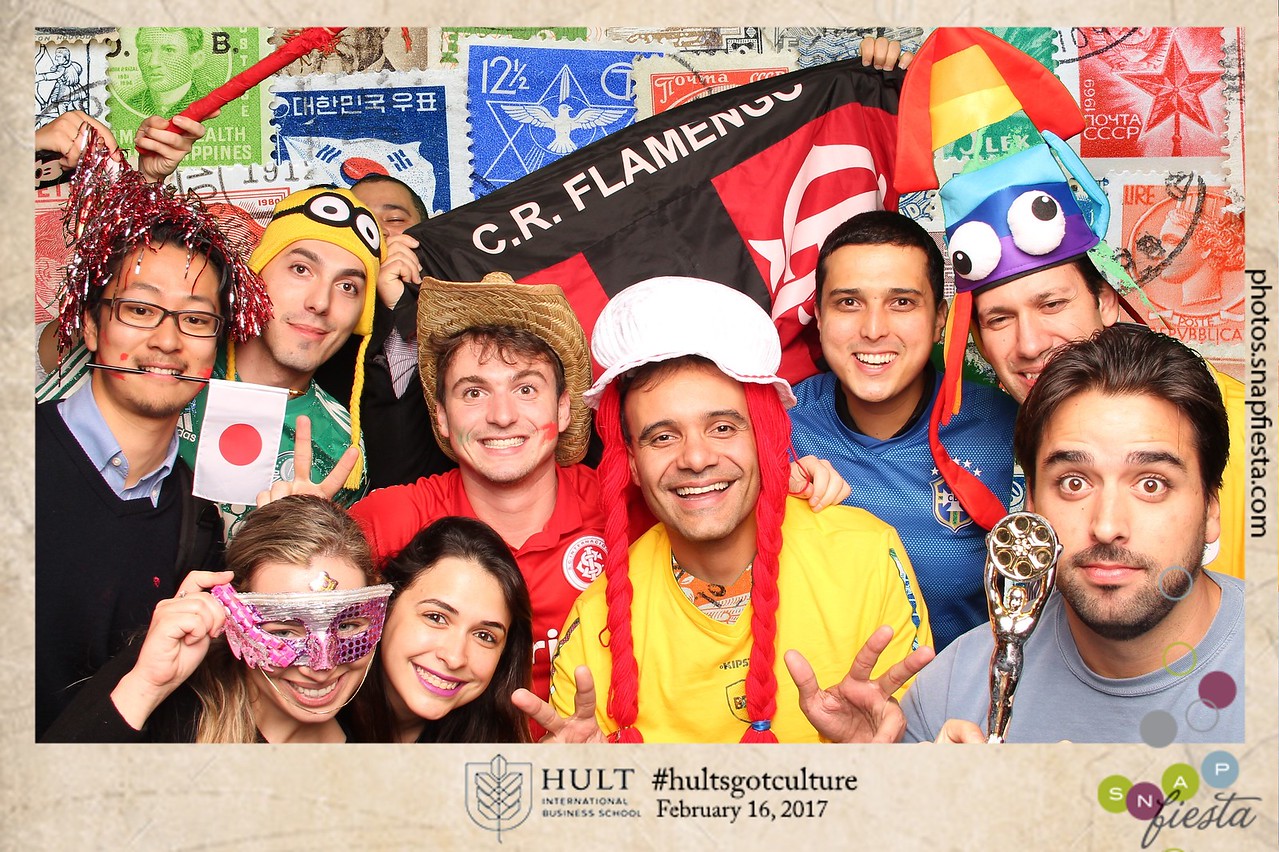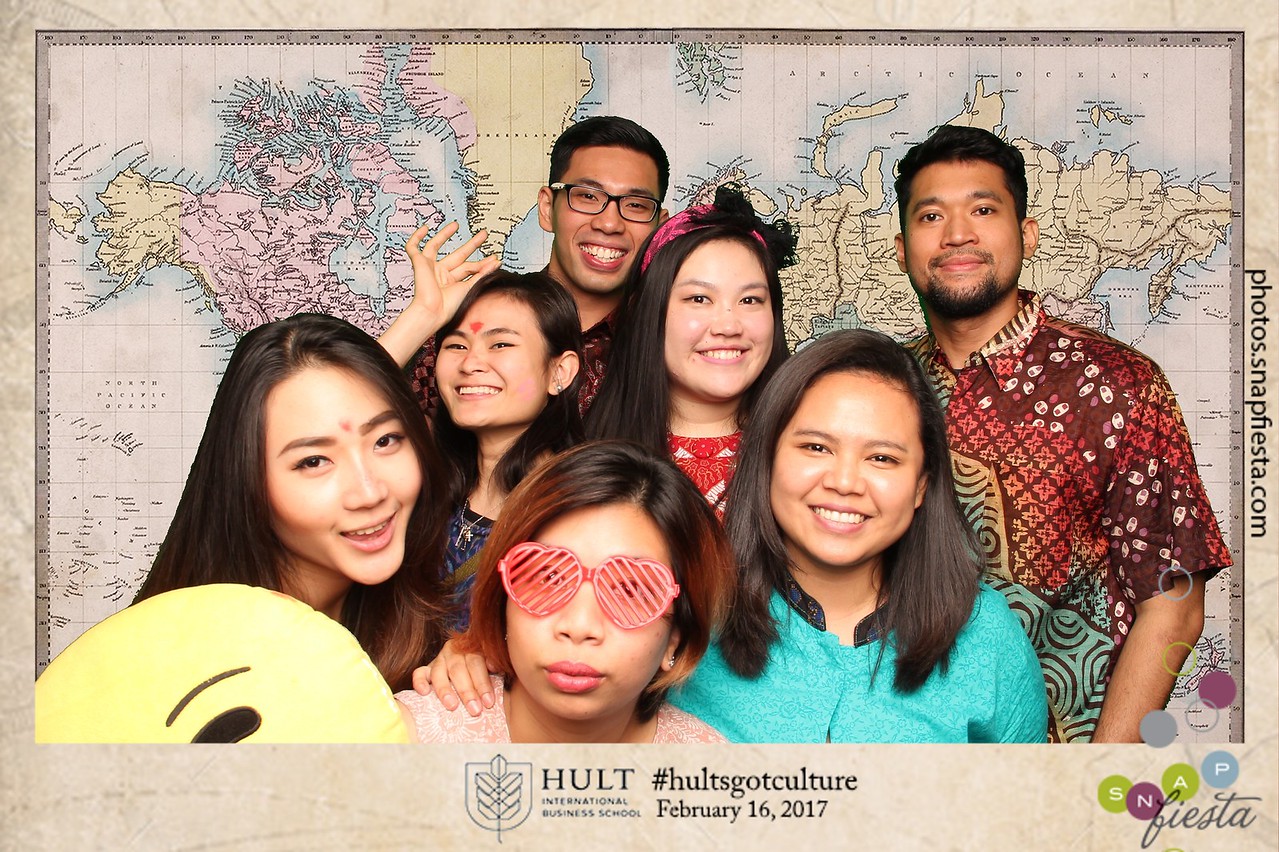 Students have fun in the #hultsgotculture photo booth, celebrating International Culture Day.
London graduate campus
Just outside London, the Environment Club planted over 450 saplings in the extensive grounds of Ashridge Estate campus, as part of their mission to plant 1,000 trees this year and offset the campus' annual paper consumption.
London undergraduate campus
Meanwhile, over on the Hult London undergraduate campus, the Men's Football Club won the league! While the Hult Society of Banking hosted many events from workshops and interactive info-sessions to speaker panels. Guests hosted by them on campus include Gregory Dickens, Vice-President of the Global Business Strategy at Citi, Treasury and Trade Solutions, Rebecca Desman, Managing Director of Hedge Funds & Credit Sales at Deutsche Bank, and Samina Akram, Managing Director at Samak Ethical Finance Ltd., to name a few.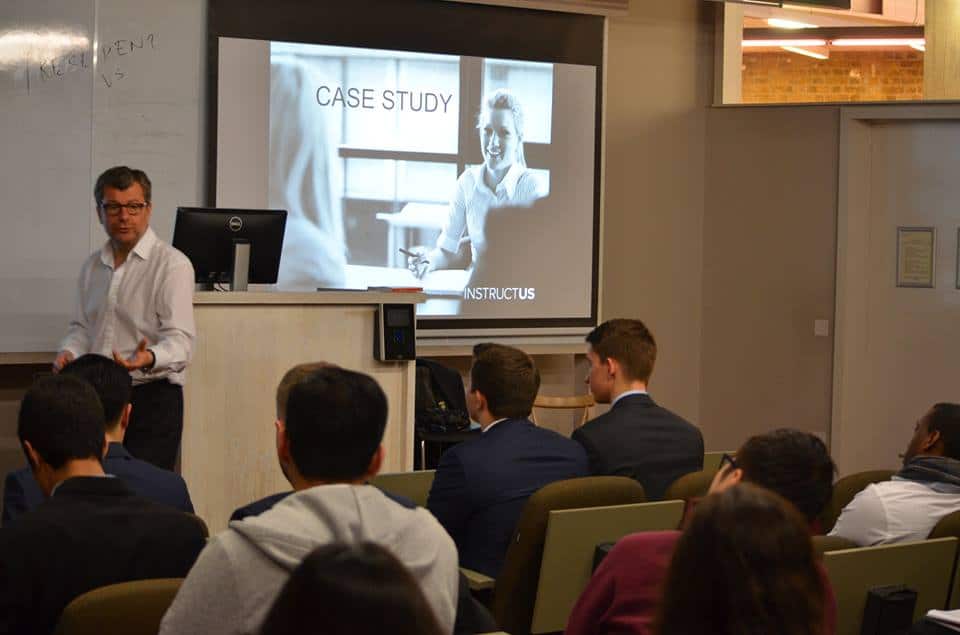 Hult's Society of Banking on London's undergraduate campus hosts a workshop run by Giles Johnston and Graham Smith of INSTRUCTUS Markets
HultMUN attended the London International Model United Nations Conference, with two members of the delegation receiving awards. Elsewhere, the Ski & Snowboard Club enjoyed their ski trip to Andorra, while the Country Sports Club went alpaca walking and clay pigeon shooting. And the Hult International Law Society recently hosted a panel session on Law & Finance in the City, as well as a pub quiz.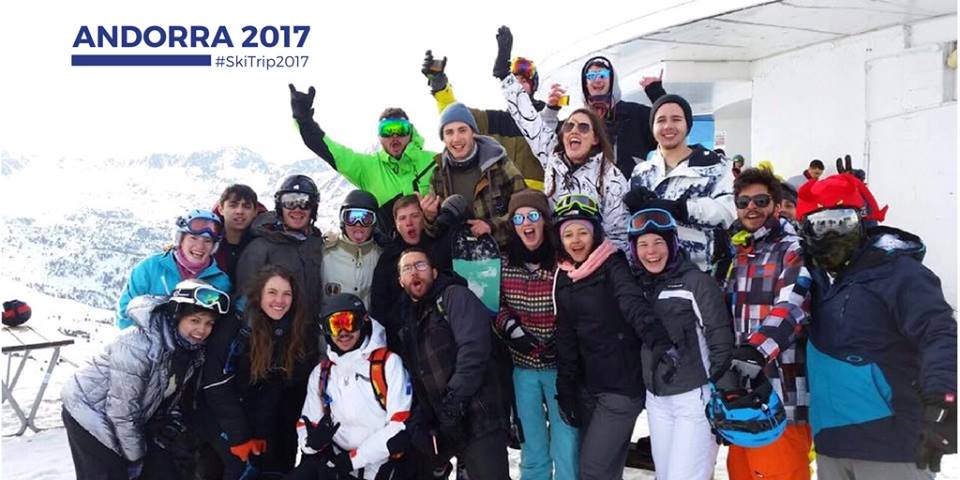 The London Undergraduate Ski & Snowboard Club enjoys their annual ski trip—this year to Andorra.
Dubai campus
On Dubai campus, the Defense Industry & Technology Club held a speaker networking event. Shannon Neller is a retired US Marine Infantry Officer with 20+ years of experience in operations, training, and program management. His experiences include planning, implementing, executing, and supervising joint maritime and amphibious operations across the globe; humanitarian assistance-disaster relief operations in Asia; combat/counterinsurgency operations and foreign military advising in Ethiopia, Eritrea, Iraq, Afghanistan, and the United Arab Emirates; security operations guarding nuclear assets; and garrison training in the U.S.
Shannon spoke about the great responsibility of the leader for the team by sharing personal stories from his active military service. He reminded the MIB, MBA and EMBA students, that no matter how hard the program is, everyone has overcome bigger obstacles in their lives.
During the second part of the event, participants shared their experiences within the industry—from within the US Marines Corps, German Armed Forces, Defense Industry, and a Private Military Contractor in the Syrian Army.
More to come soon
There are already some exciting events lined up for April and May. A speaker from the United Nations has been arranged by the Women In Business Club in Boston. Also in Boston, a HubSpot event hosted by the Marketing Club is sure to be a popular event. In London, the graduate Finance & Investment Club will be welcoming the VP of Fintech at JPMorgan's offices as part of their speaker series. London graduate is also holding a wine tasting event to celebrate International Wine Day, open to Hult alumni. Meanwhile in Dubai, the GIVE ("Get Involved Value Everyone") Charity Club is arranging for rotating students to give unwanted clothes to charity. And Hult London graduate campus will be turned into a glitzy venue for the Film Production Club's movie premiere.
As the saying around here goes: "You only have one Hult life—Live it!"
---

Mel Cloney is a staff blogger working in London, and is passionate about the Hult journey. Her writing focuses on faculty, academics, and student and alumni experiences. She's a food, scuba, and running junkie with a penchant for all things French.
Hult offers a range of highly skills-focused and employability-driven business school programs including a range of MBA options and a comprehensive one year Masters in International Business. To find out more, take a look at our blog Hult Tech Club: Teaching business students to code. Download a brochure or get in touch today to find out how Hult can help you to learn about the business world, the future, and yourself.

Mel Cloney
Mel is a staff blogger working in London, and is passionate about the Hult journey. Her writing focuses on faculty, academics, and student and alumni experiences. She's a food, scuba, and running junkie with a penchant for all things French.
Related posts