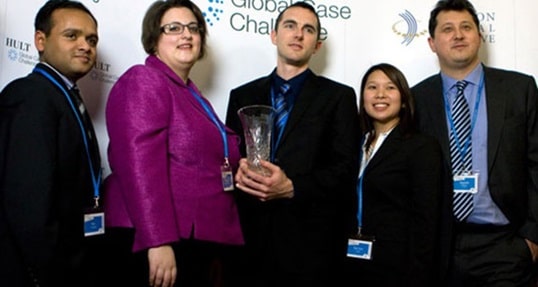 Students from Boston and across the globe will spend the next few months competing for a $1 million grant to get their ideas on how to solve the global food crisis off the ground.
The Hult Prize is a start-up accelerator for social entrepreneurship, and with more than 10,000 applications received this year, it is the world's largest student competition and crowdsourcing platform dedicated to social good.
On Friday and Saturday, students from across the northeast will participate in the regional finals at the Boston Museum of Science and the Hult International Business School's Cambridge campus.
This year, the focus is on the global food crisis, and the challenge is for students to create a social enterprise to get affordable, nutritious, and easily accessible food to urban slums.
Published by the Boston Metro. Original article can be found here.
"We have a mission to change the world," said the founder and global director of the Hult Global Case Challenge. "We're all about radical, innovative and break through concepts. The food crisis was chosen because it's an important topic, but more importantly we felt there is very little attention being brought to global food security world wide."
Harvard University student Krishna Matturi hails from India, so he said he has seen the crippling effect of hunger.
"We happen to be from a rural area, and I've witnessed hunger and malnutrition first hand.That's what made us enter into the competition," said 28-year-old Matturi, who is a team leader. "We need to look at food problems in a much different way."
The challenge is in partnership with the Clinton Global Initiative. Clinton, who is very involved in the project, is expected to visit Boston for Hult's accelerator boot camp program in June.
Students come from four other regions: San Francisco, London, Dubai and Shanghai.
Each team of five is selected from more than 10,000 applications received, totaling over 350 colleges and universities, representing over 150 countries.
Follow Metro Boston on Twitter:  @MetroBOS
Kickstart your career in this education and innovation hotspot by studying at Hult's Boston business school. To find out more, take a look at our blog Taking me beyond business: Finishing my masters with the Hult Prize Finals. Download a brochure or get in touch today to find out how Hult can help you to learn about the business world, the future, and yourself.
Related posts