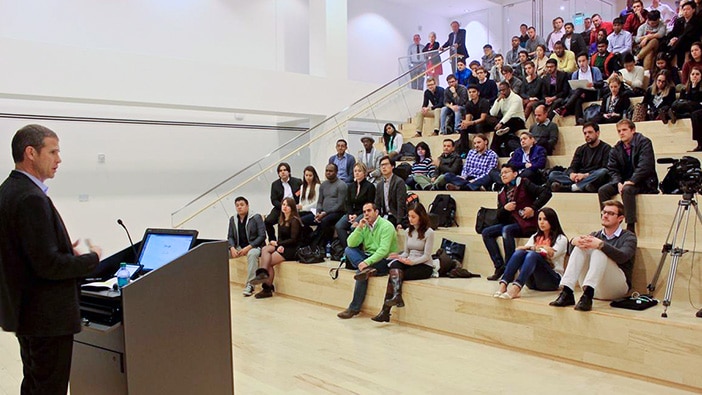 The first semester at Hult has been as busy as ever with all our campuses welcoming global business leaders and local big hitters to share their experience with our students.
We ensure that the special guests that join us on campus can give our students unique and highly relevant insights to the local business environment, as well as a global perspective.
In Boston, Rich Gotham, President of the Boston Celtics, spoke to students on leadership. Sports culture is all-pervasive in Boston and having the opportunity to hear directly from one of the top sports bosses in U.S. basketball was relished by Hult Boston students.
Sustainability is high on the business agenda globally and San Francisco has been at the forefront of sustainable business for many years. MBA students at our San Francisco campus were invited for a lunchtime speaker session by Elliott Hoffman, the CEO of Rev, a pioneering company in the Bay Area that specializes in helping organizations create high-impact sustainable action plans.
Elliot Hoffman has been a business and community leader in the San Francisco Bay Area for nearly 30 years. As the co-founder and CEO of Just Desserts, he built the company from scratch into one of the most highly respected companies and brands in the Bay Area that employed over 300 people. He is also the co-founder and CEO of New Voice of Business – a national movement of business people dedicated to creating a sustainable economy and society.
The Economist Series on our Shanghai campus has proven to be an extremely popular speaker event over the years, and this semester's edition was no exception. Mary Boyd joined students at Hult Shanghai to discuss China's slowing economic growth and the implications for the global economy. Mary Boyd is responsible for program development and client servicing for The Economist Group in Shanghai.
Before joining The Economist Group, Mary Boyd was in the Canadian Department of Foreign Affairs, serving on assignment in Hong Kong, Thailand, Taiwan and China (in Shanghai, Guangzhou and Chongqing). Since leaving the government service she has researched and published on economic development and governance issues in China and has undertaken consultancy work for the World Bank and other international institutions as well as multinational companies.
We'd like to thank Rich Gotham, Elliot Hoffman, and Mary Boyd – as well as the many other leaders who have joined us on campus this semester – for sharing their wealth of experience and generating fascinating debate around some of the hottest topics in global business today.
Kickstart your career in this education and innovation hotspot by studying at Hult's Boston business school. To find out more, take a look at our blog Student perspective: The best of Boston. Download a brochure or get in touch today to find out how Hult can help you to learn about the business world, the future, and yourself.
Related posts