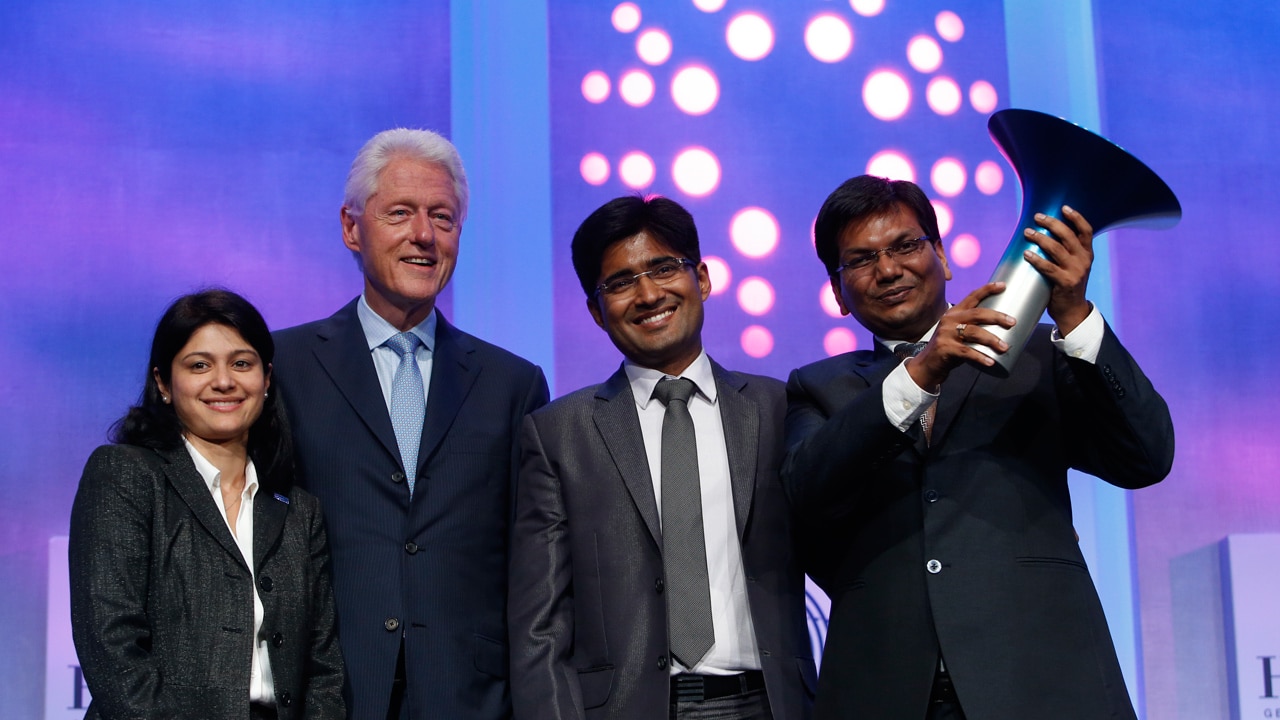 This article was originally published by Bloomberg Businessweek on September 24, 2014, 'Bill Clinton Rewards a Social Startup and Resolves a Minor Health Crisis in the Same Night'.
A team of students from the Indian School of Business left a Times Square Sheraton Tuesday night with $1 million to help them improve access to health care in low-income neighborhoods and with this year's Hult Prize, which former U.S. President Bill Clinton awards annually to a team of student social entrepreneurs.
The competition hopes it can help make socially conscious startups "the hottest thing among the youngest entrepreneurs in the world," said the founder and chief executive of the Hult Prize Foundation, a startup accelerator backed by the Hult International Business School and the Clinton Global Initiative.
Despite the earnestness of Hult prize winners and their peers, the field of social entrepreneurship has its critics. Mistrust of big government and multinational companies drives much of the movement, wrote Charles Kenny, a senior fellow at the Center for Global Development, in Bloomberg Businessweek on Tuesday. That view isn't entirely unwarranted, he said, but it ultimately misses the bigger picture.
"For all the valuable work they do, social entrepreneurs can't replace the state's role, and they can't function nearly as effectively where governments are poor, incompetent, or corrupt," wrote Kenny about the Hult Prize and competitions like it.
That hasn't stopped them from trying. At the Tuesday judging, teams from schools around the world, including MIT, Esade Business School, and the University of Pennsylvania, presented solutions to chronic health issues that disproportionately affect low-income communities. Ideas ranged from chewing gums that fight tooth decay to trained bees who sniff out diseases. The winning team plans to train and equip a network of trusted local health workers who can care for people in underserved neighborhoods at their doorsteps.
The judges at Tuesday's event seemed keen to break through any idealistic naiveté. They grilled the teams about everything from how financially sustainable their businesses are to how effective their products have been in clinical trials. Vision is important, but so is the bottom line, multiple judges said.
Then there were the more basic questions—such as, how do you train 5.2 million bees?
"How does that work? Is there a group bee training, or is this bee by bee?" asked Fadi Ghandour, one of the judges and the CEO of Aramex International, a transportation and logistics company, of the team from HEC Paris.
The barrage of questions didn't negate the atmosphere of unbridled optimism, evident in everything from the bursts of applause punctuating speakers' addresses to the inspirational music blasting from speakers. The warm vibe was echoed in the night's buzzword-heavy presentations. "Tonight the 2014 Hult prize is going to end, but your dream is going to begin," Mohammed Ashour, whose Aspire Food Group won the prize in 2013, told the gathering. "Let your passion drive you forward, and resources will come your way."
[Tweet "Let your passion drive you forward, and resources will come your way.""]
In his article, the Center for Global Development's Kenny said the notion that global issues could be tackled by the "right blend of innovation and business savvy" was a simplistic formula for solving tough problems. But the night's events tested that critique. A member of the winning team fainted during his presentation and was rushed to the emergency room. The crisis was quickly sewn up. After he reassured the audience that CNN chief medical correspondent Sanjay Gupta "is pulling some strings for us to make sure there are no issues," former President Clinton updated the crowd with news that team member was in stable condition.
It turns out that packing a room with boundless enthusiasm for helping people, the smartest ideas in medical science, and access to unparalleled resources is exactly the recipe for addressing a health disaster—or at least, a severe case of nerves.
Grow your leadership capabilities with an MBA in international business at Hult. To learn more, take a look at our blog A new model for leadership development in the 21st century, or give your career a boost with our Masters in International Business. Download a brochure or get in touch today to find out how Hult can help you to learn about the business world, the future, and yourself.
Related posts