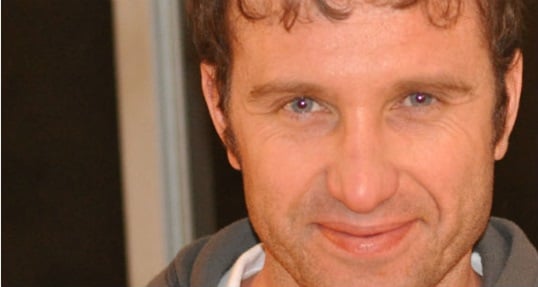 Fresh off being featured in a New York Times article about Facebook's Graph Search unveiling, Patrick Riley stopped by Hult San Francisco to share his expertise on a very hot topic: the future of search engines.
Riley is the co-founder and CEO of Ark, a site that helps you find people you don't know yet but may share your interests or live or work near you. It's a company that Facebook tried to acquire in its quest for conquering search.
Riley views the ultimate search tool as your own personal assistant who can not only offer suggestions when you ask for something, but knows what you want when you want it – or even before.
For example, he said: let's say you are a new Hult student, and you are coming to San Francisco for the first time from another country. When you touch down at SFO, your mobile device will automatically pull up the BART and Muni maps, and you're quickly and easily on your way to campus. Or, you can take a trip to New York, and upon your arrival, your phone instantly brings up your friends and contacts who live there. In essence, you'll get answers to searches without even asking. The idea backs his idea that in the future, search will be proactive, contextual, and social.
Riley spoke to 50 Hult students, staff and guests on January 15. The event is one of many speaker sessions hosted by the school's Corporate Relations department.
Photo: Rebecca Joyce
Kickstart your career right next door to Silicon Valley by studying at Hult's San Francisco business school. To find out more, take a look at our blog #HeadingtoHult: Preparing for undergraduate life in San Francisco. Download a brochure or get in touch today to find out how Hult can help you to learn about the business world, the future, and yourself.
Related posts