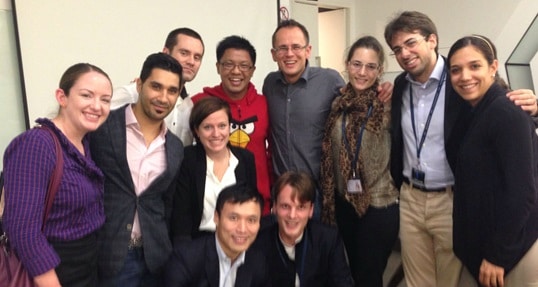 Industry leaders wow students at Hult Shanghai
The number of corporate visitors to Hult's Shanghai campus topped 120 last year. That's a lot of high-caliber guests. To celebrate, we're taking a look back at some of the highlights of speakers and events that have helped make Hult Shanghai a hotbed of world-class business talent.
The academic year kicked off with a speech from the Head of New Business Ventures at Rovio, producers of the hugely successful Angry Birds. Shalom Thang enthralled students with tales from his 12 year experience on the global business scene, charting his career path from Coca-Cola to Rovio in China which he said was the only region where "you not only have the opportunity to propose where the new office should be, but to also launch a new product with the Prime Minister; while sharing the exciting story of Angry Birds and Bad Piggies".
Chief Economist, Editorial Director and now Managing Director for the Economist Intelligence Unit, Robin Bew created a great deal of excitement when he visited the Shanghai campus. After almost 20 years with The Economist Group, Robin advises some of the biggest names in business on global trends and developments and inputs directly into their strategy. Hearing his insights on China's economy firsthand was a privilege our students won't forget in a hurry.
It's not just the big occasions that attract the big names to Hult Shanghai. Our Brown Bag Seminar Series sees faculty members and local experts offer an in-depth look into Chinese and Asian markets over a 'brown bagged' lunch. McKinsey & Co. Director, Jonathan Woetzel, dropped by to present and discuss China's uniquely fascinating urban economy with students as they munched on take out. The Brown Bag Seminars are a great way for our students to get real insights from real business insiders in a relaxed setting. Similarly, our 'Day in the Life' series showcases the lives of successful international and local business leaders throughout the year, giving students a deeper understanding of what it takes to achieve top-level success.
A standout event was the Shanghai installment of Hult's Visionary Speaker series where Peggy Liu – Chairperson of JUCCCE and TIME magazine's "Hero of the Environment" – shared her vision of a greener China. The Hult community was captivated by Liu's powerful speech that spoke to people's hearts as well as their minds. You can read about this event in detail here.
The students have also done some visiting themselves, with trips to leading companies a regular on the Hult Shanghai event calendar. With 2 billion consumers using their products every day, a visit to Unilever's Asia HQ was a great opportunity for our students to learn how a major multinational company operates. After a presentation from North Asia's Vice President of Finance, Tony Lantham, and a tour through the Customer Insight & Innovation Centre, they finished by sharing their insights over ice cream.
We'd like to thank everyone who came to meet and speak to our Shanghai students and we look forward to welcoming many more in 2014.
Check out the images of some of our guests who dropped by here.
Kickstart your career in the commercial center of Asia by studying at Hult's Shanghai business school. To find out more, take a look at our blog MIBs visit VW: Shanghai Volkswagen. Download a brochure or get in touch today to find out how Hult can help you to learn about the business world, the future, and yourself.
Related posts