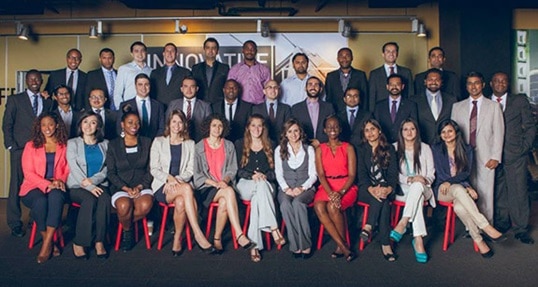 A year ago at around this time, I was relieved to know that, come August, I'd finally start my MBA. After almost two years of attending MBA fairs and meeting with alumni and recruiters from various institutions, I was faced with the predicament of choosing between three stellar programs: a two-year MBA at Indiana University's Kelley Business School; a one-year MBA at Fundação Instituto de Administração (FIA) in Sao Paolo, Brazil; or a one-year MBA at Hult, in up to three cities of my choice.
My fulfilling career in New York City had afforded me some incredible travel and leadership opportunities with lasting personal and professional impact. By all means, I had built a comfortable life there. However, as time passed I felt increasingly unsettled. My inner "zen" was being disrupted by an insatiable desire to experience new places, new cultures and new challenges abroad.
As much as the thought of attending a top-20 U.S. MBA program, or living in Brazil – one of my favorite countries in the world – excited me, the idea of spending another year or two trapped in one place gave me reason for pause. After all, I am a lover of change and a travel enthusiast who has lived and worked outside of my home country since I was 18 years old. I couldn't possibly ignore the massive appeal of Hult's rotation option.
Literally every detail my recruiter shared about the school appealed to my post-graduate desires. Its entrepreneurial spirit and collaborative environment meant that I'd have resources available to turn my ideas into action. Its practical approach to academics meant that I'd skip the more conventional, somewhat outdated, thesis model for the more practical "Action Project", allowing me to work in a hands-on consulting role with an actual company.
Most importantly, its vast database of alumni across dozens of cities around the world meant that I'd gain access to an elite network of dynamic professionals with global connections. With only 2% of all university students studying outside of their home country, and more than 90% of the world's population never leaving their home country, this fact alone provided the grounds that I needed to choose Hult.
By the time I arrived at Hult's Dubai campus, I found myself thinking about my pending rotation every single day (and would get quietly excited about it at random moments throughout the week). I soon began forming friendships with people from Nigeria, India, Latin America, Iran, Europe, Russia, the U.S., and many other countries. As we became closer, the world began to seem smaller to me, and the interconnectedness of our cultures, economies and political landscapes became more apparent. Our shared appreciation for new experiences and the desire to work and live internationally were refreshing!
For the first time, my thirst for change and enthusiasm about moving to another city took a back seat to the connections I'd made. The idea that we would all be going our separate ways by rotating to different campuses in just a few months began to sink in.  I found myself, for a moment, resenting the rotation concept and wanting us all to remain as-is: doe-eyed, bushy-tailed young professionals in search of a new direction, forming lasting connections and just having fun in the process…in Dubai!
Now, here we are, eight months into the MBA and all heading along different paths. A few weeks ago, some people left Dubai temporarily, slated to return for graduation and hopeful that there will be jobs waiting for them somewhere, anywhere, in the world. Others left for good, with the intent to graduate on their rotation campus and find jobs back home or in their rotation cities. Others never left, either because they will rotate during the final module like me, or because they would rather stay put and do their best to make Dubai their new home.
It has since dawned on me that this is what my recruiter didn't tell me about Hult, and rightfully so. No one tells you that at Hult you'll actually "graduate" three times. Whether you rotate or not, you'll go through three separate periods of intense change – one as you transition into each rotation period and one during graduation.
For some students, it's been nothing more than a passing cloud in the sky of life. For others, it's been an emotional time that has spawned moments of deep reflection, and perhaps some anxiety. While I am typically among the former, I found myself this time among the latter, at the behest of my emotions.
Having survived several rounds of layoffs during the U.S. recession, and life away from my Caribbean home for more than a decade, I thought I had the change thing down pat. I never expected Hult's rotation to have such a profound impact on me. So why did it?
The MBA at its core attracts like-minded people: Type-A go-getters full of ideas about how the world should function from a business perspective and eager to fulfill unmet needs with their entrepreneurial plans. Hult is no different in this regard, but Hult students also share a mutual desire to physically transcend geographical boundaries and truly understand the world.
I've spent the past eight months not just learning about culture, but actually seeing it play out in the classroom, in team meetings, at meals with friends and – and given Dubai's 80%+ expat population – literally everywhere I go! I've never experienced anything like it. As much as New York may be a diverse city, everyone there is fighting to conform to and thrive in the American way of life, so there is an element of cultural understanding that, for me, was missing.
As excited as I was to welcome rotating students to Dubai, and as much as I'm looking forward to heading to Shanghai in July, I couldn't help but feel a little separation anxiety once the time came to part ways with the people whom I'd spent the last eight months observing, understanding and appreciating. But, as unexpectedly challenging as the transition was, it was an experience that was well worth having.
As Ralph Waldo Emerson would put it, it's a lesson that "must be lived to be understood."
Andréa Skerritt is an MBA student at Hult's Dubai campus. Prior to Hult, she had a seven-year career in Public Relations & Marketing Communication in New York. Andréa has a passion for travel, and a contagiously optimistic outlook on life. As a dual native of Trinidad & Tobago and St. Kitts & Nevis, she is a Caribbean girl at heart with New York City drive and international aspirations.
Kickstart your career in a state-of-the-art innovation hub by studying at Hult's Dubai business school. To find out more, take a look at our blog Hult Dubai students win regional in KPMG's Ace the Case challenge Download a brochure or get in touch today to find out how Hult can help you to learn about the business world, the future, and yourself.
Related posts