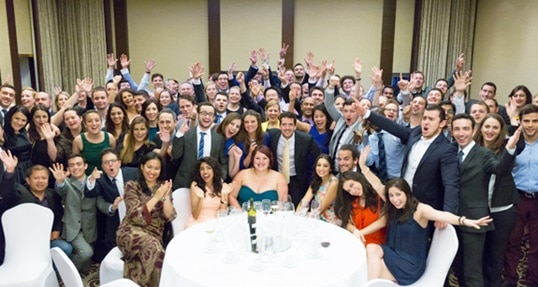 Alumni Summit 2014: Day 1

Hult News, 9 years ago
0
7 min

read
London sets the scene
More than 70 alumni from all over the world came to reconnect in London and continue their life-long learning with Hult. After a warm welcome from our Global Alumni Director, Shareena Hatta, and the London Hult Alumni Chapter, keynote speaker Carolina Arriagada Peters took to the stage. Carolina is the Head of EMEA and Latin America for London & Partners who work with organizations across the globe to grow their businesses in London. Giving a fascinating insight in to London's business and economic landscape, it was a great opportunity for alumni's to see how their own organizations could benefit from being active in the London market.
Numbers tell the story
The picture Carolina painted confirmed why London is such an attractive city for global businesses and business students alike:
27,000 foreign companies are based in London.
London has the most international students of any city in the world, welcoming more than 120,000 every year, more than double the next city closest to that number which is New York with 50,000 a year.
40% of London's workforce was born abroad.
There are more than 500,000 industry and networking events in London every year.
Home to TechCity with more than 3,000 start-ups, London is the digital capital of Europe, second only to Silicon Valley.
Finance continues to be London's leading industry, employing more than ½ million people in the city.
Think global, act local
Despite London's standing as the most international city in the world, as these impressive stats illustrate, Carolina asserted the importance of local knowledge, local expertise, and a local network of commercial partners as being key to a businesses success. The cry of 'network, network, network' was heard as Carolina brought the truth of this home with "For every 100 business cards you give out, 1 person will contact you."

Carolina highlighted 'ones to watch' discussing the latest trends emerging across the global business landscape. The growing importance of gamification within the creative industries got the room talking about ways to hold consumers attention in crowded marketplace, and the rise of virtual reality in retail sparked discussions around the possibilities of this new technology across sectors. A recent surge in impact investment got the social entrepreneurs excited and pointed to a trend towards business been seen as key to solving large-scale social problems. The heavyweight new kid on the block? Biotech. Carolina called out the life sciences as extremely disruptive in the next few years dubbing biotech "the next internet."
Connect and reconnect
With that bombshell, it was time for lunch and for the networking among students to continue. Among the buzz of new connections being made, was the heart-warming sight of old friends reconnecting. Boston's MBA Class of 2008 was one group using the opportunity to catch up, seven years after graduating together. So how are they doing? Their conversation gives a snapshot into the diversity of our MBA graduates and the industries, regions, and roles they go on to:
Meet Massi, Aiva, and Fernando who all earned their MBA together at Hult Boston back in 2008. Massi Maggi, from Spain, is now an investment banker in, where else, London. Aiva Svede is living in her home country of Latvia working for a consulting firm and lecturing in Risk Management. And Fernando Cabral recently sold his satirical political newspaper in Portugal for a tidy profit and was busy regaling his old classmates with his travel plans and his next investment options. Swapping personal and professional stories, it was clear to see the strength of life-long friendships that started here at Hult.
Marketing masterclass
Next was a masterclass in Strategic Marketing from our very own Marco Protano.  Professor of Marketing & Strategy here at Hult, Marco brings 25 years of experience working with Fortune 500s like Nestle and Bristol-Meyers Squib, educating executives and students at, among others, Cambridge, University of Edinburgh, and Stockholm School of Economics, as well as successfully launching his own ecommerce ventures.
Heralding "the age of the customer", Marco placed elevated marketplace metrics above finance in terms of importance to the business and urged everyone to live and breathe the numbers: "Marketing is not a mystery. I crunched more numbers in marketing than I ever did in finance."

Marco's extensive firsthand experience was evident from the very practical nature of the class, giving the delegates a wealth of tools they could use in their everyday work, from grids to effectively evaluate their value proposition and brand health, to formulas to calculate the net contribution of marketing to their organization. This formula was particularly well received by marketers in the room who were empowered to go back to work with the numbers they needed to demonstrate the value of their marketing in very concrete terms. Olga Ivanova said of Marco's class "He was excellent. He went straight to the point and gave us practical tools that we can use at work. In any business, marketing has to fight for your share of the budget. You need to be armed with the numbers."
Look to yourself for leadership
Putting their calculators away, our alums were ready to turn their attention to the Leadership and Management Development workshop with consultants from the Brathay Trust in preparation for the team-based competition the next day. Emotional intelligence and our impact on others was the theme, the goal was to reflect and identify areas in need of improvement.
The relevance of this topic is clear from studies that show 80% of difficulty on work projects comes from managing team dynamics, with only 20% being down to the inherent difficulty of the task. Self-awareness, the ability to adapt behavior, and the ability to give and receive developmental feedback has been deemed as critical in the modern global workplace. This was confirmed by a report from our research division, Hult Labs, who interviewed 90 CEOs and executives from the world's leading companies. Our MBA curriculum has been redesigned to integrate the development of these skills in to the program with a rigorous system in place to measure and evaluate success. This was an ideal opportunity for students who have already graduated from our school to benefit from this innovation in business education.
Matching talent to opportunity
Another new addition to Hult that we were excited to share with alums was the newly launched Talent Solutions. Jean de Villeneuve, our Senior Director of Corporate Relations in Asia, let alums know about the job opportunities available to them though a new approach that leverages our relationships with more than 2,000 employers around the globe to match vacancies and business needs with the world-class talent of our students and alumni. You can think of it like a highly targeted internal recruitment agency. Because we match candidates skill-set directly with job specifications, our success rate is much higher than regular headhunters. They have a conversion rate of around 20%; Talent Solutions' is 50%.
Jean also opened the door for alums to build on this service for the benefit of their own organizations, introducing the referral reward scheme. Delegates were excited at the potential of Talent Solutions and the possibilities it offers, taking our relationships with business to new levels, placing our students and alumni in trusted positions, and cementing our position as a business school for business people.
Interested in what happened on Day Two? Read more about the London Alumni Summit 2014: Day Two.
Kickstart your career in Europe's biggest startup cluster by studying at Hult's London business school. To find out more, take a look at our blog #HeadingtoHult: Preparing for undergraduate life in London. Download a brochure or get in touch today to find out how Hult can help you to learn about the business world, the future, and yourself.
Related posts