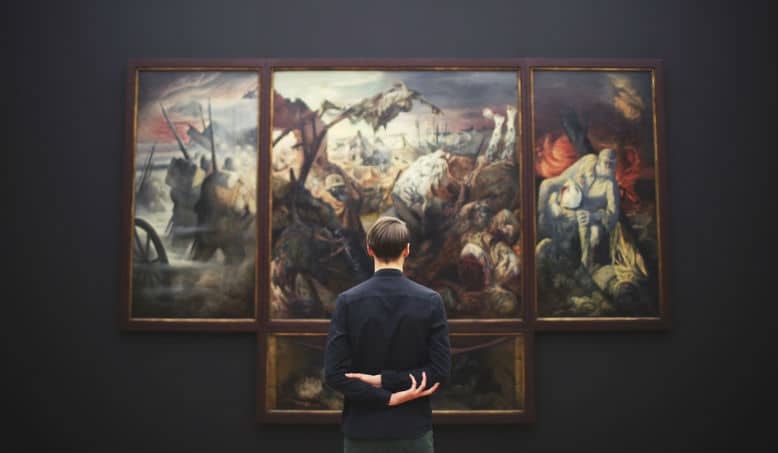 Highlighting the entrepreneurial success of our alumni demonstrates the mindset fostered here at Hult International Business School. As a school, we continually encourage our students to challenge the status quo and be disruptive. I'm happy to be able to share stories of graduates who used their education and out-of-the-box thinking to bring their creative ideas to life.
Christian Rother, a Hult Executive MBA alum, started his career in the hospitality industry. He went to Ecole Hôtelière de Lausanne and, afterward, decided to work with Starwood in sales.
After nine years in hospitality, Christian embarked on his EMBA at Hult. During his studies, he set up Smart-Collectors, where he put his knowledge and passion into practice.
I caught up with Christian to have a more detailed chat about his brain-child and find out how he leveraged his experience from Hult to help bring fine art to a wider audience.

Can you give us some context to your business idea? What was your inspiration?
My mother has run a fine art gallery business for nearly three decades. While I studied my EMBA at Hult, I connected the dots and transferred some new business models—from the likes of Uber, Airbnb, and Expedia—to the art market.
I noted that we could massively contribute to a change in the current art market by integrating some digitalization and further democratization mechanisms that are appearing in other industries.
And with some motivation and confidence, which I built at Hult, I quit my job and started the new venture, backed by a local accelerator.
What have you done since graduating from Hult? And what have you achieved so far?
We have further developed the platform and focused big time on marketing as well as product optimization. Obviously, we are also trying to take some time out to network and find potential investors for our business idea.
Despite the fact that we have only been a registered company since April 2017, we made some minor revenue in 2017 and contracted almost 10 customers—among which, we have one Hultian friend.
We've also secured some E.U. and county-level support funds to develop our online business. We have massively invested time, effort, and money in the further development of the platform in order to grow in the online sector with our client base.
How does your website work in practice? Walk me through the customer journey.
Imagine you've heard there's an easy opportunity to enjoy fine art at home, with maximum flexibility. On Smart-Collectors.com, you have the chance to find artwork that fits your taste, and the potential opportunity to positively contribute to your wealth with an alternative form of investment.
Smart-Collectors is your entry point to becoming a smart art collector, combining an emotional dividend with the chance of a positive monetary return.
The customer journey on our platform first guides you through the benefits of a low-entry price point for high-level fine art, through renting opportunities. Fully flexible, you have the option of rental periods (3, 6, 12, or 18 months) and a current price range from €500 to €50,000 per artwork. Prices take both rental length and current sales price into account.
Further benefits include a full deduction of paid rentals if you decide to buy after the rental period, a "buy now" option at the current sale price, as well as live updates of the value development of the asset.
After learning about the benefits, you are invited to browse the continuously growing collection of artwork to find your perfect piece. We guide you by offering a multitude of filtering options as well as a special scoring system, giving you an indication of the status and the potential of the artist.
Once you have selected your artwork, you are guided through a simple ordering process. Once ordered, the artwork is insured at no extra charge, and we personally deliver the piece to you, again at no extra cost.
After the rental period finishes, you are invited to buy the artwork or simply return it. Should you buy it, you always have the opportunity of placing it on the platform again for resale.
And here closes the cycle of your journey to becoming an art collector yourself.
"Smart-Collectors is your entry point to becoming a smart art collector, combining an emotional dividend with the chance of a positive monetary return."
How do you work with artists and choose which artworks to offer?
Our platform is tailored to work with artists directly as well as galleries (the artist's agents). We have a curator's scoring system, as mentioned above. A group of established and renowned curators provides input through the scoring model and, according to this, we decide if we can accept the artist.
Furthermore, it is very important that we follow our social-impact vision, as we want to make it possible for our artists to have a stable opportunity to follow their field of expertise and continue creating great work and great culture.
Hence, all monthly rentals are wired directly to the artists. The split between our Smart-Collectors margin and the artist's margin follows the industry standard.
"We want to make it possible for our artists to continue creating great work."
How can the Hult community help you?
The Hult community is and can be a tremendous help by communicating our services to friends and family. Thanks to a Hultian friend, we have crossed German boarders much quicker than expected and delivered to the French market.
Help us spread the word, communicate any constructive feedback, and get engaged.
We believe in aesthetic alternative investments like art, which is not only an investment of social impact by supporting culture and contemporary artists, but also a very rewarding investment beyond the potential monetary returns.
To learn more about Christian's unique startup, check out Smart-Collectors.com.
---
Curious to read more about the career success of Hult alumni? Download our latest Global Careers Report.
---
Make the most of what your career has to offer with a Masters in International Business from Hult. To learn more, take a look at our blog Top 10 questions to ask when looking at business schools, or give your employability a huge boost with an MBA in international business. Download a brochure or get in touch today to find out how Hult can help you to explore everything about the business world, the future, and yourself.

Vaibhav Rustagi
Vaibhav Rustagi, Hult MBA Class of 2014, has worked in the U.S., India, and the U.K. He currently heads up the Global Alumni and EU Employer Relations team at Hult. He is a passionate photographer, amateur creative, and social media enthusiast, as well as an avid writer and content creator.
Related posts