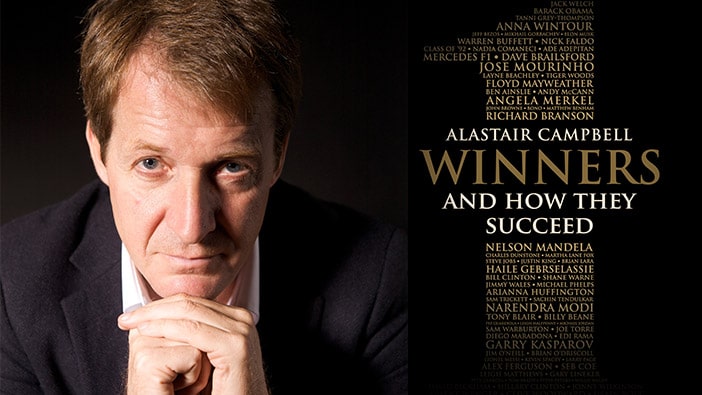 Alastair Campbell, former Director of Communications and Strategy for UK Prime Minister Tony Blair and a respected British journalist, broadcaster, political aide, and author gave personal insight into his new book Winners at Hult London on Thursday, February 26th. Working in partnership, Hult and the Inspired Leaders Network (ILN) were able to offer students and special guests an up-close and personal audience with Alastair.
During the event attended by over 200 guests, Alastair shared his success secrets on how to position, strategize, and communicate; how entrepreneurs thrive; and how individuals can achieve their ambitions. Students heard from him what is was like to work closely with Nelson Mandela, Barack Obama, Hilary Clinton, Angela Merkel, Anna Wintour, Richard Branson, and Jose Mourinho.
Alastair said of the event:
"It was a fantastic opportunity for me to share my experiences with Hult and the Inspired Leaders Network; the launch gave me a platform to share a culmination of winning strategies that I have seen working for global thought leaders and influencers over my extensive career. I've been privileged to work with some leading minds and there are common threads in what makes a winner. My book provides a blueprint that anyone can use as a guide. Hult and the ILN represent some of the brightest and most successful brains and I'm glad to be able to share these takeaways first-hand."
Rebecca Churchill, Executive Director of Hult London's postgraduate programs, said:
"It was a fabulous window into the thinking and mindsets of global influencers. From the get-go, Hult instils out-of-the-box thinking into our students, as well as entrepreneurial spirit. We pride ourselves on providing practical, real-world experience to foster globally mobile, job-ready graduates that stand out. It was a great privilege to be able to host the event and offer our students this chance to hear from such an experienced communicator and strategist."
All guests received a signed copy of his book.
Image courtesy of Random House.
Kickstart your career in Europe's biggest startup cluster by studying at Hult's London business school. To find out more, take a look at our blog The 'Why' to 'Why Hult London?' Download a brochure or get in touch today to find out how Hult can help you to learn about the business world, the future, and yourself.
Related posts