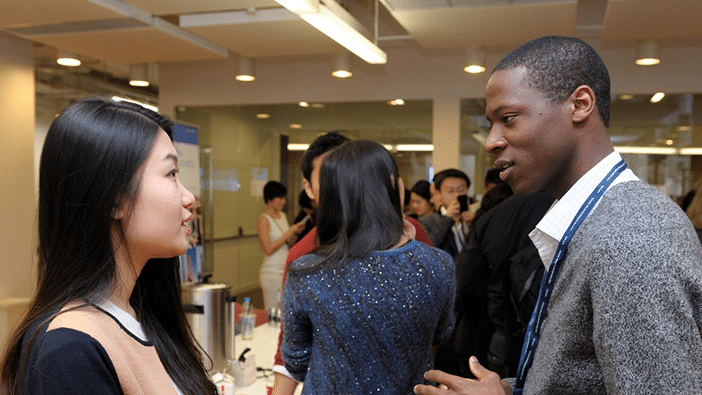 Written by Pablo Romero Yusta, Master of International Marketing student, San Francisco campus, Class of 2016
"Remember! Keep your eyes and ears open in this land of opportunities. Your next job might come on your next Uber ride."
These were the last words I was told when I left the airport baggage carrousel after arriving in San Francisco for the first time having spent the flight from Madrid talking to a Google employee about their experiences. The stories they shared with me during the seemingly endless flight made me think that, in reality, networking is something that has always been central to business. In fact, my previous employer, Baker & McKenzie, was born in exactly this way: back in the fifties, two successful lawyers shared a taxi ride home from work. They shared a vision and today it is the largest law firm in the world.
If there is something Hult and our career advisors have pressed into us, it is the importance and power of networking. Whether you are looking to take one step further in your career or explore a different and exciting industry, we all now know it is the people you meet along the way that can help direct your path.  Luckily, San Francisco is a hub for every career. It is a metropolis that inspires you to always give your best; and it is a city almost overwhelming in its options for choosing career paths.
Below are the five most important lessons I have learned as well as some alumni's experiences:
Go to places that excite you. This is my most precious advice. Attend events that truly resonate with who you really are. In the end, it is all about being authentic. When you show your interests, passions, and hobbies that make your heart sing, it will be easier for you to develop real and personal relationships. "Networking in non-professional environments always makes it easier to connect with people. The key is to be completely yourself, show what motivates you, what interests you in life. If you are honest and get to communicate what you have, people will always give back to you", says Moyra Neale, MIM alumni who graduated in 2015 and a current employee at Eve Sleep.
Jump into conversations. You may feel awkward, a fool, or rude approaching a group of strangers just to strike up a dialogue. People in San Francisco are very outgoing and laid-back so don't overthink it. Congratulating a panelist of a Twitter event as a way to break the ice led me to a very interesting conversation. Ten minutes later she took out her cell-phone and added me on LinkedIn. She turned out be a recruiter! According to Katherine Da Silva, MIM alumni who graduated in 2015 and current Google employee, "the key to success is to lose the fear to talk to people and end up feeling rejected. There is a lot of hard-work behind success, but at the end of the day you have to be confident enough to interact with strangers; otherwise, you will never know the opportunities that person could have had for you".
Listen more than you speak. "Show intrigue and enthusiasm in what people do. Ask questions others do not normally ask and show interest to learn about their experiences, not just to get their business cards. Networking is not all about you. This approach has helped me get some LinkedIn and business cards even without asking", said Moyra.
Take each day as a new opportunity. Of course, I usually attend many networking events and also use LinkedIn as my best ally to connect with target people. But networking also involves the most random daily situations: from starting a conversation with an Uber rider to a lame chat on the elevator about the sunny weather of San Francisco. Oddly enough, the latter led me to exchange business cards with a Product Marketing Manager of Salesforce.
And, as a fundamental rule, follow up! You have met someone interesting. Now what? Be sure to keep the relationship alive because your follow-up is the the most crucial part. Sending articles or events you think they would enjoy have worked well for me.
Almost half of our academic journey at Hult has passed and the main thing I have taken away is that effective networking is all about consistency. These beneficial relationships, just like any other form of human relationship, takes time – the sooner you start, the better.
My fellow Hult students and those future Hultians: mix, mingle, interact, engage, and engage some more. Let's take our networks to where our dream jobs are!
Kickstart your career right next door to Silicon Valley by studying at Hult's San Francisco business school. To find out more, take a look at our blog Hult scores in top 20 in The Economist's Which MBA? ranking for 2019. Download a brochure or get in touch today to find out how Hult can help you to learn about the business world, the future, and yourself.
Related posts