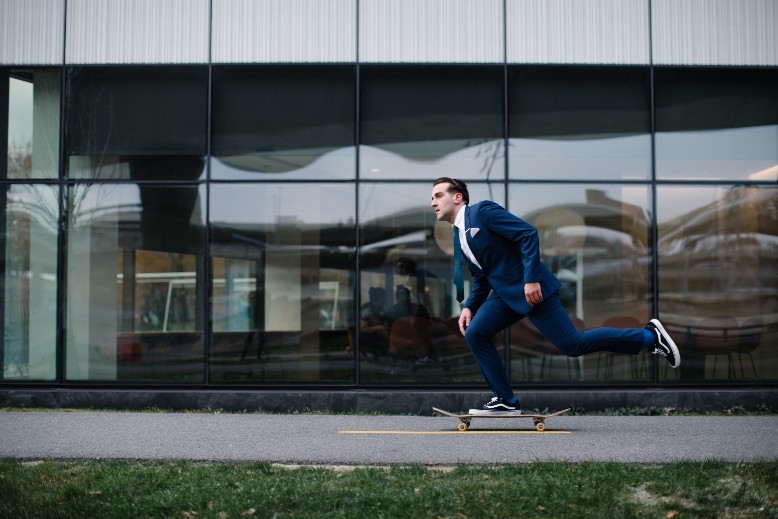 There are many different kinds of leaders–extroverts, introverts, authoritative, democratic, transactional. And while leadership styles often differ, leadership skills differ less.
Vision. Communication. Motivation … These are just some of the fundamental soft skills leaders need. And you can learn these and build them like muscles.
Hult has baked in leadership experience to their masters and MBAs. The school's 'Learning by doing' ethos means you get to learn robust leadership skills while earning your degree.
The most important leadership skills in business
1. Critical thinking
Critical thinking is the ability to think clearly and rationally. It's being able to understand logical connections between ideas. It's using your ability to reason. It's questioning things in a way that's active, rather than passive. As a critical thinker, you identify, analyze, and then solve problems over tackling them with instinct and intuition.
2. Creative thinking
This is all about thinking about something in a fresh way—the 'out of the box' idea; a new approach to a problem. It could be a new marketing campaign for a long-established product. A way of resolving conflict. A great idea for a competition. Your future employers will value your innovative thinking as it can ultimately increase their bottom line.
3. Communication
This one spans wide and far – networking, making friends, interviewing. You need to express yourself clearly, even when something's complex. And you need to be able to do so confidently, fairly, and professionally. You might find yourself managing a team one day, or sharing the vision for a business venture. Good communication skills are crucial… and practice makes perfect.
4. Vision
You need to be able to picture where you and/or your business want to be. And you need to be able to communicate the value of this. Your vision isn't just about strategic change. It's also about expressing why it's worth pursuing–which can be a powerful tool to drive employee performance.
5. Goal-setting and planning
You have a vision for a thing. You set a roadmap for the thing. You need to deliver the thing. That 'thing' could be a dissertation, global campaign, or a shiny new website. Whatever you're working on, you need good planning and time-management skills to get there and achieve your goals.
6. Motivation
Motivation spreads motivation, and leaders must motivate others as well as themselves. A good way to channel yours is to remember your 'why'—why you're doing something. Keep that front and center. 
7. Dependability
Don't just show up and get the job done. Show others how it's done. Then, repeat. Repeat. Repeat…
8. Integrity
Because honesty and strong moral principles make for approachable, trustworthy leaders.
9. Decisiveness
This is a vital skill so your project stays on track. You need to make critical decisions when required, which demonstrates confidence.
10. Confidence
A big tip on this one is to develop good self-awareness and stay realistic. You need to be confident enough to delegate, present, make decisions, and inspire others. Confident leaders see everything as an opportunity. Hult's hundreds of clubs and societies are great for confidence building!
11. Responsibility
As a manager, you're responsible for making sure your team achieves organizational goals and hits performance standards. Your responsibilities also include making decisions in the best interest of both business and staff.
12. Recruiting skills
You'll want to find and secure the right people on your project. You'll then need to motivate them towards your vision.
13. Active listening
Concentrating on what someone is saying means you're giving them your full attention. You'll understand what's said better, and can form a better response.
14. Team building
You've hired the right people, you've shared your vision, you've motivated your team. Now, you have to keep that going! Helping your team play into their unique strengths and work united means you achieve your vision together.
15. Delegation
Getting others to carry out tasks isn't just delegation, it's teamwork–and it's essential. Mastering exceptional delegation skills will help you maximize both time and output.
16. Change management
Plan for change, and practice being able to think on your feet. This includes everything from recognizing, responding, and managing to changes in your vision and plans.
17. Constructive feedback
This is one skill you will need your whole life-long—many leadership skills are—and not just professionally. It's all about finding a way to get the most out of people, to help them grow, and to work toward delivering deliverables you're all proud of. Constructive feedback is a two-way skill, too. When you start out, you might find yourself more likely to be receiving constructive feedback rather than giving it. This is the perfect opportunity to learn early how to do it–as well as how not to.
18. Conflict management
Solving disputes, minimizing negative results, and prioritizing positive results might sound tricky. It's not difficult when you have learned, and apply, tactics like creative thinking and negotiation.
"Through Hult's MBA I've discovered an inner confidence that I didn't know I had, sharpened my leadership skills, and mastered marketing analytics. It's been eye opening." – Usamah Khan, Class of 2020
How to develop leadership skills
Practice, practice, practice. See every day as an opportunity to step into your 'Leader' shoes. Ordering a coffee? Boss it. Presenting a piece of work? The perfect moment to build confidence and practice sharing your 'vision'.
If you're already a student or thinking of enrolling at Hult, you'll learn soft skills as part of your MBA leadership or Masters' leadership program. Socializing with other students offers the perfect opportunity to share, learn, and perfect your soft skills too.
Hult is the perfect place to sharpen your leadership skills
The school analyzes data from millions of job descriptions worldwide and designs their programs to deliver not just the leadership skills demanded by employers, but also the business knowledge and technical expertise.
Professor Amanda Nimon-Peters, a behavioural scientist, specializes in leadership development and data science at Hult. Amanda's extensive corporate career includes ten years in sales and marketing research at P&G as well as launching and running her own consultancy whose clients included LG, Cisco, HSBC, and Shell. Today, she is a full-time professor and research fellow at Hult. Her current research includes behavioral change techniques for leadership development as well as the effects of leaders' ethical choices. She believes that, "Knowing is not the same as doing", and that top grades alone aren't enough. "There is now widespread acknowledgement that academic success is not necessarily a predictor of good performance in the workplace. My research explores the steps and time frames necessary for students to improve their leadership behaviors."
"Hult's curriculum is flexible enough that it adapts to changing industry and market needs even within the year. The excellent combination of courses, workshops, simulations, and coaching have brought out the leader in me that I didn't even believe existed." – Ahmed Khalid, Commercial Director, NADRA, Hult Class of 2017
More ways to master your leadership skills
 Bolster your leadership experience in any way that you can. A mentor can be an invaluable way to learn–and from others already doing your dream job. With just a quick search you can find lots of online mentorship networks. Reaching out on LinkedIn, with a message that you're looking for mentors, is a good idea too. You never know whose eyes it might catch.
Talk with the Hult careers team, strike up conversations with people at the gym, fitness classes … you never know what they do or who they know! And yet more great practice for your communication skills and confidence. Don't rule out classic networking events too. Yes, they have a cringe-inducing title, but really, they are just industry 'meet-ups', which feels – and is – so much more informal than the image in your head.
Books and podcasts are an infinite source of leadership tips, tricks, and insight too. Look for books about the industry you plan to join, plus bridging subjects, and create a reading list. Is there an author, public figure, or someone else you find inspiring? Dig deep and have a think about who that person is (there will be someone, if not many!). Then, have a think about what it is about them that stands out to you. It might be how they speak, how they make you feel… tune in to how they do that and see if doing something similar could work for you.
Do be aware of the difference between what makes a boss, and what makes a leader. It might not sound so different at first, but it's enormous. Leaders empower others. Bosses can take advantage. Leaders say "we", not "I". Leaders show how it's done, rather than "know" how it's done. Leaders give credit rather than taking credit. I think we'd all agree which one we'd rather be …
"Knowing is not the same as doing, and there is now widespread acknowledgement that academic success is not necessarily a predictor of good performance in the workplace. My research explores the steps and time frames necessary for students to improve their leadership behaviors." – Dr. Nimon Peters, Hult Data Science & Leadership Professor
Yinou's path into leadership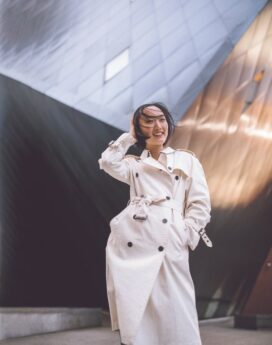 Yinuo Nora Chen is a Hult Class of 2019 alumni—her Masters is in International Business. Her leadership skills really blossomed at Hult. "Hult has reminded me how much change excites me and how much I can grow through it. I used to feel a little scared when it came to changing groups. Now, I embrace it. It is even beautiful as you learn about the new team members and jointly develop strategies that best suit all of you. While I do have people that I have grown used to working with, I never hesitate when it comes to moving into a new group."
Founding Hult's Gender Intelligence Club was a pivotal moment for Yinou. The leadership challenge pushed her and helped her grow. "I was always very strong in academics but a leadership position like this is challenging and takes courage. I had to think about what the club represented, how to support club members, and how to lead and motivate the committee."
I was always very strong in academics but a leadership position like this is challenging and takes courage.
Being aware of how leadership is changing with her generation has helped Yinou define her own leadership style. "Business as we know it is changing. Leading through manipulation, succeeding through competition, motivation through greed and fear—that's how it has traditionally worked. A wave of people-centric businesses are working on creating equality and empowerment. And this will change how this world functions. I want to dedicate my life to supporting this social evolution. Hult empowers me to chase after my dreams no matter how big these dreams are—and not care about what anyone else thinks."
Since graduating from her Hult Masters, Yinou has interned in journalism and co-founded the sustainability fashion startup The NERA Project. She now leads brand strategy at wellness business, La Vie de la Rose Flower Essences.
Eva's path into leadership 
Fulbright Scholar and Female Role Model of the Year award winner, Eva Rez wanted to hone her leadership and cross-cultural collaboration skills and immerse herself into the London Venture Capital scene. She graduated from Hult in Class of 2018 and, Hungarian-born, decided to stay in London. It was a great move – she and found her dream job managing startup investment at Sky.
She says communication as the key to successful leadership in her field. "After ten years in the business I came to the realization that managing diverse teams and being able to communicate effectively across cultures and backgrounds is crucial—especially in an international VC environment." "Learning to manage difficult situations with openness and communication was a very important step in my development. Hult professors were great and offered new unexplored angles to subjects that I thought I already knew." Hult is honored to have played a part in Eva's success and wishes her much more to come!
---
To find out how Hult develops leaders, not just of business, but of the world—Download our new brochure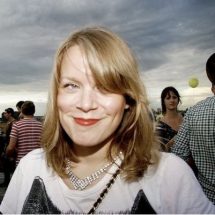 Clare Scott
Clare is an experienced freelance writer, content strategist, and contributor to the Hult blog. Her work spans many industries–from luxury fashion to travel. She works with brands, startups, and individuals to create their tone of voice and editorial content.
Related posts