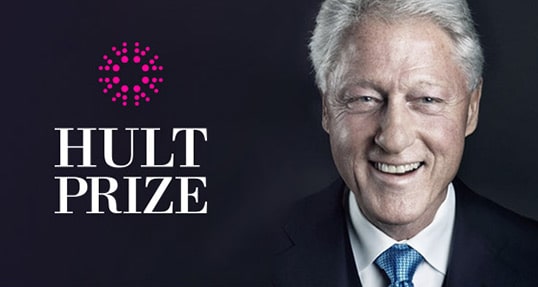 10,000 Students Respond to Clinton's $1m Food Crisis Challenge

Hult News, 11 years ago
0
3 min

read
New York, February 5, 2013 – The Hult Prize today announced that it has received over 10,000 applicants for its annual social start-up competition, which awards $1m in funding to the winning venture. This year's challenge; the global food crisis, was personally selected by key partner President Clinton, and has attracted students from more than 150 countries representing over 350 higher education institutions.
President Clinton, who has supported the Hult Prize since 2009, has described the initiative as "one of the top 5 ideas that are changing the world for the better":
"The Hult Prize is a wonderful example of the creative cooperation needed to build a world with shared opportunity, shared responsibility, and shared prosperity, and each year I look forward to seeing the many outstanding ideas the competition produces."
Founded only four years ago by a Hult International Business School alumnus, the Hult Prize has fast tracked its way to the top and is now the world's largest student competition.
"Our global reach is unmatched and partners like President Clinton and the Clinton Global Initiative, along with Nobel Peace Prize winner Muhammad Yunus, have really cemented our seat at the social entrepreneurship table. We host regional finals in five cities across the world and an online virtual round, giving us access to every college and university student and idea on the map," says the CEO of Hult Prize.
The Hult Prize Global Finals will take place at the 2013 Clinton Global Initiative annual meeting in New York on 22 September, 2013.
Calendar:
2 March 2013
– Regional finals to be held in Boston, San Francisco, London, Dubai and Shanghai
28 June 2013
– Regional and online winners fly to the Hult Accelerator to begin a 2 months boot camp-style incubation of start-ups. On-site mentors to include President Clinton and Muhammad Yunus.
22 September 2013
– Hult Prize Global Finals takes place at the 2013 Clinton Global Initiative annual meeting in New York and President Clinton awards winning start-up $1m.

About Hult Prize
The Hult Prize is a start-up accelerator for social entrepreneurship which brings together the brightest college and university students from around the globe to solve the world's most pressing issues. The annual initiative is the world's largest crowd-sourcing platform for social good. The Hult Prize has been funded by the Hult family since its inception in 2009. To learn more, visit www.hultprize.org.
About Hult International Business School
Hult is the world's most international business school with campuses in Boston, San Francisco, London, Dubai, and Shanghai, and rotation centers in New York and São Paulo. The school offers MBA, Executive MBA, Master and Bachelor degree programs. Hult's one-year MBA program is ranked 1st in Percentage Salary Increase by The Economist and Top 10 in International Business and International Experience by the Financial Times. For more information, go to www.hult.edu.
Like game changers? Break the mould in the business world with a Masters in Disruptive Innovation from Hult. To learn more, take a look at our blog Tackling the youth unemployment crisis: Hult Prize Regional Finals 2019, or explore overall business challenges with a Masters in International Business instead. Download a brochure or get in touch today to find out how Hult can help you to find out everything about the business world, the future, and yourself.
Related posts