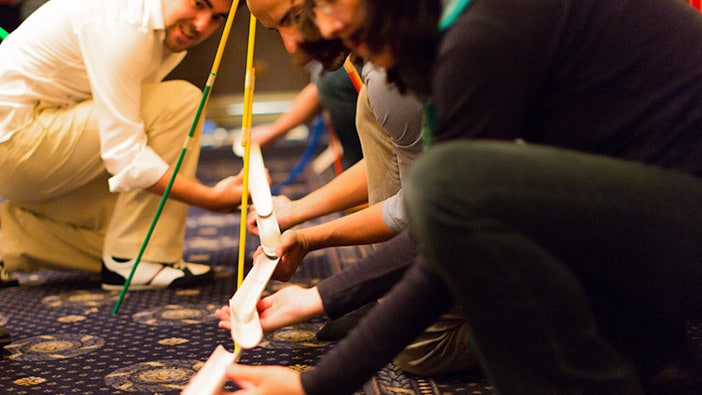 As Module B comes to a close, the students in my Masters of Social Entrepreneurship cohort have long settled into what had been "new" teams at the start of it. New teams had brought forth new expectations, distinct dynamics, and the necessity of beginning a new role in a new group.
Some teams have high energy, some are more laid back, some are very strict with time management, and others like to take more breaks during meetings. Students have written before about the challenges of working on teams, but I have observed that several adjustments take place individually and collectively as everyone gets used to a new team.
One of the most profound things I have noticed is the unique role that I play now in my current team versus the role I played in my Module A group. This has caused me to wonder two things: "have I changed as a person from the beginning of the year to now?" and "does this new group dynamic bring out some of my attributes the last team did not?" I believe that understanding these intrinsic and extrinsic factors are paramount to personal and team development. And clearly, this journey is just one more educational experience in addition to the academics. There's no doubt that learning to appropriately conduct ourselves in team meetings, along with how to successfully lead others, will certainly aid us in our careers.
Another difference I have noticed between the last module and my current one is my increased ability to adapt to the unique atmosphere a new team generates. A new team has five or six personalities and diverse work habits, along with the experience of working in former groups—all of this influences how teammates come together. I have become more aware of the environment that I can create for my team members, and it is one of my fundamental takeaways from my time at Hult so far: we are responsible for the atmosphere in which we work. We often have the opportunity to choose the type of tone we want to set as we form a brand new team.
To get the most out of our team experiences we need to reflect back on who we were when we started the year, and who we are now as we rapidly approach the midway point of our program. So ask yourself this: who were you, and what kind of a teammate were you when you first started? Have you changed? If so, what has changed?
Aside from our academic courses and extracurricular activities, one of the most valuable parts of this year is getting to know ourselves better and how we work with others before we venture out into the real world where working in teams really matters. Take the chance to get to know and befriend others in this multicultural environment. These relationships will prove to be invaluable once we leave Hult's doors. So I'm taking the time now to understand myself and how I work on a team—before we all once again disperse across the globe.
Kamara Jansen is a Master of Social Entrepreneurship student at the Hult San Francisco campus. Her favorite part about Hult is the opportunity to collaborate with people from around the world.
Hult offers a range of highly skills-focused and employability-driven business school programs including a range of MBA options and a comprehensive one year Masters in International Business. To find out more, take a look at our blog The Road Not Taken: Profiles from the Master in Social Entrepreneurship Program. Download a brochure or get in touch today to find out how Hult can help you to learn about the business world, the future, and yourself.
Related posts