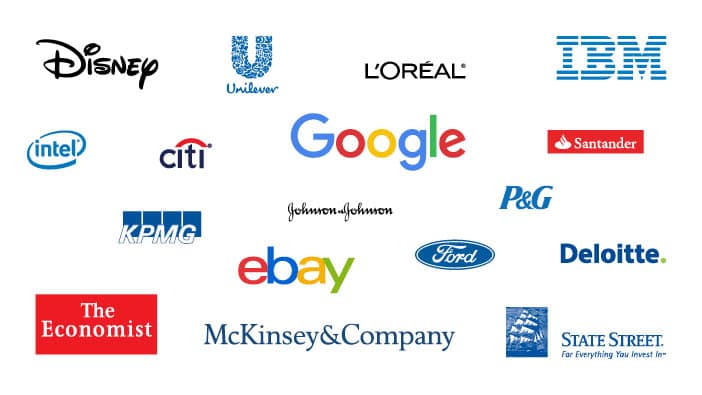 At Hult, we see ourselves not just as a business school but also as an active member of the global business community. Our campuses host executives from some of the world's most influential companies, who come to share their experience with students, promote their companies, and actively recruit students. Many companies also partner with us by working with us on projects and competitions.
This academic year has already seen an array of leading multinationals from numerous sectors visit our campuses across the globe, here is just snapshot:
Shanghai
Our Shanghai campus was host to dozens of leading multinationals last semester including Intel, Johnson Controls, eBay, The Economist, Deloitte, Bosch, Ford, KPMG, and Disney, as well as many specialists in the domestic Chinese market. Intel China's Chief Strategy Officer, Richard Hogg joined students on campus over the course of an immersive weekend to kick off Intel's Strategy Challenge.
Dubai
Dubai is a hotbed of international trade and this is reflected in the number of multinational companies that join us on campus. Google, Unilever, P&G, GE, Marriot, PwC, GSK, KPMG, IBM, Halliburton, and McKinsey are just a few of the global companies that came to meet our students last semester. Locally based firms that have had huge international success, such as Emirates Group, and Etihad Airways, were also a big presence on campus with Emirates NBD joining us to invite students to take part in their Future Intelligence Innovation Challenge.
London
In London, Microsoft, IBM and L'Oreal were among the companies that ran info sessions on what it's like to work for their business, the career opportunities they currently have available, and who they look to hire. Executives from Salesforce joined us for a speaker event, and students on the Dean's Scholars program visited the BBC for a behind the scenes look at one of the world's most popular media companies.
Boston
Our Boston campus greeted Hult alums from over 40 companies including KPMG, Santander, National Grid, State Street, and Fidelity Investments. Speakers from Hyatt and L'Oreal are just some of the companies to join us for Boston's Company Speaker Series, and Johnson & Johnson and Citi Group were amongst those delivering Career Development Webinars to our students.
San Francisco
We have welcomed executives from Hilti, Expedia, and Sotheby's to our San Francisco campus' Lunchtime Speaker Events, as well as a long list of local experts and social entrepreneurs from the Bay Area's vibrant startup scene. Students also interacted with companies off-campus through company visits; last semester they were given a private tour and presentation of Bloomberg's San Francisco office.
We'd like to thank the hundreds of executives across the globe that have come to Hult to connect with our students, as well as the students themselves for continuing to represent Hult as a center of innovation and thought leadership within the global business community.
---
If you would like to find out more about Hult's business programs, download a brochure here.
---
Like game changers? Break the mould in the business world with a Masters in Disruptive Innovation from Hult. To learn more, take a look at our blog Building your personal brand: How to find your swagger by Dr. Jonathan Wilson, or explore overall business challenges with a Masters in International Business instead. Download a brochure or get in touch today to find out how Hult can help you to find out everything about the business world, the future, and yourself.
Related posts