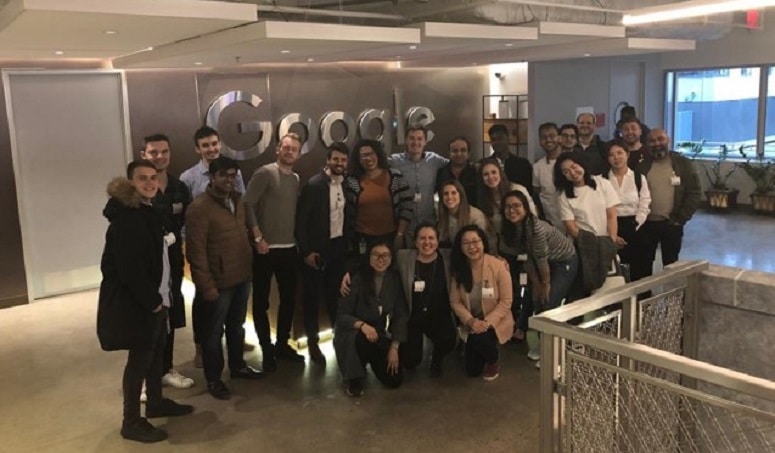 Google's impact on our everyday lives is what makes them one of the most influential brands of the last 20 years. They've created a bunch of successful applications, from street maps to email platforms, and everything in-between. They've also made huge innovations in non-tech areas such as workspaces. The combination of their office design, organizational structure, and business ethics provides a hub where creativity thrives and big solutions are uncovered every single day. Today's story is about how a Hult MBA had the vision and audacity to reach out to the tech titan and got his student club to meet with top officers at Google's Cambridge Campus. This is a story that has deeply embedded one of the most powerful concepts you'll learn at Hult: Growth Mindset.
Meet Renato Ramos Silva Neto
"There are a couple of big things that you need to learn once you start your journey at Hult: Growth Mindset and Networking" says Renato. "I had a good understanding of those words before coming to Boston but, after experiencing them in my own skin, I have really learned to embody these concepts."
One of Renato's primary goals before coming to Hult was to find a way to collaborate with Google. "It's quite extraordinary the way that the company has managed to create the right incentives for their employees to become agents of innovation and how they created the right environment for that to flourish. Just look at their offices!"
Renato found out that Google actually has an office near Kendall Square, which is walking distance from the Hult Boston Campus. Still, he was struggling to find a way to infiltrate the company. His luck was about to change. "My friends told me about a Product Management keynote at Hult, so I decided to go. To my surprise, the speaker was a Product Manager from Google. Her presentation was superb. It was exciting, incredibly interesting, and super encouraging."
What if you just go for it?
The keynote was about to end and Renato started to feel nervous. The "what ifs" were hammering in his head and he started to have second thoughts about whether or not to approach the speaker. What if I say the wrong things? Or she thinks I'm just another fanboy? What if I just walk away?
Renato knew this was his chance to finally create that connection he was so desperately seeking. He filled his chest with courage and his mind with determination and decided to talk to the keynote speaker. "She was very kind, open, and willing to answer all my questions. I told her that I was running Hult's Startup Club and we were very interested in Intrapreneurship, Google's Incubator, and their investment strategies. Then, something magic happened. She invited the members of the club to visit Google's campus in Kendall Square!" 
Visiting Google's Campus in Cambridge
A total of 20 students had the chance to tour Google's offices. "It was an inspiring experience to actually see how hard they invest in providing such a creative environment and empowering the employees to give their bestꟷincreasing productivity and innovation."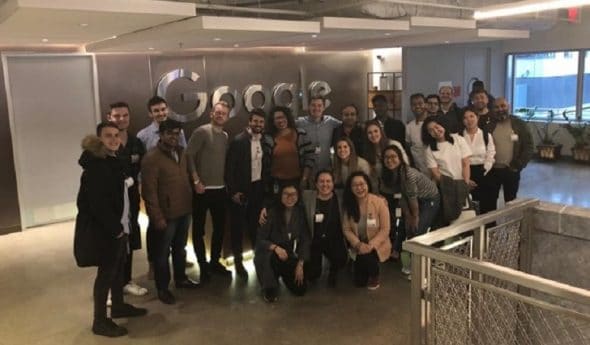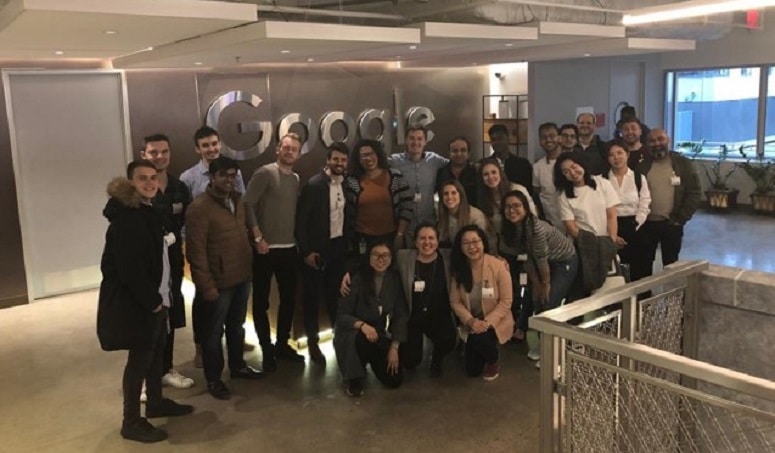 "Imagine if I would've listened to the negative what ifs? I would've never found out that Google staff were so open to talk to anyone willing to listen. I would've never known Google Campus in Cambridge. Most of all, I would've regretted it all my life. This experience taught me how even a simple conversation can have such an incredible and unexpected outcome. It opened a door for me to become more open-minded and to try new things. Growth Mindset and Networking."
When asked if Google's campus was everything he expected, Renato answered enthusiastically "They were even better! And yes, it's true; they have secret places, a library, a sleep pod, and even a treadmill desk, which is said to increase productivity, health, and creativity."
This is the third of a six-part series. Part 4, exploring the art of conversation, will be published next week.
---
Ready to surround yourself with go-getting global talent? Download a brochure now.
Luis Olguin
Luis Olguin is currently enrolled in the Hult MBA program in Boston. Upon completion, he will pursue a Dual Degree in Business Analytics in San Francisco. Before coming to Hult, he worked as a Capital Markets and Accounting Advisory Senior Consultant for PwC in his native Mexico. His interests include venture capital, fundamental and technical analysis, corporate finance, portfolio management, and the application of big data to analysis in finance.
Related posts