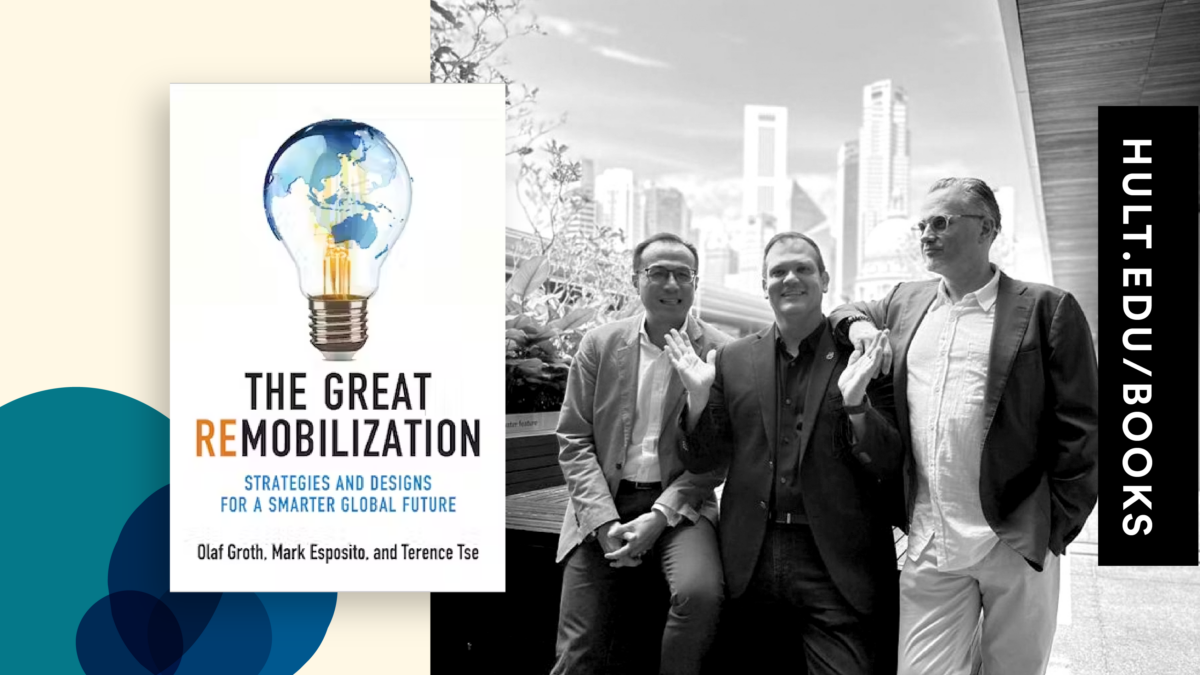 The Great Remobilzation: Designing a Smarter Global Future
Erin Brown, 1 month ago
4 min

read
Professors Olaf Groth, Mark Esposito, and Terence Tse on 'The Great Remobilization'—and how it can impact our collective future. 
Shortlisted for the Thinkers50 Strategy Award.
Countries, industries, organizations, and communities today are faced with upheaval on a daily basis—and at global scale. Yet in the face of this constant change, not only are leaders charged with creating resilient and trustworthy systems, but they also must plan for long-term human and economic growth. Is this an impossible task? 
Not according to The Great Remobilization: Strategies and Designs for a Smarter Global Future (MIT Press, October 2023). The book, written by a trio of distinguished Hult faculty along with research partner Dan Zehr, outlines a solution to many of the thorny questions that face our collective global community.  
"We cannot expect a Great Remobilization to materialize if we don't have a vision and strategic framework to guide us. We need a model that would help government, business, and community leaders flip their gaze forward, away from what we lost and toward what we might gain from this unprecedented moment," say scholar-practitioners Olaf Groth, Mark Esposito, and Terence Tse in the book's introduction. 
'What we lost' refers to recent worldwide upheavals, not the least of which came in the form of a global pandemic that unearthed existing fractures within so many of our global systems—from financial and business structures to cultural and ecological ones. 
To address these new and unprecedented challenges, Professors Groth, Esposito, and Tse unveil a smarter operating logic for the world based on the Cognitive Economy theory that power and income dynamics change in favor of those who can optimize Human-to-Everything (H2E) relationships. In the book, the authors introduce a framework they call FLP-IT, which stands for forces, logic, phenomena, impact, and triage. The FLP-IT framework is designed to help those in leadership and decision-making positions make sound and forward-looking choices in even the most chaotic times.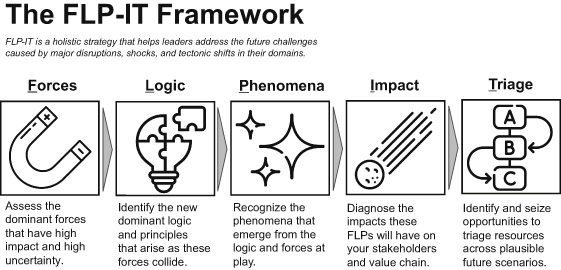 COVID-19 is just one of the tectonic shifts identified in the book as having completely altered our lives in recent years. The others include the cognitive economy, cybersecurity, climate change, and China (the "Five C's"), the combination of which builds the necessity for the authors' operating logic. Managing these challenges and future ones will require flexibility, the authors say, as we are now in a world where predictive planning is less of an option and smarter planning will need to happen as new circumstances emerge. Steering intelligently toward a new "cognitive economy" will allow us to turn recent turmoil into new opportunity.  
The Great Remobilization offers tangible, relevant, and actionable recommendations and ideas for the steps leaders must take on both an organizational and global economic level. 
"An essential framework for mastering the deeply systemic and structural transformations occurring in global society and for reestablishing trust in our future."

Klaus Schwab, Founder and Executive Chairman,

World Economic Forum 
More reviews of The Great Remobilization
"In an age of increasing complexity, it's refreshing to have a compelling and well-thought-out heuristic to anchor your approach to an ever-changing world. This book is that tool."  —Christophe Le Caillec, CFO, American Express 
"The Great Remobilization takes on all of the massive forces upending our world today—from COVID to climate change and geopolitical tensions—and presents an easy-to-grasp framework for analyzing those forces and identifying global solutions." —Ann Harrison, Bank of America Dean, Berkeley Haas School of Business; editor of Globalization and Poverty  
About the authors
Olaf Groth is Adjunct Professor of Practice for Global Economy, Foresight, Strategy & Innovation at Hult International Business School; Professional Faculty for Strategy, Futures, and Innovation in the Business & Public Policy group at the Haas School of Business, University of California, Berkeley; and Faculty Director for the Future of Technology program at Berkeley Executive Education. A global strategist and entrepreneurial tech executive, he is also CEO of advisory think tank and concept design studio Cambrian.ai and coauthor of Solomon's Code and The AI Generation. As such he is a frequent media commentator and global network member at the World Economic Forum. 
Mark Esposito is Professor of Business & Economics at Hult International Business School, where he directs the Futures Impact Lab. He is also Teaching Faculty at Harvard University's Division of Continuing Education and Affiliate Faculty at the Microeconomics of Competitiveness program at the Harvard Business School. He serves as Senior Advisor to the Strategy& group at PwC. He is cofounder of Nexus FrontierTech, the Circular Economy Alliance, and Excellere. He is co-author of The AI Republic, Understanding How the Future Unfolds, and The Emerging Economies under the Dome of the Fourth Industrial Revolution. 
Terence Tse is Professor of Finance at Hult International Business School, Affiliate Professor at ESCP Business School, and Visiting Professor at Cotrugli Business School. He is co-founder and executive director of the AI company Nexus FrontierTech. He also cofounded Excellere, a think tank. A highly sought out speaker, he is coauthor of The AI Republic and Understanding How the Future Unfolds, and the author of Corporate Finance: The Basics. 
Related posts