Sustainable Business Leadership Starts With Education

Joanne Lawrence, 1 year ago
4 min

read
Sustainability defined:
 A company's delivery of long-term value in financial, social, environmental, and ethical terms. 
– Guide to Sustainable Business, UN Global Compact (2014)   
Sustainability—once on the fringe and "nice to do"—has moved to the mainstream and become a "must-do" for businesses.
As the world hurtles toward a population of 10 billion people and the earth faces increasing resource constraints, enlightened business leaders see today's social and environmental challenges— as captured in the UN Sustainable Development Goals (SDGs) and the World Economic Forum's annual impact report—not only as risks to be managed, but increasingly as strategic opportunities to be realized. These leaders are breaking new ground as they seek the ideal "win-win" solutions. But what about the rest?
From shareholder to stakeholder
With investors, regulators, consumers, and employees seeking ever more information on what companies are doing to integrate environmental, social, and governance (ESG) practices into their business, the overwhelming question of the moment is how? How do managers move away from decades of focus on short-term profits and shareholder value (shareholder capitalism) to a longer-term, "shared" value model (stakeholder capitalism) and its potential for inclusive prosperity?
I believe the answer lies in teaching aspiring leaders a holistic, systems-thinking, stakeholder approach to business. That is, an aligned management system that is driven by a clearly defined purpose where strategy and processes are viewed through a sustainability lens, organizational cultures are structured to be engaging and inclusive, and ethical and innovative behavior is encouraged and rewarded. Performance is measured not just in terms of financial profits, but also in terms of social and environmental impact. Easy to say, hard to do.
The answer lies in teaching aspiring leaders a holistic, systems-thinking, stakeholder approach to business.
While managers have readily grasped the economic benefits of addressing environmental issues—such as reducing carbon emissions, using less water, and seeking alternative energy—it has been much more difficult for them to recognize the "S" and "G" of the ESG framework, yet all are key to achieving true sustainability and building brand value. At a time when reputations can be built or lost in seconds, is the search for ever-lower labor costs leading to human and labor rights violations? Is the use of water in the supply chain depriving a local community of its drinking water?  How can a manager know?  And once known, what can be done to change it?
Integrating sustainability into the learning process
Long committed to the transformative role of business in society, Hult is building on our experiential learning approach and unique global perspective to help international executives understand this critical topic. Our newly launched Master's in Sustainability with EY challenges students to consider the multidimensional factors of sustainability—economic, political, environmental, and social—and the interconnectedness of multiple stakeholders as they strive to create value.  Students learn how to integrate social and environmental considerations into their strategic decision-making and intricate supply chains. In doing so, they reduce the likelihood of unintended consequences and reputational risk while at the same time increase innovation, realize new market opportunities, and, ultimately, create a competitive advantage. Key frameworks are explored, such as the UN Global Compact and ESG metrics, as well as new business models, like design thinking and the circular economy, that are fundamentally challenging business leaders to re-think how they act, how products are designed and used, and how to measure value meaningfully.
Students learn how to integrate social and environmental considerations into their strategic decision-making and intricate supply chains.
Utilizing Hult's trademark learning by doing approach, the program requires students to address the Sustainable Development Goals—launched by the UN in 2015 to develop more inclusive economies—and apply their newly acquired skills to generate strategic opportunities. Whether developing a highly nutritional, affordable yogurt to address child malnutrition, training rural women to be a trusted sales channel, or establishing coding schools in developing countries to turn largely unskilled workers into tomorrow's tech workforce, students will find themselves inspired to think differently as they seek competitive advantage and value.
Capitalism reinvented
This is business ingenuity at its best, developing new products, new ways of working that transform lives and livelihoods while at the same time generating revenues, and mitigating the risks posed by changing demographics and environmental challenges.
By thinking holistically and understanding that everything is connected to everything else, those who pursue the Hult EY Master's in Sustainability will be armed with the skills to design aligned and integrated purpose-driven organizations. These are the businesses that attract young talent, instill customer loyalty, and offer investors promising returns—all key to long-term success.  The degree will provide learners with a true career advantage, placing them among the leaders who are embracing this purposeful, forward-looking, and inclusive model for creating long-term value for all stakeholders—capitalism reinvented for the 21st Century.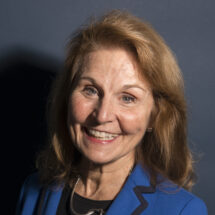 Joanne Lawrence
Joanne Lawrence is a Professor of Practice at Hult. With decades of international corporate, consulting and academic experience, Joanne Lawrence focuses on developing globally-minded, transformative leaders who can effectively achieve both social and economic impact. Her graduate courses integrate business, innovation, and global society issues. She is an academic partner of the UN Development Program (UNDP) and the UN Global Compact's Principles of Management Education, supporting the integration of the UN Global Compact Principles and Sustainable Development Goals (SDGs) into business school curricula. She founded Hult Case Publishing and is a Trustee of the Case Centre. Among her publications are Globally Responsible Leadership: Managing According to the UN Global Compact Principles (2012) and the award-winning and best-selling case study, Sustainability as Opportunity: Unilever's Sustainable Living Plan (2015). Her most recent work is Patagonia: From Responsible Company to Circular Economy Pioneer (2021).
Related posts