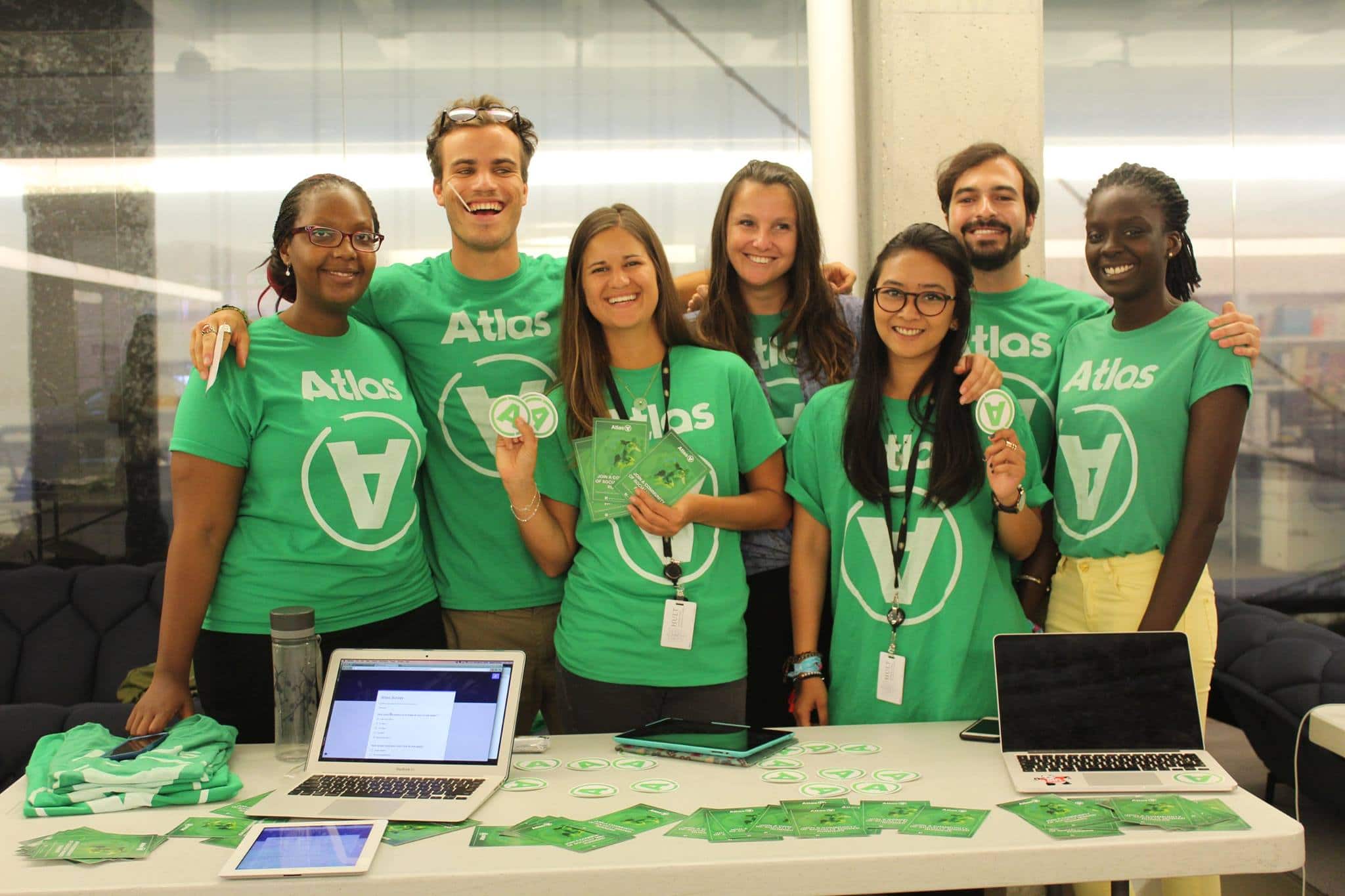 Written by global ambassador, Alan Pierce, Master of Social Entrepreneurship student, San Francisco campus, class of 2016.
Think about a local cause that moves you, and also about some activity you do nearly every day. If you could combine that activity to raise money for the cause, would you? The answer is probably a resounding, yes! And this is exactly what three students at Hult are promising with their soon-to-be launched app, Atlas.
Atlas enables people who enjoy running to raise money for every step they take. More specifically, runners earn 25 cents (provided by corporate sponsors) for every mile, all of which goes directly to social enterprises selected by the Atlas team.
That co-founding team is made up of three Master of Social Entrepreneurship students at Hult San Francisco: Thomas Querton, Magali Mathieu, and Olivier Kaeser. Thomas, who is Chief Empathy Officer at Atlas, originally had the idea of engaging communities through running while living in Belgium (his native country), and recognized a Master of Social Entrepreneurship at Hult as a way to manifest that vision:
"It was clear to me that I needed two things: a better understanding of the industry I was getting into and an innovative environment to work in. So I decided to move to the capital of innovation and foolishness: San Francisco. I had this naive ambition of wanting to change the world and I was lucky enough to find 65 classmates at Hult who shared this unreasonableness. Especially Magali and Olivier who embarked on this run with me to start making my American dream a reality."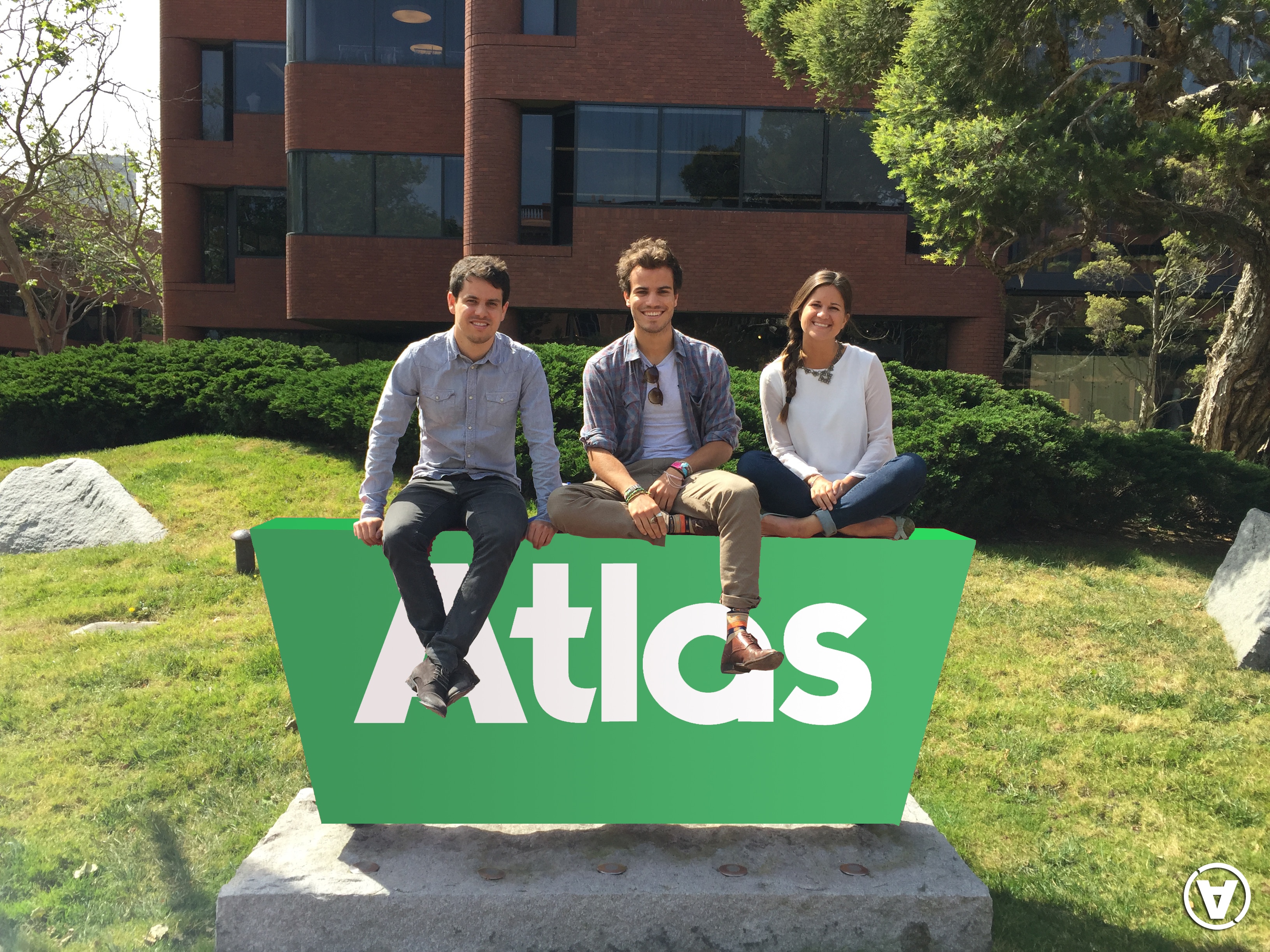 Combining diverse backgrounds, the three co-founders describe Atlas as a platform to bring together a global community of change-makers (people like you) in creating empathy and tangible social impact through running. Olivier Kaeser, Chief Ideation Officer, further explains this vision for Atlas, "Our initial goal is to partner with nonprofits in the Bay Area that concentrate on the empowerment of the weakest in our society and help them to unfold their potential. Our ultimate vision is to replicate this model in other cities in the United States and around the globe."
This is an ambitious goal. And yet, runners across the world have already responded to the call to validate that ambition. To date, the Atlas team has launched four campaigns (completed via Facebook until the app is ready). For the first two campaigns they tapped into the Hult community of runner change-makers (such as the Hult Running Club) to raise money for the homeless in San Francisco and for local Hult Prize finalist, Musana Carts.
Magali Mathieu, Chief Impact Officer at Atlas, describes their journey with the third campaign:
We chose Fonds Ngangi as they were a trusted non-profit we had a connection to. This allowed Atlas to send 3 students to school in the Democratic Republic of Congo (DRC). The plan was to reach 2 grants in 30 days but the campaign exploded so we pushed to get one more full scholarship and our runners did it, together we raised $2,700! It was great to see so much initiative from Fonds Ngangi, the students organized their own race in the DRC as they wanted to be a real part of the campaign. Moving forward we are focusing on connecting our corporate and nonprofits partners with our runners locally. So if you're in the Bay area, you'll be running for a cause happening right here!
Buoyed by this engagement with their platform, the Atlas team then launched their fourth (and current) campaign encouraging runners to participate for Social Advocates for Youth (SAY), an organization empowering homeless youth in the SF Bay Area. Their aim is to raise $2,500 in order to furnish SAY's "Dream Center," a campus with temporary and long-term housing to bring youth off the streets, along with counseling and work opportunities to help reintegrate them back into society.
The key to this campaign, and a core value driving the Atlas mission, is to focus on promoting a local ecosystem of change where local runners run for local causes sponsored by local companies. In this way they hope to exceed simply being an awareness campaign by providing actionable avenues of participation to all locals who wish to do something to improve their community.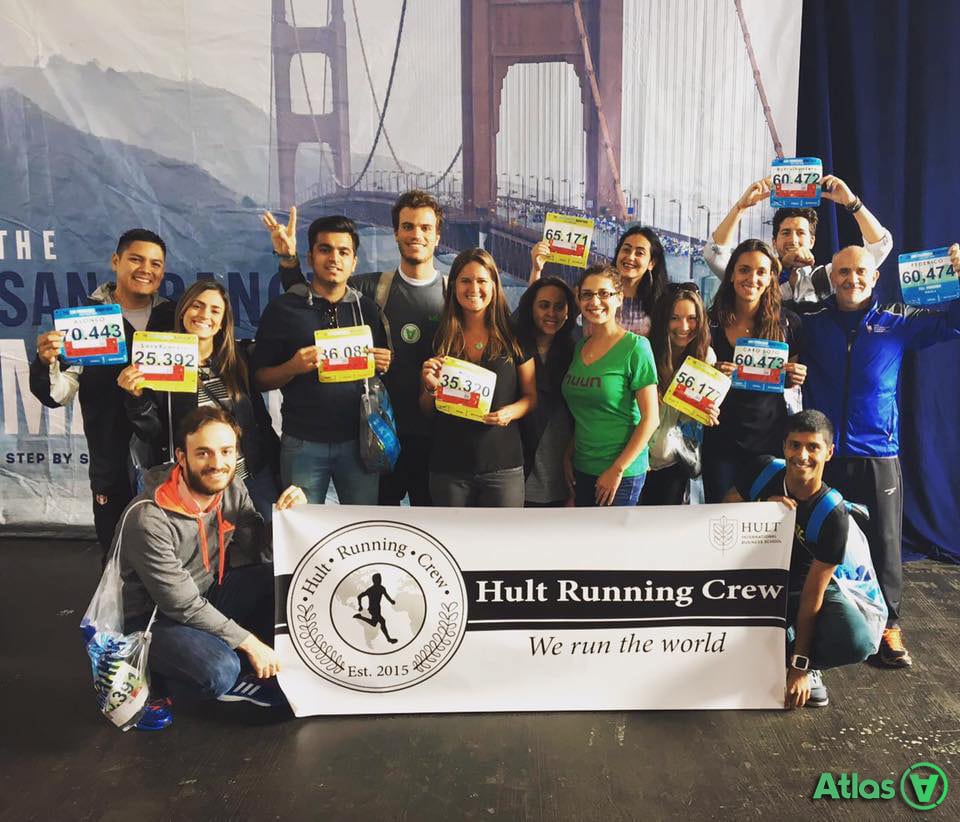 And the local Hult community has already answered this call to support SAY, with a number of them even running in the San Francisco Marathon. The unfolding of the SAY campaign gives a sound example of how Atlas creates a community of change-makers, and empowers local individuals to act for their local causes.
Thomas speaks to this power, "Atlas pushed them out of the door to go for a run increasing their engagement, compassion and health. They would go for distances never achieved before because their miles go for someone else."
As a social enterprise itself, the Atlas model yields a unique matrix of impact. Beyond the resources delivered to worthy social projects, Atlas is also building something which motivates exercise. It's helping create more value and fulfilment in the corporate labor force. It is cultivating empathy-driven lifestyles. Such ripple effects are perhaps subtle, but they certainly accelerate the inertia of social change.
From their start at Hult, to their ambitious plans for global growth, Thomas emphasizes they remain committed to the vision driving them forward, "Each person has the power to run the change he wants to see in the world, by voting with his feet."
Related posts