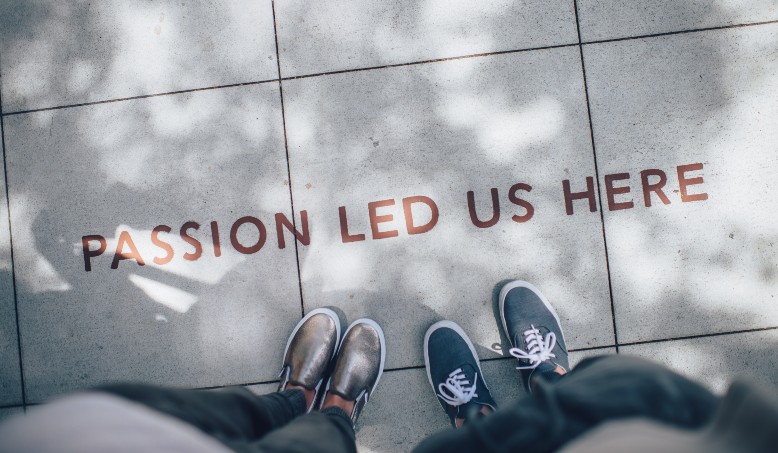 "What do you want to be when you grow up?"  It's a question posed to all of us as children and very often still echoing in the back of our minds as adults. As Head of Careers at Hult International Business School, I have the pleasure of working across all of Hult's programs—from our Undergraduate to Executive MBA students. A common thread, whether speaking with a 17 year old thinking seriously about their career for the first time, or a seasoned professional with 20+ years of experience, is the challenge in finding a role that is right for them. Then, once they identify that path, how to be competitive in an international market.
Hult students have the unique opportunity to benefit from a practical education.  We integrate this dynamic thinking across Career Development as well, helping students figure out what type of job not only pays the bills but motivates them to bring their best selves to their career. This is why the Hult Career Development ROADmap was created; to offer you a guide to not only discover a meaningful career, but to build an effective strategy to help you achieve your goals.  This acronym has been designed to help students navigate their unique career journey with the help of our talented Career Advisors.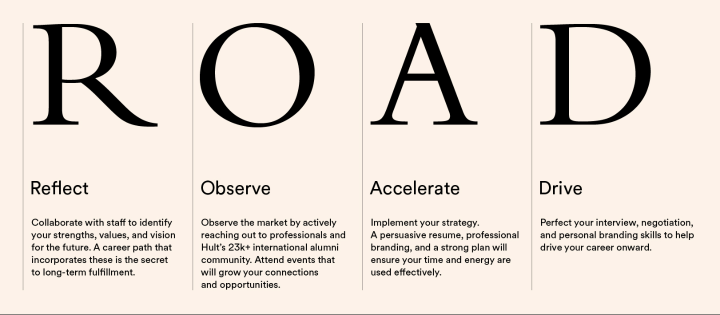 R | Reflect
According to a recent study by Ernst & Young, only 15% of Gen Z would choose financial security over job satisfaction. Now, more than ever, finding a role that aligns with individual motivations is a driving factor in career satisfaction. With this in mind, the first stage of the ROADmap is Reflect. Students will collaborate with Career Advisors and faculty to identify their strengths, values, and vision for the future.  After this self-reflection, you will gain a better understanding of which skills you excel in, but more importantly which skills you enjoy. Finding a job that incorporates these skills is an excellent indicator for a long-term, meaningful career.
O | Observe 
The best way to understand different career paths is to learn from those in the job. By observing the market and actively reaching out to professionals and Hult's 23k+ international alumni, students are able to further define their interest in various roles and build a strong professional network. Hult's Corporate and Alumni Relations teams facilitate introductions and events across various industries, ensuring a wide scope of connections and opportunities.
One of the best ways to observe the market is by conducting informational interviews—a casual meeting where you seek advice from someone working within your target role, industry, or geography.  After this brief discussion, you'll walk away with a wealth of knowledge about your area of interest and hopefully a better understanding of if this is the right career path for you and how to get there (not to mention a great new contact).
A | Accelerate
70-80% of job opportunities are never posted online. In order to be competitive, especially out of your home market, it takes building a strategy to be successful. During the Accelerate stage, individual plans will be created—including a persuasive resume, professional branding, and strategic plans to use your time and energy most effectively.
I also want to encourage you to build connections and experiences off-campus. Hult's campuses call some of the world's most dynamic cities home. Don't be afraid to find likeminded people outside of the Hult community through networking events, clubs and societies, and test-driving roles through internships. You never know where these connections could lead.
D | Drive
Having conducted hundreds of interviews, I believe the difference between an OK candidate and a great one is preparation, self-reflection, and the confidence to stand out against the competition. Hult's career advisors will introduce you to a proven storytelling methodology for a memorable interview, negotiate a fair offer, and build the professional reputation to help you advance in your career.
Professional experience can and absolutely should be gained during your time as a student. We highly encourage you to participate in internships to build your business acumen and increase your employability. Gaining professional internship experience can be an excellent gateway into a meaningful full-time job.
There is no one-size-fits-all process to Career Development. However, with the Career Development ROADmap and the Hult career team as your guides, your unique aspirations have the strategy and support to lead to your success.
More like this
Hult wins 2020 AMBA award for career strategy


Maximizing your employability is at the heart of everything we do at Hult. Learn more about our one-year masters, one-year MBA, and Executive MBA programs here.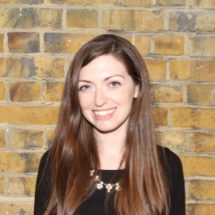 Dawn Gallt Watson
Dawn has 10 years of experience in recruitment, human resources, and higher education career services, including six years of career advisory in the US and UK. As the manager for career development, Dawn oversees employability initiatives and student-focused teams across both of Hult's UK campuses, supporting students on Hult's undergraduate, masters, and MBA programs. Dawn believes in empowering students to find jobs that don't just pay the bills, but that bring them fulfillment. Careers that bring challenges, personal growth, and meaning to daily life. Through cultivating marketable skills and following their passions, students are able to pursue and obtain meaningful careers.
Related posts