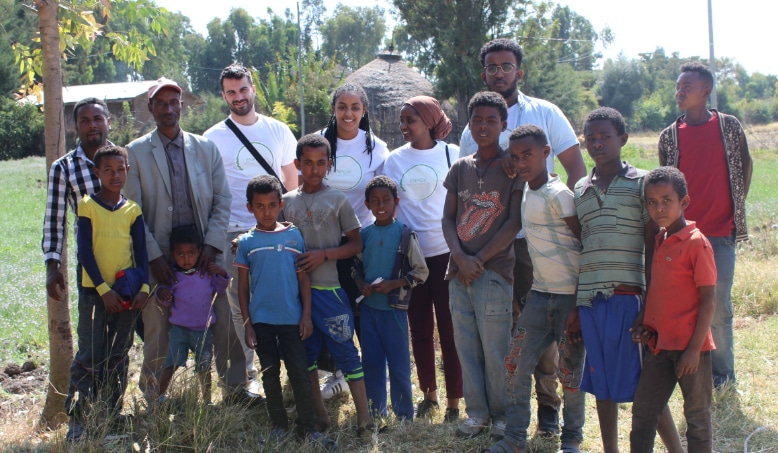 At Hult, doing well in business and doing good are not considered mutually exclusive. One of the many instances, where you'll find Hult students championing for business to transform lives is the Hult Prize. Referred to as the "Nobel Prize for students", the Hult Prize challenges students to find new and disruptive solutions to tackle some of the biggest social issues around the globe.
The Hult Prize has seen a rise of undergraduate teams taking part in the competition and despite competing against Masters, MBA, and Executive-MBA teams, they've shown they can bring the heat. Team ENPOV personifies just that. Hanny Semere, Patricio Gerpe, Ikram Zakir, and Cusmaan Dahir are students from the Hult Undergraduate London campus.
Over the last six months, they have worked tirelessly to build their million-dollar business model, traveled twice to Ethiopia, and are now the first Hult Undergraduate team to make it through to the Hult Prize Regional Finals. All whilst studying for their Bachelor of Business Administration degree!
We spoke with Hanny to learn about her experience competing with Team ENPOV in the Hult Prize.
Congratulations on making it through to the Hult Prize Regionals! How does it feel to be the first ever Hult undergraduate team to make it this far?
Hanny: Honestly, it's been amazing! It's shown everyone it doesn't matter if you're an MBA or undergraduate student, it's about who has the commitment, the idea, and how you package it together. The level of support we've received from the entire community has been incredible. And not just from Hult undergrads.
The entire school has been great at helping us–from rounds of faculty and staff feedback to even fellow students offering their time to help with crowdfunding.
The Regional Finals are three weeks away and the best universities in the world will be there. As the first Hult undergraduate team to make it there, the pressure is on. And on top of that, we still have mid-terms! But all of this is motivating us to work even harder.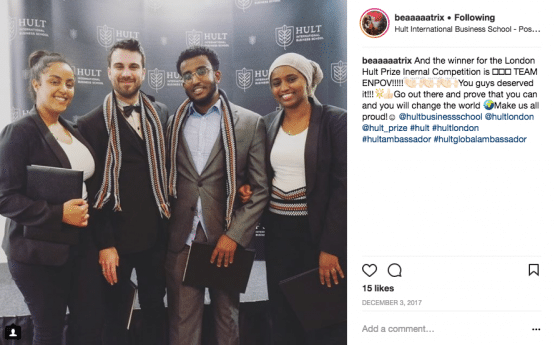 Talk us through what motivated you to take part in the Hult Prize?
Hanny: After I completed high school in Dubai, I came to Hult because of its real-world application and practical learning environment. I spent my first year in London settling in and connecting with everyone. But this year I decided I wanted to take full advantage of what both the Hult community and platform has to offer.
I'm originally from Ethiopia and grew up seeing vast poverty every day. When I discovered the Hult Prize, I was excited by the joining of business and societal needs and how you could make both impact and profit. It was then when I said yes, this is the competition for me!
How did you form your team? 
Hanny: At the start, I really didn't know where to look for my team. I wanted to step outside of my friendship circle and take the opportunity to work with other students, who would be super passionate. On our Hult Facebook page, Patricio posted he was looking for like-minded students to form a dedicated team.
From there Patricio and I met up and were joined by Ikram and Cusmaan. Before kicking off anything, we all sat down and discussed why we each wanted to do this. After that conversation, it was clear everyone was in this for the same reason–to engage in business and do social good.
Students at Hult come from such different cultures, experiences it brings so much value to the table. And the diversity aspect really shows when we work on projects–like the Hult Prize. The more you work with people from diverse backgrounds, the more you learn, the more you can deliver.
How did you develop a solution to transform the lives of 10million people by 2025?

Hanny: We came into this with high ambitions. We got together regularly to collect research in hackathon-style sessions! Two of us on the team are from Ethiopia, and we flirted with the idea of going out there for field research. The idea became more attractive as we realized how much value the visit would bring. So we went for it. The only thing we needed to solve was funding.
We began reaching out to our network to look for potential sponsors and Patricio created a corporate social responsibility pitch to show how covering the cost of this organization was a good investment for the organizations we approached. Since we had school commitments we literally couldn't waste any time. Once we secured the funding for the trip and the next day we flew into Addis Ababa.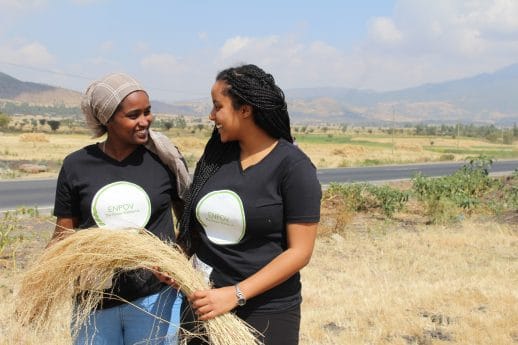 Our time in Ethiopia was invaluable! We went into full networking mode and knocked on the doors of everyone relevant–from businesses to government officials. From our ground level research, our business model evolved significantly. In the agricultural sector, a key market in Ethiopia, we found rural isolation to be a major barrier to economic and social development.
Ikram had an incredible network in Ethiopia and spoke the regional dialects. This helped us meet local business people and one in particular from Sudan. Our conversations led to us designing a hybrid electric tricycle and contracting our Sudanese contact to build a prototype for us. 
What advice do you have the class of 2019, who are thinking about competing in the Hult Prize?
You just have to go for it! I'm so grateful for the opportunity this competition has created and for bringing us together and providing the opportunity to cultivate our idea.
We've put our all into this and we plan to continue on whether we win or not.
---
To learn more about Team ENPOV visit their official website or Facebook page
---
Hult offers a range of highly skills-focused and employability-driven business school programs including a range of MBA options and a comprehensive one year Masters in International Business. To find out more, take a look at our blog Tackling the youth unemployment crisis: Hult Prize Regional Finals 2019. Download a brochure or get in touch today to find out how Hult can help you to learn about the business world, the future, and yourself.
Selam Ibrahim
Lami is a global marketing and project management professional with experience across the Education, Music, FinTech and International Development sectors. Currently working for payments and tech giant PayPal, Lami works within the Growth Marketing division. She's committed to social impact and also leads several non-profits initiatives here in the UK and overseas: Together For Her x Femme International, PayPal GIVES and Amplify, Black Employees @ PayPal.
Related posts