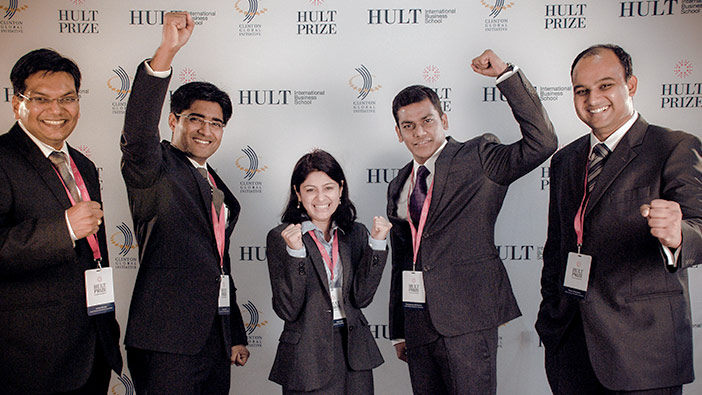 Six students from the Indian School of Business have won USD1 million of investment in their revolutionary idea to improve health care for India's slum-dwellers. The winners of this year's Hult Prize beat 11,000 other entrants from over 300 universities with their proposal to address under-diagnosis, poor treatment, and prescription compliance in India's slums with a technology-driven start-up called NanoHealth. Their "Dox in a box" solution brings cost-effective health care to the doorsteps of the world's poorest by enabling them to self-diagnose and self-monitor chronic diseases such as diabetes and hypertension. The finals held in New York last night, hosted by partners of the Hult Prize, the Clinton Global Initiative, saw the climax of sixth year of the world's largest social entrepreneurship competition and movement for social good. In partnership with Hult International Business School and founded by a Hult alumni, the event generates hundreds of innovative ideas to solve large-scale social issues faced by the world's urban populations and aims to put social enterprise at the heart of the business community. It's an incredibly exciting and awe-inspiring movement to be a part of and we at the school were especially proud to see so much involvement, both from our students, many of whom competed, and from our faculty who saw our Professor of Innovation, Dr. Hitendra Patel, sit on the judging panel. The business ideas generated by the Hult Prize look to change the world and save lives. Can there be any higher ambition for business schools and their students?
---
If you would like to find out more about Hult's global business programs, download a brochure here.
---
Read more about last night's finals and the winning idea:
Bloomberg Business Week "Bill Clinton Rewards a Social Startup and Resolves a Minor Health Crisis in the Same Night"
Fox News "Social venture looks to boost health care in the world's slums"
Financial Times "Indian School of Business alumni win Hult prize"
Top MBA "Indian School of Business Team Wins Hult Prize 2014: MBA News"
Innovation Excellence "Hult Prize – Where Social Enterprise is Disrupting the World"
Grow your leadership capabilities with an MBA in international business at Hult. To learn more, take a look at our blog A new model for leadership development in the 21st century, or give your career a boost with our Masters in International Business. Download a brochure or get in touch today to find out how Hult can help you to learn about the business world, the future, and yourself.
Related posts