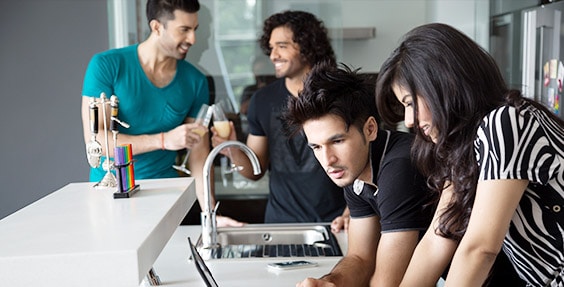 Life in a Postgrad Dorm – Student Accommodation for Grownups

Hult News, 10 years ago
0
3 min

read
For most MBA and Masters students, it's been a while since they lived in dorms or halls with other students. And the chances are, what they want from a living space has changed a fair bit, too. Some may have stayed at home for university and never had the experience. So what's it like living communally in student accommodation when you're all grown up?
Many postgrad students at Hult Shanghai choose to do just that at Tianhong Residence. For many, the offer of free accommodation, and the option of living and socializing with an international group, is more appealing than the risk of being isolated in a foreign land, and having to deal with the intricacies of the local housing market.
As Cristophe Didion, the Executive Director at Hult Shanghai points out, "It's not that easy for a foreigner who's just arrived in China to find a flat in Shanghai by themselves."
Security and convenience are also a plus: "You don't have to worry about any of your stuff, you know it's always safe. If you're up late working on a project, and you're really in the zone, you can call room service. It's the same with the weekly room cleaning service. If you're super busy that week, you know you have those options that make life a little bit easier."
So there are clearly practical benefits. But what about the social aspect? As one student living in Tianhong Residence last year says "In terms of social community, it's great to experience student life altogether." When it comes to evenings and weekends, it doesn't matter how old you are, you want to kickback, relax, and have fun in good company. There's always the option to be a part of whatever is going on in student accommodation, spontaneous or planned.
Movie nights, games nights, cook-offs, barbeques on the terrace – relaxed, cozy events are a part of life at Tianhong Residence and help make everyone feel at home. Like one resident says, "We work together, live together 24/7. The bonds and friendship – you get to know other people so well."  Residents who want to explore the city together organize sightseeing trips, as well excursions to surrounding areas. Some even go further afield and travel together to other countries in the region.
Of course it's often the unplanned moments that have the most impact and stay with students the longest. Studying together all night in the kitchen, sharing a Eureka moment, coffee on the terrace at sunrise – these are the truly unmissable moments.
---
If you would like to find out more about Hult's global business programs, download a brochure here.
---
Kickstart your career in the commercial center of Asia by studying at Hult's Shanghai business school. To find out more, take a look at our blog Student life at Hult Shanghai in the year of the snake. Download a brochure or get in touch today to find out how Hult can help you to learn about the business world, the future, and yourself.
Related posts