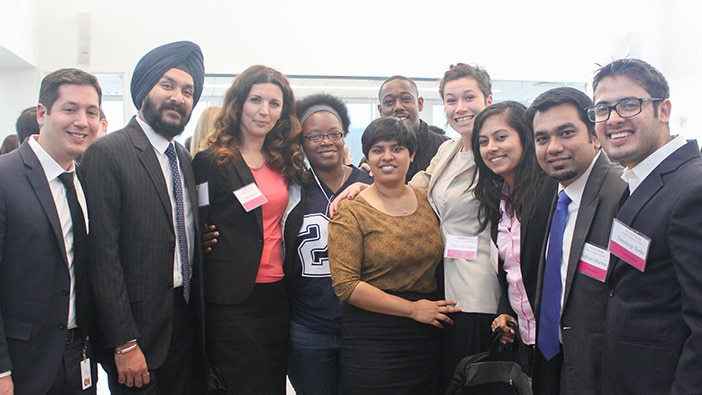 Hult Prize regional teams selected

Hult News, 8 years ago
0
3 min

read
Throughout this month, all our campuses have held internal competitions to select the teams that will represent Hult at the Hult Prize regionals.
The Hult Prize was founded by a Hult alumnus and is the world's largest student social entrepreneurship competition. More than 10,000 students from universities across the globe compete to win USD 1 million in seed money for their business idea that aims to solve complex social issues. The competition is run in conjunction with former U.S. President, Bill Clinton, and the Clinton Global Initiative.
The Hult Prize is a big part of student life on our campuses. Info sessions, team-forming events, workshops, and primers are run by staff and faculty at every campus – all dedicated to supporting students who want to compete. The internal competitions are designed to simulate the rigorous nature of the Hult Prize itself, with external judges joining the teams on campus to choose the winning teams.
Our Boston campus saw the highest numbers of participants with 23 teams presenting to 17 external judges including representatives from Google for Education, Dartmouth Consulting, and Robert Half. The winning team – Urban Farm Box – will go on to represent Hult Boston at the regionals with their idea to boost the income of people living in crowded urban spaces by making farming in small spaces possible.
The spectacular diversity of our student body was showcased at our Shanghai campus, with 15 nationalities being represented across 6 teams at Shanghai. Team WeSeed, whose members included both MBA and Masters students, emerged the victors.  The judging panel comprised executives from companies including PwC, AMD, and IBM.
Dubai's winning team – Team IDEA – is headed up by Imran Jattala. Imran is so passionate about the Hult Prize that this was a determining factor in his decision to pursue his MBA with Hult.  Team IDEA's social enterprise is named UrbanBazaar, and its aim is to empower slum dwellers by giving them an identity and transforming their localities into micro businesses within 60 seconds.
The San Francisco campus also had a great turnout with 16 teams competing and 12 judges, with team Slum Dunk going on to the regionals.
This competition aims to improve the lives of millions and its belief in the power of business to make the world a better place is at the heart of our school. Well done to all the winning teams, we look forward to seeing them progress through this incredible competition.
---
If you would like to find out more about Hult's global business programs, download a brochure here.
---
Make the most of what your career has to offer with a Masters in International Business from Hult. To learn more, take a look at our blog Hult's Global One-Year MBA ranked #20 in Poets & Quants' Top International MBA Programs of 2018 ranking, or give your employability a huge boost with an MBA in international business. Download a brochure or get in touch today to find out how Hult can help you to explore everything about the business world, the future, and yourself.
Related posts