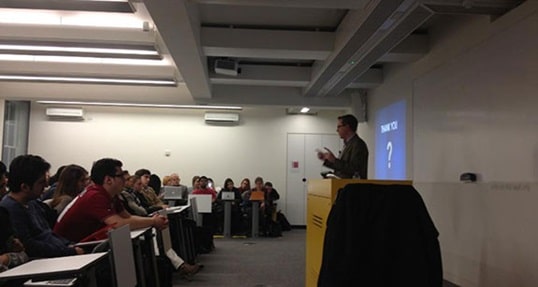 Hult London students have had some great opportunities to make valuable connections with big name companies this year. Events including on-campus speaker sessions and visits to local companies, facilitated by the Hult's Corporate Relations department, offer students an insider's prospective on high-profile companies.
Mark Kirkham, Marketing Director for Global Mountain Dew at PepsiCo, made a visit to the Hult campus in January to talk about the company, his career path and to share his insight on local marketing strategies around the globe.
Kirkham presented to a packed classroom and also took questions from the students. Director of Corporate Relations Alethea Sibois shared that Kirkham was impressed by the quality of questions and comments from the Hult class. Following the presentation was a networking session, where the drink of choice was Mountain Dew.
Next up: Bloomberg. After taking the Bloomberg Assessment test in several sessions over the first part of the school year, 45 students took a tour of the company's London office in early February and completed a Bloomberg Terminal training specially organized for Hult students. Following the visit and training, Bloomberg hosted a networking session with their recruiters at the Bloomberg Exhibition Center, where students were treated to a VIP viewing of an art installation.
Kickstart your career in Europe's biggest startup cluster by studying at Hult's London business school. To find out more, take a look at our blog From a tourist to a local in London. Download a brochure or get in touch today to find out how Hult can help you to learn about the business world, the future, and yourself.
Related posts