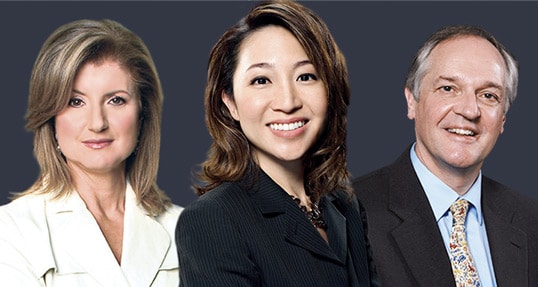 BOSTON, November 12, 2013 — Hult International Business School (Hult) is proud to announce that it will launch its first Visionary Speaker Series next month. The new series will showcase some of the world's most innovative thought leaders and run from December 2013 to April 2014.
"As one of the world's largest business schools, we are constantly looking for new ways to empower and inspire students and we recognize that visionary leaders, who have made a difference in today's global business world, can do that," said Dr. Stephen Hodges, President of Hult International Business School.
The first five speakers will address enrolled and prospective students and alumni at each of Hult's five campuses in Shanghai, San Francisco, London, Dubai, and Boston, and include:
Peggy Liu
Shanghai, 4th of December, 2013
Peggy Liu is an internationally recognized expert on energy. She is also the Chair and Co-founder of the Joint US-China Collaboration on Clean Energy (JUCCCE), which brings together international expertise and technologies to accelerate the use of clean and efficient energy in China. Liu was honored as a Time Magazine Hero of the Environment in 2008, a World Economic Forum Young Global Leader in 2009, a Hillary Laureate in 2010, and a Forbes "Women to Watch in Asia" in 2010. She has also served as an energy adviser to the Clinton Global Initiative and a member of the World Economic Forum's Global Agenda Council on New Energy Architecture.
Robin Chase
San Francisco, 15th of January, 2014
Robin Chase is the Founding CEO of Zipcar; the largest car-sharing company, Buzzcar; a service that brings together car owners and drivers in a car-sharing marketplace, and GoLoco; an online ride-sharing community. Chase is also on the Board of the World Resources Institute, the National Advisory Council for Innovation and Entrepreneurship for the US Department of Commerce, and the OECD's International Transport Forum Advisory Board. She has also received many awards in the areas of innovation, design and environment, including TIME 100 Most Influential People, Fast Company Fast 50 Innovators and BusinessWeek Top 10 Designers.
Paul Polman
London, 29th of January, 2014
Paul Polman is the Chief Executive Officer of Unilever and Vice-Chairman of the World Business Council for Sustainable Development. Polman began his career at Procter & Gamble in 1979, holding many senior executive positions, including Group President of Europe. As CEO of Unilever, he has set out an ambitious vision to double the company's size while reducing its overall environmental footprint and increasing its positive social impact. In recognition of his contributions, Polman has received the Atlantic Council Award for Distinguished Business Leadership and the CK Prahalad Award for Global Sustainability Leadership.
Kiran Mazumdar-Shaw
Dubai, 19th of February, 2014
Kiran Mazumdar-Shaw is India's richest self-made woman and the Founder and Chair of Biocon Ltd. Mazumdar-Shaw founded Biocon when she was just 25. Her focus is now on biopharma-ceuticals and making affordable drugs for the world. Mazumdar-Shaw is the recipient of several awards, the most noteworthy being the Padmashri Award, one of the highest civilian awards in India, which is conferred by the President of India. She has also been awarded the Ernst & Young Entrepreneur of the Year Award in 2002 for the Health-care & Life Sciences category and the BioSpectrum Person of the Year Award in 2003.
Arianna Huffington
Boston, 9th of April, 2014
Arianna Huffington is the Chair, President, and Editor-in-chief of the Huffington Post Media Group, a well-established columnist, and author of thirteen books. In May 2005, she launched The Huffington Post, a news and blog site that quickly grew into one of the biggest media brands in the world and won a Pulitzer Prize for national reporting in 2012. In 2013, she was named to the Forbes Most Powerful Women list. In 2006, and again in 2011, she was also added to the Time Magazine's list of the world's 100 most influential people.
The Visionary Speaker Series, formerly known as the Hult Executive Speakers Series, has featured over 90 extraordinary leaders including Steve Forbes, (Chairman and Editor-in-Chief of Forbes Media), President Bill Clinton (42nd President of the U.S.), Jimmy Wales (Founder of Wikipedia), Biz Stone (Co-founder of Twitter), Sir Bob Geldof (famed Irish pop musician, humanitarian, broadcaster), and Jessica Jackley (Co-founder of Kiva).
To learn more about Hult's Visionary Speaker Series, please click here.
About Hult International Business School
Hult is the world's most international business school with campuses in Boston, San Francisco, London, Dubai, and Shanghai, and new rotation centers in Sao Paulo and New York. The school offers MBA, Executive MBA, Master and Bachelor degree programs. Hult's one-year MBA program was ranked Top 10 in International Business and International Experience by the Financial Times in 2013. For more information, go to www.hult.edu.
SOURCE Hult International Business School
Register to attend the Visionary Speaker Series.
Hult offers a range of highly skills-focused and employability-driven business school programs including a range of MBA options and a comprehensive one year Masters in International Business. To find out more, take a look at our blog Hult scores in top 20 in The Economist's Which MBA? ranking for 2019. Download a brochure or get in touch today to find out how Hult can help you to learn about the business world, the future, and yourself.
Related posts