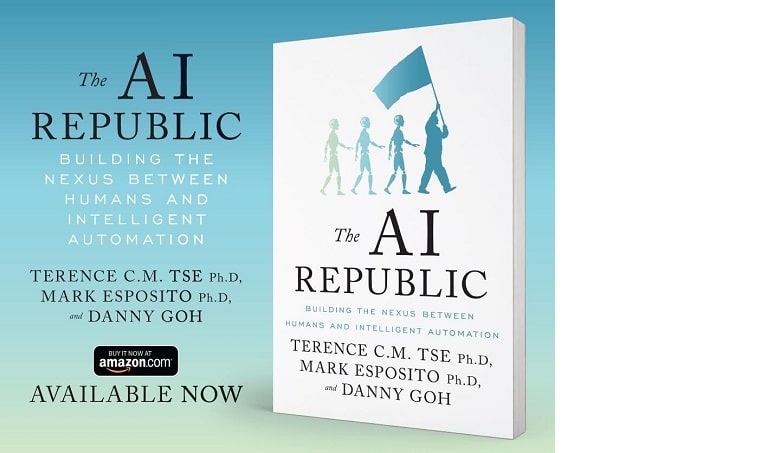 "The AI Republic," officially launched last week, reaches international bestseller status, ranking #1 in the U.S. and U.K. in three categories on Amazon.
Written by Hult faculty Dr. Mark Esposito and coauthored by Dr. Terence Tse and Hult Global One-Year MBA alum Danny Goh, The AI Republic breaks down and demystifies artificial intelligence, taking readers on a journey from its emergence right through to how they see it affecting our lives in the future.
As a nontraditional business school focused on preparing students for an increasingly dynamic future, disruptive technology is a major focus of Hult's curriculum. Mark, a Business & Economics professor, has extensive consulting experience for governments, the UN, NATO, and EU institutions and has cofounded his own global AI company, Nexus FrontierTech, with Hult alum and coauthor Danny.
To celebrate the success of this latest book, we caught up with Mark for more insights.
Congratulations on the success of your new book! Can you tell us more?
My coauthors and I are fascinated by technology's power to change lives and liberate humans from repetitive and often non-dignifying tasks. The AI Republic breaks down the immensely powerful technology that is AI. We look at where it comes from, how it has shaped new business models, transformed jobs, and expectations of labor. But the book equally empowers readers to place themselves at the center of this technological revolution. It's all too easy to surrender to the ill-conceived idea that machines will take over, or that they're even capable of thought, which is of course not the case. The AI Republic is a journey inside the credo that there is no intelligence in AI other than just a powerful computational capacity.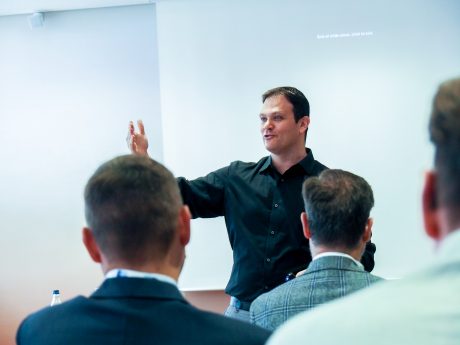 Who's it for?
We wrote this book for anyone who wants to consider the important questions about our future and the future of our society, in a world where machines and algorithms are becoming an increasingly visible and inevitable part of our lives.
---
Learn more about Hult's future-focused degree programs and download a brochure.
---
This book empowers readers to place themselves at the center of the technological revolution.
What are you teaching at Hult this year?
I've been teaching at Hult since 2012 and this is definitely my busiest year yet. I'm teaching Economics on the Masters in International Business program in Dubai and San Francisco, as well as Business in Global Society for the MBA in Dubai, London, and Shanghai. And that's just the core courses! I also have a long list of electives across almost all of Hult's global locations. From Disruptive Business Models, and Complexity & Systems Thinking, to Behavioral Economics. And then there's my brand new course on AI that I've been teaching in Dubai…
Sounds hectic! So what's next?
Well I'm planning to squeeze in an ambitious global tour with the new book over the next 12 months! I'll be taking in Europe, North and South America, The MENA region, Asia, and Australia… A true journey to take the voice of the book around the globe and inspire hopefully more and more talent. I'm also doing everything I can to see if I can land a position in the ranking of "Thinkers50." I was shortlisted for their "Breakthrough Award" in 2017, and in 2016 I was featured on their "30 rising profiles in Management." Let's cross our fingers and hope that 2019 will bring me luck in the general ranking…
Absolutely! We look forward to hopefully hearing good news on that front soon… All the best Mark.
---
Buy Mark's book on Amazon here to learn more about the real future of AI.
Ready to take on the future with Hult? You can start by downloading a brochure.

Mel Cloney
Mel is a staff blogger working in London, and is passionate about the Hult journey. Her writing focuses on faculty, academics, and student and alumni experiences. She's a food, scuba, and running junkie with a penchant for all things French.
Related posts