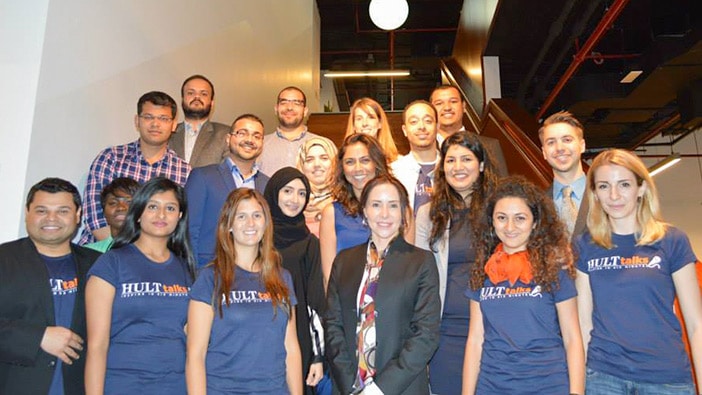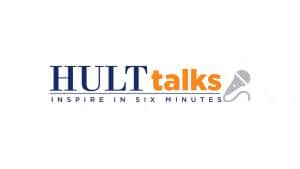 Hult Talks is a student-driven event designed to make students more comfortable with public speaking, presenting, and delivery skills by giving a six-minute or less speech on a topic of their choice, which is then judged by a small panel of expert judges.
This year a group of Hult Dubai MBA students organized the event and encouraged classmates from all programs to partake. Prior to the event, the participants received a masterclass on public speaking from Hult Dubai Dean Dr. Amanda Nimon Peters. The question facing students who chose to present was: If you had six minutes to convince people to take action, what would you say?
14 Master of International Business, One-Year MBA, and Executive MBA students delivered speeches about their life experiences, the environment, personal finances, technology, processed food, stepping out of their comfort zone, and much more.
Yehia Hassaan, a Master of International Business Hult Talks participant, said of the event:
"Standing in front of a group of strangers and giving my speech was absolutely nerve wracking. But in the end, when the crowd cheered and showed their appreciation, I felt that all of the hard work and nerves that went into the speech were worth it."
Shakeel Ahmed, another Master of International Business Hult Talks participant, said:
"Hult Talks has given me the platform to talk about how the world really is and not how we perceive it to be. It is not as rosy as we want it to be. Both workshops on how to become a confident speaker in front of a crowd have helped me capture my audience's attention from start to finish. They also helped me realize that setting daily goals, and the decisions that I make everyday, should lead me to achieve those goals.
I truly enjoyed the Hult Talks and it boosted my confidence in public speaking. I would encourage every Hult student to participate in this amazing experience."
The winner of this year's Hult Talks was MBA student Sakshi Vora from India. Her touching story about overcoming challenges in life made us all think that we shouldn't take life for granted and should never give up.
Our judges were Dr. Amanda Nimon Peters, Hult Dubai Dean; Esther Chater, Executive Coach; Austin Rudman, Partner and Head of Financial Services at KPMG UAE and Oman; and Mariano Federico Scandizzo, Chief Commercial Officer at Tameer Holding Investments LLCT.
Luis Escamilla, Acting Dean at Hult New York Rotation Center who attended Hult Talks, said:
"[It] was an inspirational event. The speakers made me cry, laugh, and have "aha" moments each in under six minutes. Effective communication and delivering a powerful message can be achieved in a short time. By delicately crafting a message and delivering it with passion, a speaker can truly move audiences.
What also surprised me was to see students who were afraid of public speaking standing up in front of a room full of people and delivering their speeches. They showed me once more that when one has their mind set on a goal, practice, practice, practice, and anything can be achieved."
Kickstart your career in a state-of-the-art innovation hub by studying at Hult's Dubai business school. To find out more, take a look at our blog Discover Hult life in Dubai. Download a brochure or get in touch today to find out how Hult can help you to learn about the business world, the future, and yourself.
Related posts