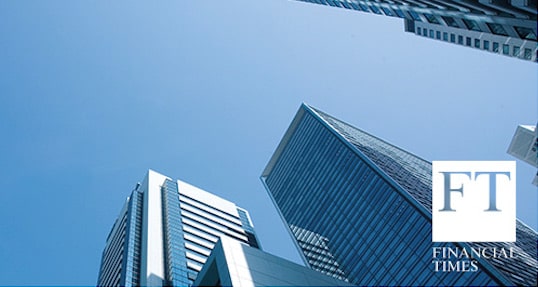 (LONDON – January 29, 2013) Hult International Business School has leapt into the top 50 business schools in the world for MBA graduates' salaries, after a double-digit rise that has defied the economic downturn and proved the increasing worth of Hult's international focus.
The findings, from the 2013 Financial Times Global MBA Rankings, show Hult International Business School – which has campuses on three continents – ahead of many leading competitors whose exclusively US base leaves them with limited overseas presence.
"Hult excels in the single most important quality which the world's leading companies are seeking in their future senior executives: international experience to match their international footprint," said Dr. Stephen Hodges, President of Hult International Business School. "Hult MBA students can study in one of the leading finance or technology centers of the developed world, before switching under our unique Global Campus Rotation program to one of the top cities of the emerging world."
Hult has more campuses in more countries than any other business school, with five in key global cities across the world – San Francisco, Boston, London, Dubai and Shanghai – as well as two rotation centers – New York and São Paulo. Under Hult's rotation scheme they can study in as many as three of these key global cities.
The salary figures are based on a Financial Times survey of alumni. The average salaries of recent Hult graduates have increased by 13 percent over the past year to $113,653.
Hult's high score in several crucial categories shows that its ambition to be the world's most international business school has been fulfilled. It comes in the top ten in international experience – which measures students' international exposure during the MBA program – and in international mobility – which measures their tendency to work in a new country in their post-MBA careers. Alumni also rank it fourth in the quality of teaching about international business. Dr. Hodges said: "Employers demand global citizens, and Hult supplies them."
Hult's overall MBA ranking has climbed by 37 places to 57th in the past three years, as a growing number of employers and students recognize its arrival as the world's most international business school.
About Hult International Business School
Hult is the world's most international business school with campuses in Boston, San Francisco, London, Dubai, and Shanghai, and rotation centers in New York and São Paulo.  Its faculty offers programs leading to the MBA, Executive MBA, Master and Bachelor degrees. Hult's one-year MBA program is ranked 1st in Percentage Salary Increase by The Economist and Top 10 in International Business and International Experience by the Financial Times. For more information, go to www.hult.edu.
For further information, visit the 2013 Financial Times Global MBA Rankings.
Kickstart your career in Europe's biggest startup cluster by studying at Hult's London business school. To find out more, take a look at our blog TEDxHultLondon: Biohacking — unleash your inner potential. Download a brochure or get in touch today to find out how Hult can help you to learn about the business world, the future, and yourself.
Related posts