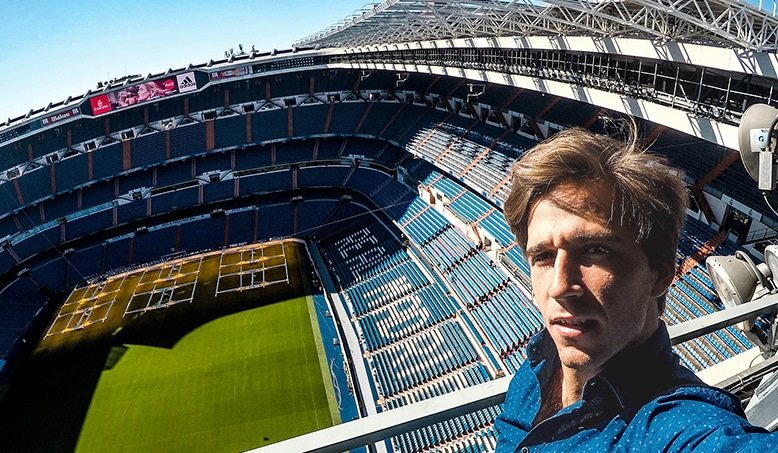 Many students come to Hult with a clear career path already in mind. And many aren't so sure—they come with an idea for a startup, or a rough direction, or simply a keen desire to make a difference in the world. Our expert career advisors and faculty love nothing more than to help students find and channel their passion into a viable way forward, for life. We caught up with BBA Class of 2016 graduate Guzmán Colilla to learn more about how he honed in on his niche at Hult, and made a successful career out of following his passion.
Guzmán was not going to make it as a top skier: "I would have loved to be a professional skier, because it is one of my biggest passions," says the Spanish national. "But as I wasn't a top skier, I knew I had to prioritize my studies."
When it came time to graduate high school, Guzmán knew he had to make a decision. "I didn't know what to do with my life," he remembers. Several injuries had taken him out of competitive skiing altogether. And so he started his own line of ski clothing, ALLIC. "There was a gap in the market," he says. "Big brands owned the ski industry, but they weren't doing anything to reinvent their products. They had big names and big numbers, and they were happy in their comfort zones."
Guzmán saw an opportunity for change in the market. "So I decided to study business at Hult," he says. Guzmán developed his business model and launched a new brand of ski wear while majoring in Finance at Hult in London and San Francisco.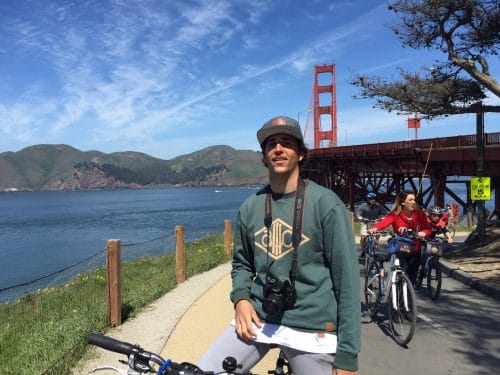 "When we arrived at Hult San Francisco, I met Professor Hap Klopp—the Founder of The North Face," Guzmán recalls. He was sure the sportswear mogul would be far too busy to help him with his new business venture—which had started selling online and in local shops around Spain. "But Hap Klopp is a passionate entrepreneur," says Guzmán. "I showed him this project and he was willing to help." Klopp became Guzmán's mentor for his final thesis—a business plan for ALLIC—his fledgling ski wear company.
From there, the concept took off. "I really thank Hult for connecting me with such an amazing mentor and professor," Guzmán says. Klopp is still working with Guzmán and ALLIC as a mentor, and has become the "godfather" of the business. The team plans to launch a Kickstarter this winter, after receiving their final collection of clothing designed with the help of Klopp's partners and designers.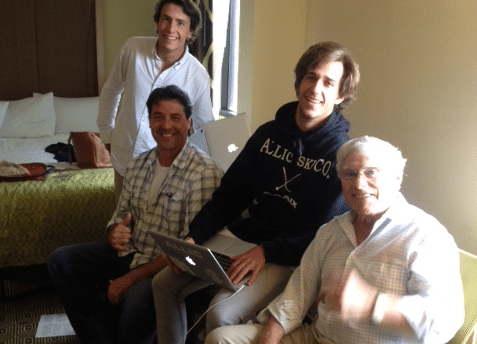 While launching his first company was already a pursuit of passion, Guzmán discovered a new potential path while studying at Hult. "While I was studying in San Francisco, a friend from Spain came for some meetings with GoPro in California," he recalls. Guzmán accompanied his friend to the GoPro offices in San Diego—a road trip that changed his life. "I saw the best working environment of my life," he says. "I went on a tour of the GoPro offices and after that day I knew I wanted to follow my passion. After seeing that environment, I could never imagine continuing to pursue a career in finance."
He knew he had to work for GoPro, no matter what it took. And it took a lot. "There were no internships or junior positions in the USA," Guzmán says. "But there were three internships available in Munich." He applied to all of them. "I just wanted to work for GoPro no matter the job." But after several rounds of successful interviews, he had to turn down the opportunity he'd worked so hard for.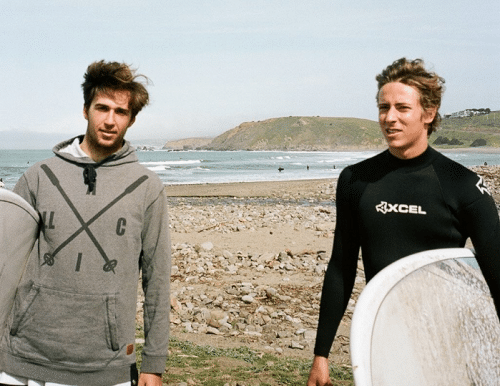 "They told me that if I could start on June 1st, I had the job," he says. "But I couldn't. I had to finish my exams and my degree at Hult—I was in San Francisco and I had finals."
After finishing his studies and graduating with his degree, Guzmán hadn't given up on the hope of a position. "My dad told me not to give up. He said to contact GoPro and tell them I was going to go visit my aunt in Munich this week and ask to see them while I was there," he says. The department head emailed him back to say she could meet him that Thursday at 3pm. "Right after I read that email, I bought a ticket to Munich, and I went to see her."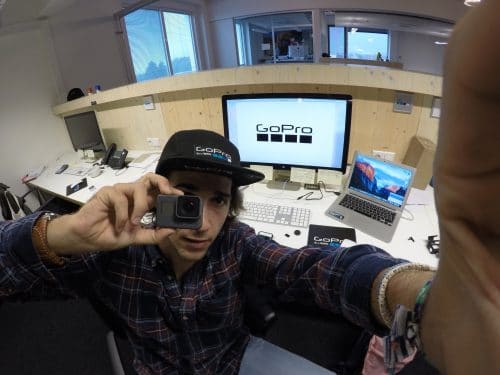 Arriving in the GoPro offices, Guzmán was expecting a quick chat, a tour, and nothing more. "But when I arrived, an intern asked me if I was the Spanish guy coming for the interview that afternoon," he says. "When I entered the meeting room, I had to tell her." Guzmán confessed that there was no aunt in Munich, and that he had come just for the opportunity to meet with the department head he wanted to work for. "After that I was hired," he says.
The position was for a six-month internship, after which Guzmán's contract was extended to a year. "Timing is everything," he says. "My boss went on maternity leave, and so I had much more responsibility than a normal intern."
"It was the best year of my life," he adds. "I learned so much, met so many people, and grew so fast."
But at the end of that year, Guzmán realized his time with GoPro had come to an end. "There was no more space for me to grow," he says. "I had seen everything on the inside, and there weren't any opportunities for promotion in my department or openings in other departments for me. I decided I had to move on if I wanted to grow."
Two months on and Guzmán is now at Real Madrid C.F., working as a video specialist. He works with major brands like Facebook, YouTube, Google, and of course, GoPro. Guzmán says that it was the mindset he learned while at Hult that helped him in each step of his path towards finding opportunities in sports-related companies and building a career with his passion.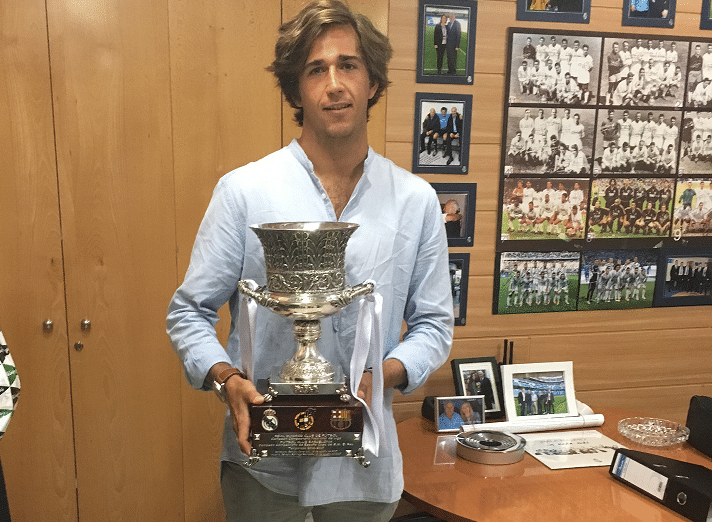 "You can always find a way to connect your passions to your work," he says. And it's worth it. "Even on the bad days, you can forget that you are working, because your job is something you love. Working with a passionate team all together is one of the best things in life. I could never work doing something I don't like."
Guzmán says having passion gives you the edge. "The thing is, almost everyone takes the easy path," he says. "Everyone tries to do the same thing. If you have a passion, you have an advantage. Capitalize on that, because if you have a passion, you will put all your effort into it. You will want to be the best, and you will find new ways to succeed."
To find out more about our undergraduate programs and global campuses download a brochure. 
Make the most of what your career has to offer with a Masters in International Business from Hult. To learn more, take a look at our blog 7 steps to working out what you want and how to get it, or give your employability a huge boost with an MBA in international business. Download a brochure or get in touch today to find out how Hult can help you to explore everything about the business world, the future, and yourself.
---

Mel Cloney is a staff blogger working in London, and is passionate about the Hult journey. Her writing focuses on faculty, academics, and student and alumni experiences. She's a food, scuba, and running junkie with a penchant for all things French.

Mel Cloney
Mel is a staff blogger working in London, and is passionate about the Hult journey. Her writing focuses on faculty, academics, and student and alumni experiences. She's a food, scuba, and running junkie with a penchant for all things French.
Related posts