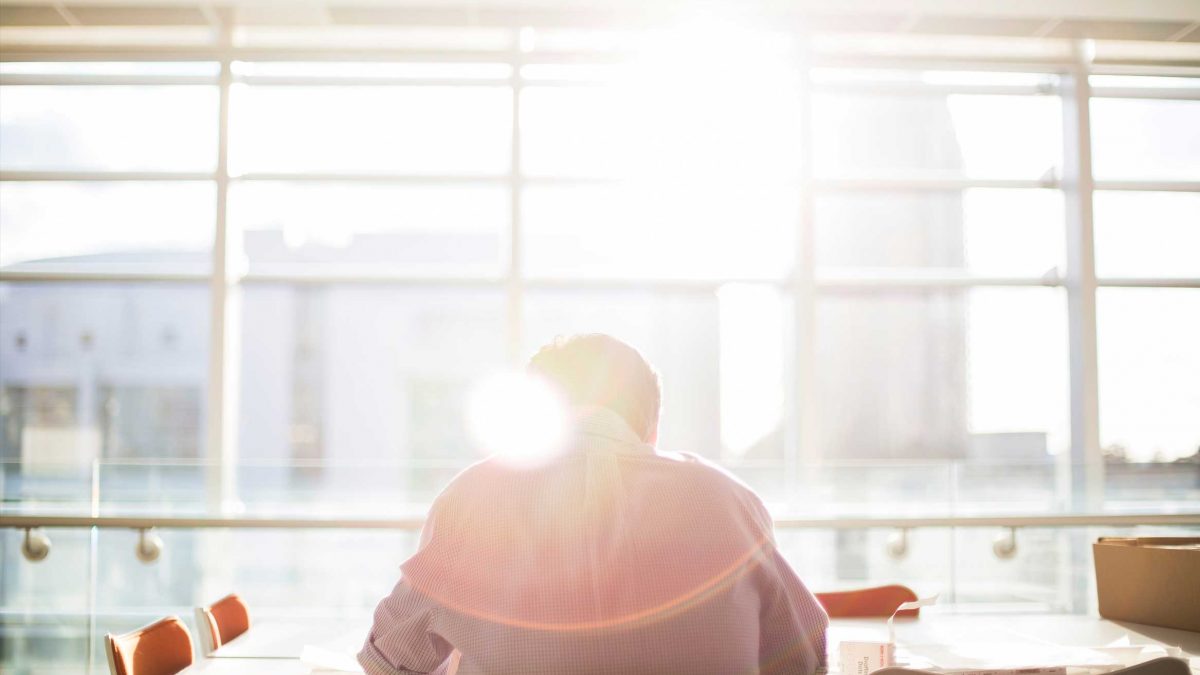 Luigi Congedo graduated with his Masters in International Business in 2013. During his time at Hult, he was actively involved in the Venture Club. Over the years, he has gained experience in business development and finance.
His passion, however, is startups. And he wants to contribute to their success on a global scale. Luigi's latest achievement was being featured in Forbes as one of the TOP 100 ITALIAN LEADERS UNDER 30.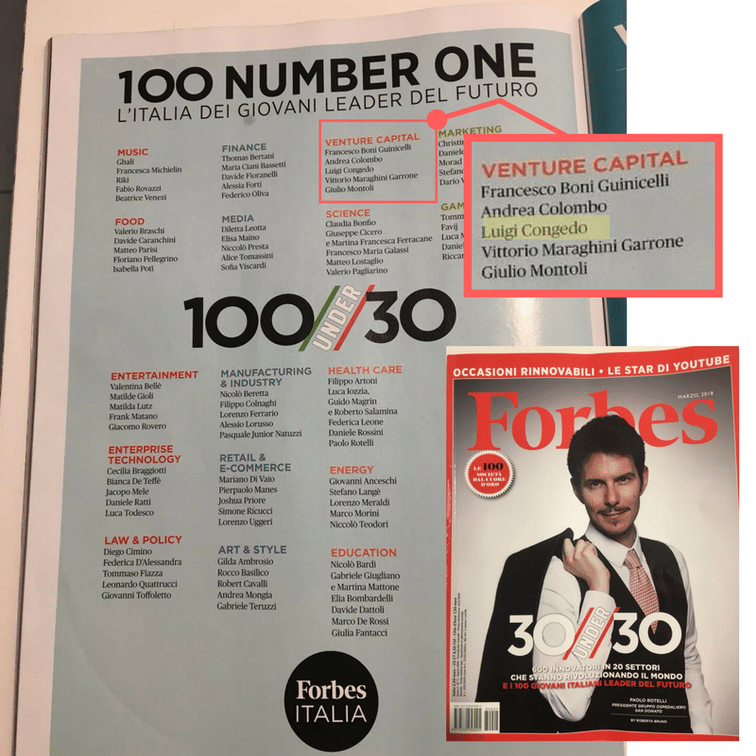 We caught up with Luigi to talk more about this impressive achievements.

Congratulations on being named in the Forbes list. You must feel amazing!
I still remember reading Forbes when I was in my first year of university, dreaming about my professional career without knowing what would come next for me.
The last few years have been a wonderful experience. I have learned so much in Silicon Valley. I hope that my work continues to reflect my commitment to excel here.
I also hope to be able to inspire the millions of young Italians who are studying and working under an extremely inefficient system. Know that you are way better than what people are telling you, and the world has unlimited opportunities to offer.
Keep going, and keep challenging yourself. Fail fast. Succeed faster.
"The world has unlimited opportunities to offer. Keep going, and keep challenging yourself. Fail fast. Succeed faster."
What have you been doing since graduation?
I worked at Samsung for a few months, then a fast-growing startup called RadiumOne. Next, I launched a company in Italy called Lovesano.it. For the last four years, I have been at BootstrapLabs.
Since I arrived in Silicon Valley, I have also been writing and speaking at different conferences, including the Mobile World Congress in Spain this year.
One of the most important things I learned during my program at Hult is that your reputation in your industry is extremely important and it can accelerate your professional growth.
Tell us about BootstrapLabs and how you got involved
Founded in 2008, BootstrapLabs is a leading venture capital firm based in Silicon Valley and focused on applied artificial intelligence.
As entrepreneurs ourselves, we understand firsthand the needs and challenges of building a startup. We invest early in potentially disruptive tech startups with global potential. We believe "AI is eating software," and invest in innovative and smart software platforms that create significant value for their users in large, global markets.
Key sectors of interest include transportation, logistics, FinTech, future of work (FoW), security, internet of things (IoT), HealthTech, and others. BootstrapLabs tracks innovation around the globe and each year connects with over 1,000 founders from 60 countries.
Portfolio companies include Prezi, AngelList, Zerply, Trusted Insight, AEye, Qurious.io, Roger.ai, Vidora, Sibly,  and others. Additionally, BootstrapLabs has curated and continuously engages with an incredible network of experts across industries and skills via conferences, events, workshops, and its proprietary advisory platform, BootstrapWorks.
What is a "typical" day like for you?
Vetting new investment, working with portfolio companies, and meeting Fortune 500 executives to build partnerships for my firm. I am lucky enough that I don't have the "typical day" at BootstrapLabs.
I am helping my company with investments, marketing, and business development, so my day changes very often. Venture capitals have very different phases of activities. Some periods, like last year, we have been very active investing in new companies, and I have been spending a lot of time on investment research to support my company decisions. But this year, for instance, we are more focused on supporting our portfolio.
So, my "typical day" completely changed in the last few months.
How did your studies at Hult help you on your career path?
Hult helped especially with developing soft skills. It was also fundamental for my current career to learn how to work in a multidisciplinary and international team.
Thanks to my experiences at Hult, I have also learned a lot about managing teams and finalizing projects with short deadlines.
Do you still leverage your Hult network?
I am still in touch with different Hult students and professors, and crossed paths with many of my colleagues in the last few years. Even if it's hard to keep in touch with everyone after the program, especially because many people relocated, I've had very positive experiences with my Hult network.
Very recently for example, I met one of my friends from the Masters in International Business, and now we are thinking about starting a new project together. Furthermore, last month I invited one of the speakers to our annual Applied AI Conference thanks to one of my connections from Hult.
What's your advice to someone wanting to launch their own company?
I am not a big fan of to-do checklists. And I truly believe that, even if there are many very good techniques for entrepreneurs today, in the real-world, building any business is much harder than how it looks in books. Every successful company will have different challenges to deal with and opportunities to chase.
Be an expert in your industry, and try to build a great team before you start building any product. 99% of success depends on execution. Without the right people in your team, it will be very hard to build anything big.
I also always like to say that starting or launching a new company is the easy and fun part. Scaling and keeping your company in business for many years is a completely different thing. Too many people focus on how to start, without thinking about how to scale.
"99% of success depends on execution. Without the right people in your team, it will be hard to build anything big."
Silicon Valley has been an incredible school for me, and one of the most important pieces of advice that I like to give to new entrepreneurs is: do the things that don't scale at the beginning. Do not build any structure on day one—keep experimenting before defining procedures and bureaucracy.
At the beginning of the journey, what really matters is asking yourself and your team the right questions, identifying the right go-to market, and staying as close as possible to your potential customers.
Define the pain of your customer, explore the solution, and remember that your product, market, and KPIs, will need to evolve over time. But your value proposition will stick around for many years. Focus on short-term execution, but develop your long-term vision based on your value proposition.
What's next for you?
I will continue investing in AI startups and working at BootstrapLabs. I am very excited by this opportunity and I'm in love with the idea of being at the forefront of the artificial intelligence revolution.
I really believe that this is one of the major game changers in human history, and I really hope to be one of the leaders, helping the industry to develop technologies and companies that can improve our work, life, and—ultimately—society.
Learn more about Luigi by visiting his website: https://luigicongedo.com/
---
Curious to read more about the career success of Hult alumni? Download our latest Global Careers Report.
---
Grow your leadership capabilities with an MBA in international business at Hult. To learn more, take a look at our blog A new model for leadership development in the 21st century, or give your career a boost with our Masters in International Business. Download a brochure or get in touch today to find out how Hult can help you to learn about the business world, the future, and yourself.

Vaibhav Rustagi
Vaibhav Rustagi, Hult MBA Class of 2014, has worked in the U.S., India, and the U.K. He currently heads up the Global Alumni and EU Employer Relations team at Hult. He is a passionate photographer, amateur creative, and social media enthusiast, as well as an avid writer and content creator.
Related posts