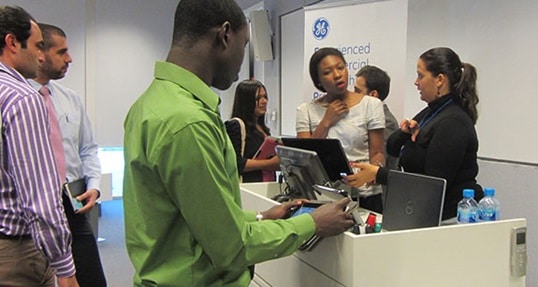 Hult Dubai 's Corporate Relations department brought a big name to the campus this week – GE representatives stopped by to teach the students about the company's world-class training program.
Nicole Ferreira, Global Talent Recruitment Manager of GE's Experienced Commercial Leadership Program, led the campus visit and offered insight on the program. The ECLP is aimed at preparing qualified professionals – with a focus on MBA graduates – to work in leadership roles in sales and marketing at GE.
More than 60 MBA and masters students attended the speaker event to hear first-hand about this unique opportunity. GE recruits globally for its ECLP, bringing in just 100 people each year to participate in the 10-year-old program. Attendees complete three  projects, interspersed with intensive training sessions, over the course of two years.
Kickstart your career in a state-of-the-art innovation hub by studying at Hult's Dubai business school. To find out more, take a look at our blog Discover Hult life in Dubai. Download a brochure or get in touch today to find out how Hult can help you to learn about the business world, the future, and yourself.
Related posts