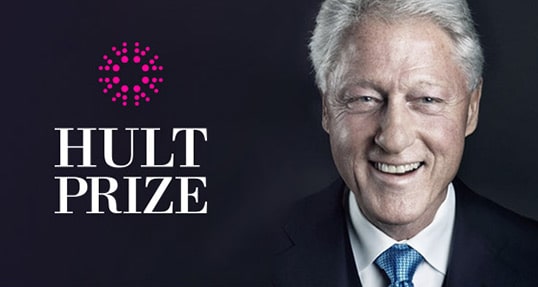 LONDON, March 6, 2013 – After evaluating over 250 social start-up pitches from more than 1,000 students, the Hult Prize today announced the regional winners of its 2013 challenge. The Asian Institute of Management (AIM), ESADE Business School, McGill University, Hult International Business School (San Francisco), and University of Cape Town will now advance to a 2 months accelerator boot camp in Boston where they will be mentored by world leaders such as President Clinton and Nobel Peace Prize winner Muhammad Yunus.
The Hult Prize is an annual social start-up competition, which awards $1m in funding to the winning team to launch a social venture. President Clinton, who has supported the competition since 2009, has described it as one of the top 5 ideas that are changing the world for the better: "The Hult Prize is a wonderful example of the creative cooperation needed to build a world with shared opportunity, shared responsibility, and shared prosperity, and each year I look forward to seeing the many outstanding ideas the competition produces."
The regional competitions were hosted by Hult's international campuses in Boston, San Francisco, London, Dubai and Shanghai, where college and university students from all over the globe came together to find solutions to the global food crisis. The challenge, which had been personally selected by key partner President Clinton, attracted 10,000 applicants from more than 150 countries representing more than 350 higher education institutions.
"We are very proud to host this ground-breaking competition that engages some of the most talented students around the world," says Dr. Stephen Hodges, President of Hult International Business School. "With millions of people worldwide living in poverty, marrying the best ideas with seed capital to drive social change is where the Hult Prize can make a real difference."
The global finals will be held at the 2013 Clinton Global Initiative annual meeting in New York in September.
Note: Student teams that did not win the regionals can now compete in the online competition, which will produce a 6th winner. The competition opened for entries on the 3rd of March.
About Hult Prize
The Hult Prize is a start-up accelerator for social entrepreneurship which brings together the brightest college and university students from around the globe to solve the world's most pressing issues. The annual initiative is the world's largest crowd-sourcing platform for social good. For more information, go to www.hultprize.org.
About Hult International Business School
Hult is the world's most international business school with campuses in Boston, San Francisco, London, Dubai, and Shanghai, and rotation centers in New York and São Paulo. The school offers MBA, Executive MBA, Master and Bachelor degree programs. Hult's one-year MBA program is ranked 1st in Percentage Salary Increase by The Economist and Top 10 in International Business and International Experience by the Financial Times. For more information, go to www.hult.edu.
Hult offers a range of highly skills-focused and employability-driven business school programs including a range of MBA options and a comprehensive one year Masters in International Business. To find out more, take a look at our blog Doing business to do good: Enpov at the Hult Prize 2018. Download a brochure or get in touch today to find out how Hult can help you to learn about the business world, the future, and yourself.
Related posts