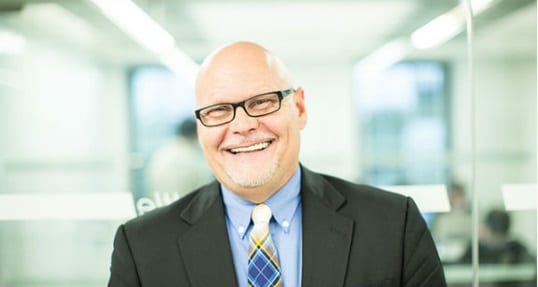 Faculty Spotlight: John Beck, Professor of Strategy

Hult News, 11 years ago
0
4 min

read
Managing Director of Hult Labs, Professor of Strategy at Hult International Business School, and judging panelist of the Economist Intelligence Unit's Business Professor of the Year Award, John Beck discusses the importance of strategy and the demand for practical business education. We captured the Q&A on camera. Scroll down to read John's responses in full.
H: First and foremost, who are you and what do you? 
JB: My name is John Beck, I'm a Professor of Strategy and Managing Director of Hult Labs. I've been stuck between consulting and education my whole life. I was with Accenture as the Director of International Research, and I was with Monitor from its beginnings. The schools I've taught at are Harvard, IMD, IPADE in Mexico, Lee Kuan Yew School of Public Policy, UCLA, Thunderbird, and USC.
H: Why should students care about strategy?
JB: Strategy is all about focus and attention. To get anything done in an organization you have to focus attention accordingly. A leader has to focus their own attention, and then the attention of their people. If you don't get focused yourself, you won't be able to focus the attention of your employees. If you want any kind of behavior from your customers you'd better figure out your strategy to get that attention focused.
H: Why should students take your course?
JB: Students take my course because they're required [laughs].
They take it because strategy is what CEOs do and they all aspire to be CEOs, I think. Any leader in an organization regardless of the department or level seniority has to figure out and deal with strategy. You have to figure out strategy for your part of the organization to differentiate your part from the rest regardless of where you are in the hierarchy.
H: How has strategy evolved throughout your career?
JB: Strategy started at the start of my career. There wasn't even a course on strategy at Harvard Business School when I studied there. Now there's a strategy course at every single business school in the world. Twenty years ago a lot of thinking was done on strategy. The models are now robust and have been proven. So what matters is what you do with it.
H: Can you talk about the importance of a practical education?
JB: I've just been interviewing CEOs and top Executives from around the world for the last year. To a person they say, "I don't care about the theory, give me the practice. I need students to know how to do the stuff they've learned. Not just whether they can answer the right questions on a test, but that they can actually do it." Hult gives people that practical experience.
H: What type of student should come to Hult?
JB: As I'm conducting interviews with these CEOs and Senior Executives, the place where they lean in and get really interested is when I tell them that we have students from 137 countries (i.e. they're constantly working with classmates from completely different cultures and backgrounds). That interests CEOs. They think that's a cool differentiating factor for Hult. Students that want that level of international exposure should come to Hult.
H: What else does Hult offer that's different from other business schools?
JB: The reason I came to Hult is because it had a practical focus and could change very quickly, and so it could adapt to the needs of business very quickly. Most schools have very traditional bureaucracies where nothing can change rapidly. Hult can change from year to year. If you talk to an alumni who was at Hult two years ago they may have a completely different experience than what you're going to have because we're constantly trying to adapt to the needs of business today.
Leave your comments or questions for John below, or follow him on Twitter @John_C_Beck.
Hult offers a range of highly skills-focused and employability-driven business school programs including a range of MBA options and a comprehensive one year Masters in International Business. To find out more, take a look at our blog What leaders should know about closing the strategy-execution gap. Download a brochure or get in touch today to find out how Hult can help you to learn about the business world, the future, and yourself.
Related posts