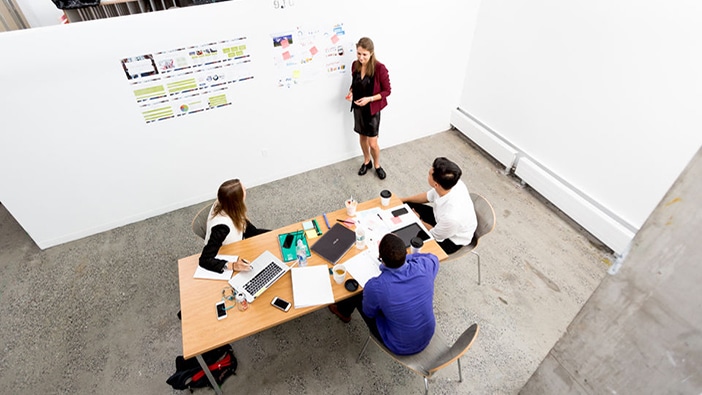 We see our students' role as more than business school students – they should be active members of the global business community. We provide opportunities for students to work with businesses while they study with us, not only to gain skills, insights, and experience, but also to provide businesses with a fresh perspective and propose innovative solutions to the challenges they are currently facing.
This module, our Executive MBA students are working on projects with a wide range of companies to tackle real business issues. Those companies include:
Cisco
Phillips
Porsche
Bosch
L'Oreal
Total Office
Lebara
Pernod Ricard
ITRS Group
Tendril
BMB
The challenges set vary according to the company, but all require executive management level solutions. Here is an overview of some of the issues our EMBA students are currently tackling at our different global campuses and what some of the companies working with our students have to say:
Dubai
Porsche, Philips, Cisco, BMB, and Total Office all worked with students at Hult Dubai on a number of different projects:
Porsche: Challenged students to look into the future of the automotive industry and its network development growth.
"Working with the EMBA students at Hult has been a great experience, both as an inspiration for us as well as an opportunity to share some of our experiences in such a creative academic environment. We would never hesitate to enter such cooperation again or too even expand it further on a permanent basis" – Steffen Fleck, Network Development Director, Porsche Middle East & Africa FZE
Philips: This project addresses a deep understanding of specific business characteristics and drivers to deliver locally relevant healthcare solutions in the United Arab Emirates. You can see Philips' reaction to embarking on the project in this LinkedIn post.
"Philips is delighted to partner with Hult. We believe by collaborating with Hult Students on theses projects we can transfer our wealth of business knowledge and arm student with the skills to develop an innovation-based economy in the UAE." – Arjen Radder, CEO, Philips Middle East and Turkey
Cisco: Is looking for innovative ideas on how to transform their business approach and product offering.
BMB: This confectionary company that manufactures chocolates and sweets in GCC, is looking for new strategies, how to grow its business, and how to leverage its current operations.
Total Office: Specilizing in modern workspace solutions, Total Office asked students to take a closer look on how to deliver an innovative interior design solution and define additional revenue streams.
London 
Students at Hult London are partnering with several companies including: Tendril, ITRS Group, and Lebara.
Tendril posed the following challenge: Which two industry sectors have the greatest potential for Tendril to enter into core European markets UK, France and Germany outside their traditional core utility market? You must support your recommendations with:
The specific opportunities that exist for Tendril
– Why it should invest in them (returns in terms of People, Planet and Profit)
– The go-to-market approach that Tendril should implement
The business model and resources required to deliver a successful outcome
"The students were really engaged and focused on delivering us a plan that we could execute to create meaningful value in a new market. Better than hiring a bunch of consultants any day. We never felt like we were dealing with students. The teams were a really interesting mix of people with different nationalities and backgrounds which made for some very refreshing insights." – David Tuohy, Senior Vice President for Europe, Tendril
Another company asked students: In a world where customers have unprecedented control of their purchase experience, what future global market opportunities would deliver customer-centric outcomes for our company, and how should we achieve them?
Shanghai
EMBA students at Hult Shanghai worked with L'Oreal, Bosch, and Pernod Ricard. Examples of the questions posed to students include:
How can senior leaders at large multinational corporations like ours leverage new mobile technology and social media to change the game when building engagement, driving awareness, and inspiring their organizations?
Doing large-scale business in China is always a collaboration with the government on some level. How should Beijing's 13th Five-Year plan inform and influence our multinational corporation's specific growth strategies for China?
"I was very impressed with the portfolio of ideas that the EMBA students put together to help drive the market penetration of our products in China."  – Horace Ngai, Managing Director, Greater China, Pernod Ricard
We would like to thank all the companies involved in this year's projects, and our Executive MBA students for representing Hult in the global business community.
Hult offers a range of highly skills-focused and employability-driven business school programs including a range of MBA options and a comprehensive one year Masters in International Business. To find out more, take a look at our blog My learning journey at Hult – from PhD to EMBA. Download a brochure or get in touch today to find out how Hult can help you to learn about the business world, the future, and yourself.
Related posts