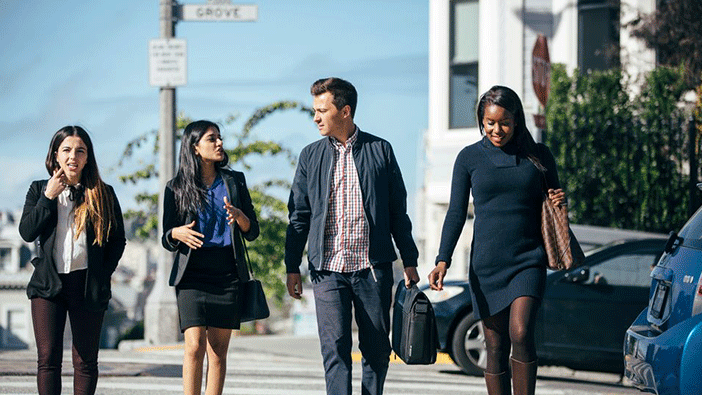 Diving into diversity

Hult News, 7 years ago
0
3 min

read
Written by Saugat Kandel, Global Ambassador and Masters student, Hult Boston Class of 2017. 
Hult is a business school especially focused on international students to provide them with the best experience, education, and exposure to the global market. It is located in six big cities in the world where all the students of Hult have an opportunity to rotate, collaborate, experience and learn from different cultures and world renowned professors. Starting day one, we are immersed in a practical environment and specialized graduate programs that help us prepare for jobs.
Hult is known for the diverse composition of students. There are students from across the world who are keen on sharing cultures with people from different countries. There's an opportunity to deal with the cultural shock as student services bring a number of events in school for the whole community to experience.
"It's a place that has become a second home for international students."
Hult has a different world within itself. Life at Hult is full of incredible moments that builds memories. It's a place that has become a second home for international students. We learn to give and take—values, beliefs, ideas, skills and much more. We spend most of the time at school, where we experience diversity and practice networking daily. During the time of our Immersion and Module A, we got to learn many things about different cultures, behavior and how to network. Various events were conducted so that international students find it easy to cope with their environment. Students were encouraged to establish different clubs and collaborate with one another. Hult has become a place for international students to really experience international exposure. It is a place where cultures from different corners of the world meet.
"I was placed in a group of students from different countries, which taught me a lot about their culture."
Hult did not let me bear the cultural shock alone and for a long time, at the beginning, it was very challenging for me to cope. But Hult made diversification easy for me. I was placed in a group of students from different countries, which taught me a lot about their cultures. It gave me a platform to share my own background, to prove my business skills and earn their trust in my capabilities. Even though I have already completed almost half of my program, it still feels as if I have just started my life at Hult.
My time at Hult has been an experience to remember. Here, I learned to act accordingly, to develop patience for understanding others, and to take advantage of the opportunities around me. We are motivated to connect the dots that will help us become the leaders of tomorrow. Within a short period of existence, Hult has developed into a brand that promises to deliver experiential learning and really helps students to place themselves in the market. It is an education that can truly be the best investment a business student can make.
---

Saugat Kandel is a Dual Master degree candidate in Finance and International Business at the Hult Boston Campus. He is a financial analyst with a deep academic knowledge of monitoring fundamental economic, industrial and corporate developments, and financial forecasting. His work experience back in his home country of Nepal gave him the strong confidence to excel in the financial world. Besides professional arena, Saugat is also passionate about traveling and networking.
Kickstart your career with Hult's undergraduate business school. To find out more, take a look at our blog Strengthening credentials and accelerating success: The transition from undergraduate to masters at Hult. Download a brochure or get in touch today to find out how Hult can help you to learn about the business world, the future, and yourself.
Related posts